By KJ Cardinal
Former Hinsdale hoops star Angelina Nardolillo is just five games into her sophomore season at Rhode Island College and continues to make some serious noise at the collegiate level.
Coming off a freshman campaign that saw the 6'1″ forward earn Little East Conference Rookie of the Year accolades, Nardolillo has picked up right where she left off. Through five games this season, she is averaging 10.7 points and 6.7 rebounds and most recently turned in an impressive 21-point, 11-rebound performance in a convincing 72-43 win over Wesleyan on Sunday afternoon.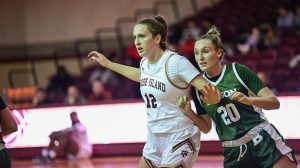 While the individual stats are impressive, Nardolillo and the Anchorwomen have their sights set on bigger things. "The goals for this season are another LEC championship and a deeper NCAA run," said the former Hinsdale 1,000-point scorer.
Last year, RIC won the LEC conference tournament before suffering a tough three-point loss in the opening round of the Division III NCAA Tournament versus St. John Fisher, 55-52.
This season, Nardolillo is flourishing alongside senior forward Izabelle Booth. "Izzy and I clicked," said Nardolillo. "We are best friends on and off the court. I feel like we're always in the right place at the right time and I know that if teams are doubling down on me, Izzy is wide open." Combined, the tandem is averaging 26 points and 15 boards per contest.
The success that Nardolillo is seeing at the next level should come as no surprise to anyone that is a fan of NHIAA sports. Nardolillo was a three-sport star at Hinsdale, earning first team All-State accolades in basketball three times and was also an All-State pick in soccer (first team) and softball (second team).
She credits her three-sport experience for a lot of her success at the next level. "Playing three sports is the reason I move the way I do. It brought so much experience and adversity," said Nardolillo. "I miss playing three sports. You can tell the difference between a one-sport and a three-sport athlete, it teaches a lot of grit."
Nardolillo's grit also comes from Hinsdale girls basketball head coach Terry Bonnette. "He taught me mental toughness, tenacious defense and showed me what it takes to get to the next level and be successful," she added. "All I had to do was listen and I did."
Nardolillo may be reunited with Bonnette in a few weeks and listening to the cheers of the Hinsdale faithful once again as the Anchorwomen travel to Keene State to take on the Owls on December 10th. It's just a short 30-minute drive from Hinsdale High School to Spaulding Gymnasium in Keene and it's sure to be a long-awaited reunion for some Pacer fans and Nardolillo.
"Unfortunately last year with Covid restrictions, no one could come to my game at Keene and I had a lot of people texting me, telling me how upset they were that they couldn't make it," Nardolillo said. "But thankfully this year we have fans and I will have a lot of people there for the RIC team!"
If you're unable to catch Angelina's return to the 603 in person, you can watch the action live on the Owls Media Network (https://www.littleeast.tv/keene) on Dec. 10th at 1:00 pm.
Best of luck to Angelina the rest of the season as she represents the 603 in the NCAA.
• Check out our full list of NH high school alumni currently playing in the NCAAs >> 603 in the NCAA