By: KJ Cardinal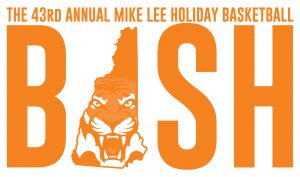 FARMINGTON – The 43rd Annual Mike Lee Holiday Basketball Bash tips off on Monday and we'll be there for all 35 games to bring you wire-to-wire coverage of New Hampshire's largest holiday basketball tournament. This year's event boasts 22 teams for the boys and girls divisions combined, including girls teams from Maine (Noble) and Tennessee (Coffee County). The five-day event never disappoints and the game presentation in Farmington is second-to-none. We suggest putting down the egg nog and making your way to The Jungle in Farmington to catch some great hoops.
[ TOURNEY LINKS: SCHEDULE | PROGRAM ]
Let us take a look at the top 10 storylines that we're excited for at The Bash…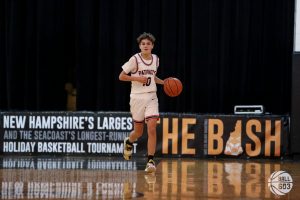 • Two words: Josh Robie. Profile's junior guard is an absolute sniper. At last year's Bash he knocked down a tourney record 11-threes vs. Holy Family and he has started the 2022-23 season on fire. He scored 40 and 43 points in back-to-back games already this year, netting nine threes in each of those games. He most recently had an "off night" and still pumped in 33 points. Paired with junior do-it-all forward Alex Leslie, head Coach Mitchell Roy has a fun and young squad that features only one senior.
• Coe-Brown's Dave Smith, the dean of New Hampshire basketball coaches, is back again at The Bash with his Bears. Coach Smith is no stranger to this tournament nor to its namesake. While head coach at Alton High School, Smith actually coached Mike Lee. In Smith's first three years as head coach at CBNA, he led his then-Comanches to The Bash title game, capturing Coe-Brown's lone title during the 1992 event with a 52-36 win over Lee's Tiger squad. The history and connections with Coach Smith and this tourney has all the feels for us.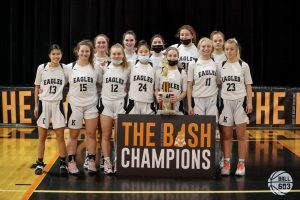 • The Kennett girls are just one Bash title away from tying the record for most in tournament history. The Eagles have taken home the hardware in two of the last three tourneys, including a convincing 60-23 win over Coe-Brown in last year's final. Larry Meader's squad can defend like no other and is off to a quick start to the 2022-23 season.
• The Coffee County Central girls are making their way to the Granite State all the way from Manchester… Tennessee that is. Head coach Joe Pat Cope's squad comes into the 2022-23 season with an impressive 136-20 (.872) record over the past five seasons. At first glance of at the tourney bracket, it looks as if the Lady Raiders are on a collision course with the Kennett Eagles.
• The Belmont boys are 5-0 under first-year head coach Tony Martinez. While size and length are the first things you notice when you see the Red Raiders take the court, don't sleep on point guard Treshawn Ray. The freshman is explosive, relentless, unselfish and one of our favorites that we've seen in action this year. The Red Raiders are a must-watch team for us.
• If you follow our coverage, then you've already seen and heard a lot about the Lin-Wood Lumberjacks. Cam Clermont recently eclipsed the 1,000-point plateau just three games into his senior season and classmate Jake Avery nearly broke the internet with his monstrous tomahawk jam versus Woodsville. Don't let their 1-2 record fool you, the Lumberjacks lost their season opener at Littleton, who looks to be arguably the best team in D-IV, and then lost a double overtime battle to Woodsville.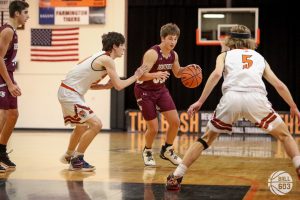 • While Derryfield's Thomas Ferdinando is no longer with the Cougars, having transferred to Governor's Academy, Ed Meade's squad still returns a lot of talent and none more impressive than junior forward Jack Krasnof. One of the top scorers in D-IV, Krasnof is averaging over 20 points per game and opened the season with a 39-point performance against Epping.
• The Kennett boys look to become just the second team in Bash history to three-peat at this event. Jack Loynd's Eagle squad has won the previous two events after capturing the 2021 title with 55-46 victory over Concord Christian Academy.
• Portsmouth Christian Academy seems to have a flair for the dramatic in The Bash and at Farmington High School, in general. The Eagles earned a double-digit come-from-behind win over the Tigers earlier this year in D-IV regular-season action and they've had overtime games, buzzer beaters and big comebacks in Bash tourney play ever since capturing the 2014 title over host Farmington.
• The Coe-Brown girls lost in The Bash title game a season ago, but are back along with returning all-tournament selection Kalina Kasprzak. Joe Vachon's squad has started the 2022-23 with two losses, but the Bear defeats came at the hands of two teams that are expected to be near the top of the heap in D-II when the dust settles.
It's also worth noting, the host Farmington Tiger girls and boys will be the night caps on the first two days of the event. On opening night, the FHS girls play host to Tennessee's Coffee County Central, while the boys welcome old Southeastern League foe Raymond. The FHS girls last won the event back in 2009, while the boys earned their last title in 2013.
Be sure to follow our coverage all tourney long. From live video streams to photo galleries and video highlights, we'll be bringing you top shelf coverage of New Hampshire's largest holiday basketball tournament. Enjoy the show!