By: KJ Cardinal
Day four of the 43rd Annual Mike Lee Holiday Basketball Bash is in the books and the finals match-ups are set. Coffee County (TN) and Kennett will meet for the girls crown on Friday at 5:30 pm, while Belmont and Profile will square off at 7:00 pm.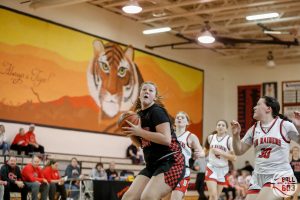 GIRLS SEMI #1: COFFEE COUNTY 97, BELMONT 26
• PHOTOS | VIDEO HIGHLIGHTS
The Lady Raiders from Tennessee continued to roll as they defeated Belmont, 97-26, in the first semifinal on Thursday. Coffee County's balanced attack was on display as they placed five players in double-digits, led by 15 points from Emaleigh Tarpley. The Red Raiders were paced by 15 as well by Lena Rodrigues, who connected on five triples versus the Lady Raiders tough 2-3 zone.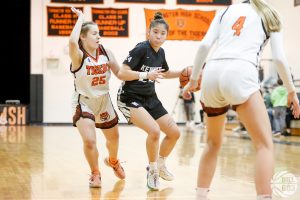 GIRLS SEMI #2: KENNETT 75, FARMINGTON 30
• PHOTOS | VIDEO HIGHLIGHTS
In the second semifinal of the day, Division II Kennett defeated the D-IV host Farmington, 75-30, en route to their fifth-straight title game appearance at The Bash. The Tigers came out of the gates and challenged the Eagles for the first 10-minutes of play before Kennett pulled away and blew the game wide open. The Eagles were led by a trio of double-figure scorers: Kaley Goodhart (16 points), Sydnie Chin (15) and Catherine Chick (13). Farmington freshman Anna Cardinal paced the Tigers with 10.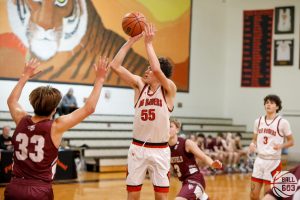 BOYS SEMI #1: BELMONT 56, DERRYFIELD 45
• PHOTOS | VIDEO HIGHLIGHTS | ROMIKE REPORT
On the boys side, D-III Belmont looked a little tired from the onset, which could be attributed to the Red Raiders dramatic one-point win over Coe-Brown the night before, and found themselves tied with D-IV Derryfield at 22-22 at the half. The Red Raiders came out rejuvenated for the second half and pulled away for the 56-45 win. Belmont was led by Keegan Martinez (17 points), Sam Reposa (16) and Anakin Underhill (15), while the Cougars were paced by Jack Krasnof (18) and John McDevitt (11).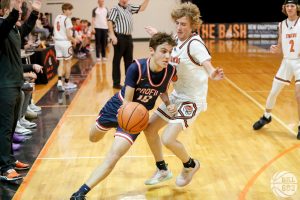 BOYS SEMI #2: PROFILE 70, FARMINGTON 41
• PHOTOS | VIDEO HIGHLIGHTS
It was a packed house for the second semifinal, which pitted host Farmington versus Profile. The two battled closely for the first quarter with the Patriots taking a two-point lead, 13-11. Profile then dominated the Tigers in the second stanza as they outscored Farmington 20-0 to blow the game wide open and cruised to a 70-41 victory. Junior Josh Robie connected on six threes en route to a game-high 26 points, while classmate Alex Leslie added 20 and sophomore Cayden Wakeham had 12. Farmington was led by 16 points from senior Jordan Berko.
If you missed any of day four action, you can re-watch all games here.
DAY 4 SCORES, LINKS & DOUBLE-DIGIT SCORERS
BOYS: RAYMOND 57, NUTE 40 – PHOTOS
Raymond Rams: Drezell Duffaut (19 points), Logen Brian (13)
Nute Rams: Gavin Forcier (14 points)
BOYS: PORTSMOUTH CHRISTIAN 51, FRANKLIN 35 – PHOTOS
Eagles: Connor Hickey (20 points)
Golden Tornadoes: Zeke McCoy (13 points)
BOYS: KENNETT 64, LIN-WOOD 41 – PHOTOS
Eagles: Bo Noury (14 points), Alex Clark (11) Ben Dougherty (11)
Lumberjacks: Jake Avery (21 points), Cam Clermont (14)
BOYS: COE-BROWN 75, SOMERSWORTH 34 – PHOTOS
Bears: Quinn Salter (19 points), Hugh Hamilton (12)
Hilltoppers: Dominic Starr (24 points)
GIRLS SEMI #1: COFFEE COUNTY (TN) 97, BELMONT 26 – PHOTOS | VIDEO HIGHLIGHTS
Lady Raiders: Emaleigh Tarpley (15), Julie Ruehling (14), Olivia Vinson (13), Channah Gannon (11), Chloe Gannon (10)
Red Raiders: Lena Rodrigues (15)
BOYS SEMI #1: BELMONT 56, DERRYFIELD 45 – PHOTOS | VIDEO HIGHLIGHTS | ROMIKE REPORT
Red Raiders: Keegan Martinez (17 points), Sam Reposa (16), Anakin Underhill (15)
Cougars: Jack Krasnof (18 points), John McDevitt (11)
GIRLS SEMI #2: KENNETT 75, FARMINGTON 30 – PHOTOS | VIDEO HIGHLIGHTS
Eagles: Kaley Goodhart (16 points), Sydnie Chin (15), Catherine Chick (13)
Tigers: Anna Cardinal (10 points)
BOYS SEMI #2: PROFILE 70, FARMINGTON 41 – PHOTOS | VIDEO HIGHLIGHTS
Patriots: Josh Robie (26 points), Alex Leslie (20), Cayden Wakeham (12)
Tigers: Jordan Berko (16 points)