By Mike Whaley
Alex Burt has proven beyond doubt that you can get there from here. When Burt took over the Great Bay Community College men's basketball program in December of 2018, he inherited a team that had never won more than five games and was in the midst of a second canceled season in which he used to recruit players for the 2019-20 season.
Things got better, but it took some time and some patience.
The Herons went 9-13 in 2019-20, setting a program-record for most wins. After the Covid-19 pandemic forced GBCC to miss its third season in four years in 2020-21, the team came back the following year to go 13-12, the first winning season, and win the program's first playoff game in the Yankee Small College Conference (YSCC).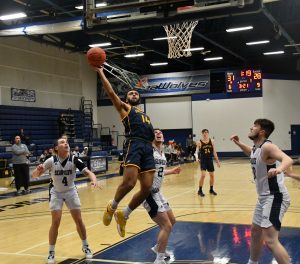 The Herons took a huge step forward last year as the addition of Dover's Kingsley Breen and former UMaine-Machias standout Theo Wolfe sparked a 22-9 record, a trip to the conference championship and an at-large berth in the United States Collegiate Athletic Association (USCAA) Division II National Tournament in Richmond, Virginia. GBCC came in as the 10th and final seed, upsetting the number seven and two seeds en route to the USCAA final four. Their Cinderella run ended with a 69-61 loss to Miami-Hamilton. Burt was named USCAA D-II Coach of the Year.
Great Bay is officially on the basketball map now, made even more apparent with its recent ranking as the number three D-II team in the nation in the USCAA preseason poll. The USCAA is a national college organization, like the NCAA, that caters to both two-year and four-year schools. While Great Bay is a two-year school, athletes there do have the option of playing a sport for four years in the USCAA for GB.
"Last year we were the sleeper school," said Burt, a Dover-native who starred at Dover High School and Plymouth State University. "People kind of knew what we were up to, but no one gave it respect. We always felt we had to do more just to get seen by somebody throughout the league. This year it's going to be a totally new experience for me, a totally new experience for all of our guys. We've kind of got a target on us."
Breen, who earned All-American honors, feels the Herons still have a point to make. "We're trying to still stay the underdog," he said. "Historically we haven't been up there with everybody. We still have to prove 'OK, we're here. This is not just a fluke.'"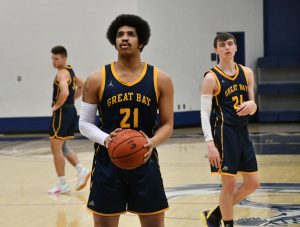 The Herons certainly have what it takes to make another run, led by three returning starters: Breen, Wolfe and senior Bryce Gibson from Auburn, Maine. The trio are the team's top returning scorers: Breen (16.7 ppg, 5.0 rpg), Gibson (16.2 ppg, 42.5 3-point pct.) and Wolfe (15.4 ppg, 12.2 rpg).
The big void to fill will be that of two-year standout and defensive stopper Alex Taveras of Portsmouth, who is now a preferred walk-on at the University of New Hampshire. Taveras led the YSCC in 3-point shooting (45.9 pct.), while averaging 12.8 ppg and 5.5 rpg.
GBCC has a good crop of incoming players, while returning role players like former Kingswood Regional HS star Ethan Arnold and Dover's Cam O'Brien could expand their parts in support of the starters.
GETTING THERE
Before Burt took the job, there had been three seasons with three different coaches resulting in the following: 4-19, 5-18, no season. Nothing to write home about.
In fact the Herons had already canceled a second straight season when Burt took the job in 2018, which eventually turned out to be a blessing in disguise.
It wasn't, however, pretty right out of the gate. "That year the idea was just to fill a roster," Burt said. "The early going was difficult." In talking to players and parents he had to, of course, tell them there was no team at the moment. "But I'm here to create one," he said. "The selling point wasn't really there."
But Burt persevered and it wasn't long before he was able to get a half dozen players on board, including N.H. Division IV Player of the Year, Hunter Bullock from Epping, Londonderry's Ethan May, a N.H. Division I All-State player, and another all-state player from Epping in Dylan Desrosier, who had been on a previous GB team, and who hung around for four years and was part of last year's final four squad. Another recruit was Jordan Williams, an all-state player from Maryland. The biggest pick-up turned out to be George Mortimer, a former Traip Academy star, an older player who had played a year at the University of Southern Maine in 2011-12 and went on to be GBCC's leading scorer.
"Once I got some kids in the door, I started getting all-state kids in the door. It snowballed from there," Burt said. "I was able to put together a roster that would at least somewhat compete in the YSCC."
The Herons turned a massive question mark into success, going 9-13.
But then Covid hit, and the following season was canceled, the third time in four years that the Herons did not have a season.
But GBCC made the best of it, as difficult as it was. The big positive for Burt was that he was able to double down on recruiting. If not for that Covid year, it's unlikely that the Herons would have been able to get Gibson and Tavares.
Tavares was a big high school star in Portsmouth, scoring over 1,000 points and playing on several state championship teams. He went to Plymouth State, but never played a game. Several weeks into his fall semester he broke his leg. He missed the entire 2019-20 season, which led him to consider new options.
Burt had heavily recruited Tavares in high school, so he was on his radar. When Tavares decided to make a change, he contacted Burt.
Gibson, meanwhile, had played a year at UMaine-Augusta. They had a coaching change and he decided he wanted some change himself. He contacted Burt about the GBCC program. "I saw that it was a newer school, a newer program," Gibson said. "I reached out."
"That whole year allowed me to put some stronger pieces together going into 21-22," Burt said.
The Herons in turn took another step forward. They went 13-12 to achieve the program's first winning season, which also included capturing a playoff win for the first time.
That brings us to last year. GBCC continued to forge forward. Burt added two more key pieces in Wolfe and Breen. Wolfe had played one year at UMaine-Augusta, but Covid and financial woes led to the school suspending its athletic programs in July of 2020. Wolfe eventually found his way to Great Bay.
Breen was a Dover HS star, who left Dover after his junior season for Malden Catholic, a private high school in Massachusetts. He reclassified and spent two years there, "trying to get a better education and better focus."
Breen had some college plans, but they didn't work out. "I didn't have the grades I wanted to, if I'm being honest," he said.
Breen and Burt had a connection, which made Burt laugh a little. It was 2016, and Burt was preparing for his first of two years playing professionally in Europe. He was working out at the Dover Rec. Breen was a seventh-grader. "I remember that kid would be trying to shoot at the hoop I was working out on and totally getting in my way," Burt said.
So when Breen finished up at Malden Catholic and was trying to figure out what to do next, he already had this unusual dynamic with Burt dating back to the Dover Rec when Burt was a young adult and Breen was a child.
Breen visited the campus and liked what he saw. "It was really family-oriented – a good vibe," he said. "It was a second chance I felt like." It also didn't hurt that the team had several Dover players – O'Brien and Jackson Rutland.
With the addition of Breen and Wolfe, Burt saw the potential. "Those two players pushed us over the top," Burt said. "We had a solid group with that 13-12 year and Alex being our leading scorer. We had some other decent pieces to keep us competitive. It pushed us into a whole other category."
FINAL FOUR OR BUST
It didn't immediately take off. The Herons went 5-4 in November, including three straight conference losses, but after that they started to come together. By mid January, Burt said they were all on the same page. "Everybody woke up on the right side of the bed one day," he said. "We just took off. Something totally clicked."
At one stretch, they won seven of eight games, including signature victories over Central Maine CC and Southern Maine CC, the defending national champion. They ended the regular season with an 18-7 record, and a so-so 7-7 YSCC record. In the first round of the conference tournament, they played Maine-Augusta at CMCC and pulled out an 86-78 win. They had four players in double figures, led by Tavares with 22 points; Wolfe had 18 and 13 rebounds, while Breen (12) and Gibson (10) also chipped in.
They sent them to the conference semis against Paul Smith College, upset winners over NHTI. They rolled, 96-67, led by Wolfe's 20 points, 16 apiece from Breen and Tavares, and 12 from Gibson.
In the final, they met SMCC, but the run ended there, 59-47. Only Wolfe (14 points) reached double figures as the Herons shot just 31 percent from the field. "We did not play good offense in that game," Gibson said. "I don't think we expected the physical part of the game when we got to that one."
"It was a defensive battle," Burt said. "We held them in the 50s. They held us to 47 and we averaged in the 80s. It was my first conference final and all my guys. The gym was rocking. It was pretty fun."
Losing, however, was tough. SMCC as the conference winner earned the automatic bid to the USCAA Division II national tournament. Great Bay's season seemed to be over.
"We're in the locker room' we've got guys crying thinking their season is over," Burt said. "We've got guys who are graduating unsure if their competitive careers are over."
The thing is, Burt knew in the back of his mind that there was a chance they could make the national tournament field of 10. It is not a reach for the YSCC to get three or even four teams, so why not Great Bay?
Burt knew on the bus ride back to New Hampshire from CMCC that the selection show would be going on. "Part of me did n't even want them to pull out their phones," he said. "We weren't guaranteed a frickin' thing. We were a dark horse, a sleeper school."
Burt was thinking to himself that they're on their way home and he'd about to have his players pull out their phones and maybe be upset again. Then he said, "Let's have a little faith here."
So they pull out their phones, and the teams are picked – 1-2-3, right up to nine, and no Great Bay. "I'm going 'come on please, this would be horrible,'" said Burt. "Then they shouted us out with an at-large bid. They mentioned our record, some of the guys, and our seed, and said 'we'll see you guys in Virginia.'"
The bus blew up. ""Everyone was just absolutely fired up," Burt said. "Now it wasn't over. All year long we were the school that was winning some games, but not being talked about. And finally we're being talked about."
The players' responses were predictable. "It was nerve-wracking," Breen said. "We were like 'oh man.' Obviously they're going through the numbers and it's no way, no way. It's the last one. We finally got in."
"We're on our phones just watching the teams get picked," recalled Gibson. "We're sitting there for the 10th pick with our fingers crossed, hoping we get picked. Then it happened. It was crazy."
Ethan Arnold was sleeping in the bus when GBCC got picked. "I got woken up by the guys on the bus," he said. "That was a pleasant wake-up surprise."
As the 10th and final seed in the tournament, there wasn't a lot of expectation. However, the Herons felt good about themselves. SMCC and NHTI were also in the tournament, and they knew they could play with those teams.
"As a whole group, we believed that's where we're supposed to be," coach Burt said. "It wasn't the luck of the draw. We're there."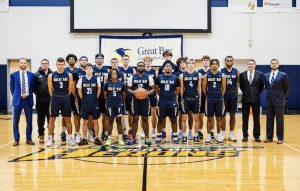 The Herons made a statement. In their first game vs. seventh-seeded Villa Maria, they fell behind four points at the half. But sparked by Breen, they dominated the second half to win 79-67. Breen led the way with 27 points and eight rebounds, while Gibson added 22 points, five rebounds and five assists. Wolfe had 16 points and 13 boards, while Tavares added five points and 10 rebounds.
In the second round vs. No. 2 Penn State Mont Alto, GBCC jumped out to a 45-30 lead at the break en route to a convincing 75-58 win. Breen again led the way with 20 points and five boards. Tavares (12 points, 16 rebs.) and Wolfe (12 pts., 11 rebs) had solid supporting games, while Desrosier and Gibson combined for 17 points.
Now they were off to the final four against Miami Hamilton. The run ended. Great Bay trailed by six at the half, 32-26, and twice tied the game in the second half, but could not pull ahead. Their season ended with a 69-61 loss.
Breen had another big game with 22 points, while Gibson added 11 and Wolfe had a double-double with 10 points and 10 boards. Breen was named to the all-tournament team. "It was a turning point for me personally," Breen said. "I just saw a chance to play against some great competition and really try to dial in. I thought it was great."
STAYING ON TOP
Once an afterthought in the YSCC, Great Bay will begin this season as a team to beat. It's a new look. "We've always felt like we've had to do more to get seen by somebody throughout the league," said Burt. "This year is going to be a totally new experience for me, a totally new experience for all our guys. We're going into this year, we've kind of got a target on us."
Nine players return and seven new players join the roster. Burt is excited about the possibilities. "We've got a lot in the preseason to do," he said. "We have things to adjust, things to fix to get us stronger and sharper. We're making those progressions that we can."
Breen, Gibson and Wolfe will be at the forefront of what the Herons do. Breen knows this season will help open the door for his final two college years. "I definitely feel like the Division II, Division I conversation isn't out the door with the talks I've been able to have," he said.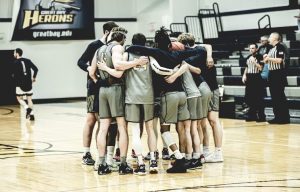 Breen talked about some of his teammates, noting that Wolfe "definitely has that old-school feel. The haircut helps," he added with a laugh, referring to Wolfe's afro that is reminiscent of NBA Hall of Famer Wes Unseld. "He's a great guy to play with. You get him the ball in the offense we play and he knows how to make plays. He draws a huge amount of attention on offense and defense."
As for Gibson, Breen said, "him a the two (guard) that's a 1-2 punch in the backcourt. He's just a pure scorer." Gibson has also hit the weight room to add some muscle to his frame
Arnold is another player who hopes to step up his role, filling the shoes, as he sees it, of Tavares. "I'm definitely going to play more of a leadership role," Arnold said. "I'll be one of the key defenders with Alex Tavares going to UNH. He'd guard the best player on the other team. I'm looking forward to getting into that role. I'm looking to be more of a lethal scorer."
The seven new players include four freshmen: Joe Gutwein (ConVal), Stephen Gitau (Dover), Jordan Berko (Farmington) and Jared Biaya (Portland, Maine). Gutwein (6-1) and Gitau (6-2) are guards, while Berko is a 6-foot-6 forward and Biaya is 6-8. The rest of the newbies include 6-4 Mpore Semuhoza (a CMCC transfer), 6-4 Sean Murphy of Exeter (back after missing last year) and 5-5 guard Antoine Bailey from New Orleans. "I'm super excited about our new group," Burt said.
Gutwein was an all-state guard at ConVal, and he is hoping he can help the team out anyway possible. "The guys are great," he said. "Our chemistry is strong . This is a group that wants to be in the gym everyday. Kingsley, Theo, and Bryce, that's our big three right there. They're so dominant defensively and offensively. And that goes for everyone on our team as well. We are loaded with talent."
Breen likes what he's seen with Gutwein in the early going. "You can tell he can really play the game," Breen said. "He's smart, he fills the lanes. He's just always in the right spot." Gutwein has some personal physical adversity he must deal with every day – he was born profoundly deaf in both ears, accessing sound with a cochlear implant. "Honestly, in a noisy gym, it is difficult to hear," he said. "My teammates and coaches use hand signals to communicate plays. I'm also super visual and always checking."
The Herons open the season Saturday at home with a non-conference game against Quinsigamond Community College.
"Ultimately I took the job to build something special and create something special for these guys to take with them to whatever their chapter may be," Burt said. "Now we've got to stay there."