They say to do what you love, so here we are.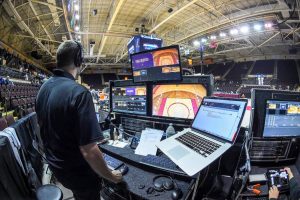 Ball 603 snuck onto the New Hampshire sports scene in December of 2021 and we're aimed at providing high-quality content of New Hampshire high school basketball through a fresh and professional lens, both figuratively and literally. We are also focused on integrating local hoop junkies around the state to help with our coverage. We have partnerships in place with some Granite State hoop icons to bring you a passionate take on the sport that we all love. And, we have a work force of photographers and videographers poised to highlight the many amazing basketball stories around the state.
The idea of Ball 603 blossomed in the fall of 2019 and we're pouring our hearts into all aspects to make our coverage a success. Our love affair with basketball ranges from directing youth basketball programs and coaching school teams to working in college athletics as Sports Information Directors and video producers around the country.
It's a unique skill set that has been well received in Farmington, the hometown of Pack Network Co-Founder and Ball 603 front man, KJ Cardinal. Through the Farmington Tigers facebook page, this idea blossomed and we think you'll love the results this fresh new take on covering high school sports. We plan to bring you everything from print and photo coverage to video highlights and live streaming.
If you're interested in learning more about what we have planned or becoming one of our local hoop junkies, please reach out to KJ at kj@ball603.com. Thanks for stopping by and enjoy the show!