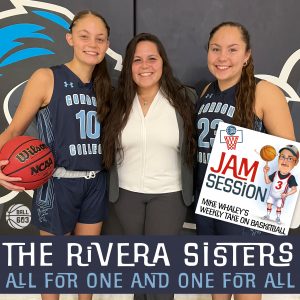 By Mike Whaley
The Rivera family takes being together to a whole new level. All four children are enrolled at Gordon College in Wenham, Massachusetts. This past spring they all played a sport – the three sisters were on the Gordon softball team and Ismael, the son, suited up for the baseball squad.
The sisters' dynamic has changed slightly this winter. Ami and Isabella are still teammates on the Scots' women's basketball team as they were for the second half of last winter. However, their older sister, Lily, has been added to the mix as an assistant coach. That dynamic will remain the same in the spring on the softball diamond as Lily transitions from player to assistant coach.
Gordon went into the winter break with a record of 3-6. Ami is second on the team in scoring (12.3 ppg) while Isabella is fourth (8.7 ppg). Both sisters are pulling down four boards a game.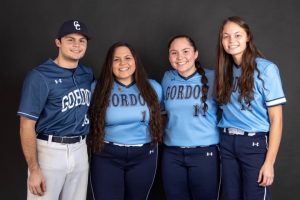 Sports have always been a family affair. Growing up in Concord, the younger sisters were coached in basketball by Rob Darrell and their dad, Freddy, at the Concord Boys and Girls Club. Freddy was also his daughters' travel softball coach, and coached all his daughters at Bishop Brady High School.
Sports and a Christ-centered upbringing has strengthened the family's sense of togetherness, which starts with the parents – Freddy and Lydia. "We have a very good relationship with each other," Freddy said. "(The sisters) love each other. They actually enjoy being around each other as well as my son. We've always been together as a family."
Taking that a step further, Ami and Isabella are not only Gordon teammates but they are also roommates. "We are in the gym all the time," Ami said. "We shoot together. We work out together. She's my roommate. We pretty much spend all our time together."
Although they all played two sports at Brady, there was never the opportunity for all three to play together. Lily was four years ahead of Ami and six ahead of Isabella. When she was a high school senior her sisters were still in middle school.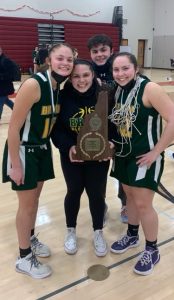 Ami and Isabella, however, were constant teammates at Brady in softball and basketball. They were key contributors to the school's first state girls' basketball championship team in 2021. The Giants beat Kennett in the Division II final, 52-50, on Isabella's steal and layup in the waning seconds.
Three factors allowed the trio to play the one year together on the softball diamond at Gordon, and even for Isabella to team up last winter with Ami on the hoop hardwood.
Firstly, Isabella was able to test out of eighth grade and enroll as a high school freshman. Secondly, she was able to finish up her high school senior year at home during the first semester of 2021, thus allowing her to enroll at Gordon in January 2022 for the second half of the basketball season and, obviously, for softball.
Thirdly, because of the pandemic, Lily was granted an extra or fifth year by the NCAA to play softball in 2022. That made it possible to team up with her sisters. All three of those things had to happen for them to play together.
The trio started, batted at the top of the Gordon lineup and actually were the team's top three hitters: Ami (.385), Lily (.373) and Isabella (.347). Position-wise, Lily played second and third base, Ami was a catcher and shortstop and Isabella played most of the season in center field. The Scots finished with a 19-18-1 record.
Now they're together again.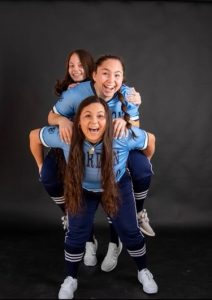 Gordon hoop coach Carter Shaw has liked what he's seen so far. "There is some trepidation when you have three siblings on one team," he said. "There's all sorts of things that could go wrong. They're a really close family, so I wasn't worried about that. Sometimes those dynamics can be challenging."
Shaw deals with any difficult one-and-one conversations with Ami and Isabella. Which, he notes, is as it should be.
Lily has been a great addition to the staff. "She understands the game really well," Shaw said. "She's been around it. She's coached it. This isn't something she's coming into brand new and has to figure out. … She has a really good sense of what we are doing and what we are trying to accomplish on the court."
Shaw said that Lily comes in as a selfless person willing to work hard and do all the dirty work. "She's doing the details," he said. "She's taking care of the stuff my assistants do. She does an awesome job."
Lily enjoys the position, even though it requires a certain amount of juggling. She lives at home with her parents in Litchfield, N.H., and works full time in Stratham at KidStrong Academy, which helps parents build stronger, smarter, high-character children. KidStrong, however, is in the opposite direction of Gordon, 40 minutes from Lily's home. That means there's a lot of driving. "I'm a busy girl, but I manage my time well," she said.
Lily wants to coach. That's her end game. "I love being able to make a difference," she said. "I've spent my whole life playing sports. I've spent my whole life on a team. I like being able to share that knowledge. I get to pass down that piece of it."
She enjoys being around Ami and Isabella. "My sisters are hustlers," she said. "They work hard. They are super fun to coach. They are everything you want. They are a coach's dream."
Her sisters embrace Lily's presence. "She explains things very well," Ami said. "She's so positive. It's good to have her around."
Shaw is glad he has Ami and Isabella on his team. Ami is the point guard, while Isabella is a shooting or off guard.
"Ami's a pretty strong point guard," the coach said. "She can hit the 3-pointer. She can put the ball on the floor. She can attack off the dribble. She's a great defender. She's tough. She has a kind of warrior's mentality. She goes on the attack. She's going to get in your face. She can create shots for herself and her team."
Isabella games kind of sneaks up on you. "When she gets on a roll, it's almost impossible to stop her," Shaw said. "The freedom that she plays with and the sense of joy that comes through with how she plays. When that happens, you can see her light up and you can see her game blossom every time. When she's playing with a smile on her face, she's deadly."
Like her sister, Isabella can hit the three and score off the dribble. Her coach says she has a great pull-up jump shot.
When Isabella decided to graduate from high school early and enroll at Gordon in January, she needed to get a headstart learning the basketball plays. Ami provided valuable assistance over the holiday break. "Going to Gordon, it was a completely different level, but I already had a jump start," Isabella said. "I had my dad helping me through that. I already had Ami teaching me what I should know about Gordon basketball in general going in."
The first week and a half back, Isabella worked out with the team. She had Covid, but didn't know it. It explained why she was extra tired during practices. On the way to their first game of 2022, they arrived at their destination only to find out one of them had covid. The team had to jump back on the bus and return to Gordon.
"And it ended up being me," Isabella said.
On one hand, Isabella was happy to know there was an explanation for her shortness of breath. On the other hand, the whole team had to quarantine and games that first week had to be postponed while they recovered.
It meant that the next couple of weeks the Scots would be playing three games a week. "I didn't mind that," Isabella said. "Who doesn't like games? But it was also harder without practice to get me in the flow of college basketball."
Eventually, Isabella did get in a flow and was starting by the end of the season. She helped Gordon win seven of their final nine games (12-14 record overall) and advance to the Commonwealth Coast Conference tournament semifinals.
Ami played in all 26 games. She was second in scoring with a 13.3 average to go with 5.3 rebounds per game and 43 steals. Isabella played 17 games, averaging 6.3 points and 2.6 rebounds per game.
As talented as they are, the sisters are even better teammates. "They're the first people to cheer for their teammates," Shaw said. "They're the first people off the bench. They just get excited about being on the court. They're fun to coach. They're easy to coach. They're listening. They're hard working. They just bring all that. You don't have to challenge them to play harder."
All for one and one for all.
Got a story idea for Jam Session – contact Whaley at whaleym25@gmail.com.