Competition heated up during day 2 of The 43rd Annual Mike Lee Holiday Basketball Bash at Farmington High School. Three of the eight total semifinal spots across both divisions were determined and four tournament records were broken on the eight-game day.
If you missed any of the day 2 action, you can watch back archives of all games. We also have a notebook below, followed by a list of the day's results that features double-digit scorers and links to photo galleries and video highlights for select games.
TOURNEY NOTES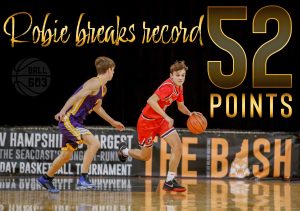 • Profile's dynamic duo of juniors Josh Robie & Alex Leslie led the Patriots to a record-setting performance in their first game of the tournament. Robie connected on 10 three-pointers en route to a tourney record 52 points, while the Patriots also set the high-water mark for points in a single game with a 103-44 win over Nute. The game also featured the most three-point field goals combined for both teams (21) as Profile buried 13 and Nute dropped eight of their own.
• The host Farmington boys and girls both advanced to the semifinals in their respective brackets, while the Belmont girls also punched their ticket to the final four.
• One of the unique, and frankly our favorite, parts of The Bash took place on Tuesday with a Skills Challenge and 3-Point Contest. Sanborn's Allie Bezanson and Nute's Anthony Tracia took home the hardware in the Skills Challenge, while Farmington's Anna Cardinal and Profile's Josh Robie were victorious in the 3-Point Contest.
• The highlight of the tournament so far came in the day two night cap as Farmington's Jordan Berko threw down a dunk as the host Tigers defeated Lin-wood, 75-57. Watch Berko's dunk over on our Instagram.
• Coffee County (TN) set the single-game scoring record on the girls side with 101 points.
GIRLS: BELMONT 58, FRANKLIN 28 – PHOTOS
• Belmont advances to the semifinals on Thursday at 3:00 pm.
Red Raiders: Darci Stone (15 points), Alyssa Edgren (10)
Golden Tornadoes: Kourtney Kaplan (10 points)
BOYS: BELMONT 67, PORTSMOUTH CHRISTIAN 54 – PHOTOS | VIDEO HIGHLIGHTS
Red Raiders: Sam Reposa (19 points), Anakin Underkin (18), Keegan Martinez (14)
Eagles: Cai Summers (10 points)
BOYS: DERRYFIELD 60, FRANKLIN 32 – PHOTOS | VIDEO HIGHLIGHTS
Cougars: Jack Krasnof (16 points), Alex Drake (10)
Golden Tornadoes: Zeke McCoy (24 points)
GIRLS: SANBORN 41, SOMERSWORTH 40 – PHOTOS
• Sanborn advances to the quarterfinals on Wednesday at 1:30 pm.
Indians: Emma Gillis (18 points)
Hilltoppers: Aby Lambert (20 points)
GIRLS: COFFEE COUNTY (TN) 101, NOBLE (ME) 12 – PHOTOS
• Coffee County advances to the semifinals versus Coe-Brown on Wednesday at 6:00 pm.
• CC sets the single-game scoring record with 101 points.
Raiders: Channah Gannon (22 points), Audri Patton (13), Chloe Gannon (12)
Knights: Ashley Merchant (3 points)
BOYS: PROFILE 103, NUTE 44 – PHOTOS | VIDEO HIGHLIGHTS
• Josh Robie sets the individual single-game scoring record
• Profile sets the team single-games scoring record
• The game set the most 3-point field goals made record (21 total, 13 for Profile, 8 for Nute)
Patriots: Josh Robie (52 points), Alex Leslie (32 points)
Rams: Gavin Forcier (12 points), Chase Picard (12)
NEW ENGLAND FURNITURE SKILLS COMPETITION
Girls Champion: Allie Bezanson, Sanborn
Boys Champion: Anthony Tracia, Nute
NORTHEAST ARBOR TEC 3-POINT CONTEST
Girls Champion: Anna Cardinal, Farmington
Boys Champion: Josh Robie, Profile
GIRLS: FARMINGTON 37, PROFILE 34 – PHOTOS
Farmington advances to the semifinals on Thursday at 6:00 pm.
Tigers: Madi Ricker (13 points), Makayla Lapanne (10)
Patriots: Mya Brown (14 points)
BOYS: FARMINGTON 75, LIN-WOOD 57 – PHOTOS
• Farmington advances to the semifinals on Thursday at 7:30 pm.
Lumberjacks: Jake Avery (26 points), Cam Clermont (19)
Tigers: Jordan Berko (22 points), Brian Boisvert (22), Aiden Place (12), Matthew Savoy (12)