By: KJ Cardinal
Day one of the 43rd Annual Mike Lee Holiday Basketball Bash is in the books and it was a day that featured inter-division match-ups, lop-sided scores and two "upsets" so-to-speak. The average margin of victory on the day was nearly 33 points, which was somewhat anticipated with the lack of parity on the schedule. While the girls games were just warm-up contests for bracket play that begins tomorrow, the boys games were part of pool play.
If you missed any of today's action, you can watch back archives of all nine games. We also have a notebook below, followed by a list of the day's results that features double-digit scorers and links to photo galleries and video highlights for select games.
TOURNEY NOTES
• The closest game of the day was a hard-fought battle between the Coe-Brown and Belmont girls. The Bears came out flat and managed just three points in the first quarter, but head coach Joe Vachon's squad increased their productivity each quarter and closed out the fourth to come away with a 37-34 victory.
• The only other single-digit deficit on the day was also one of the "upsets" we saw as the D-IV Profile girls downed D-II Sanborn, 44-35. The other "upset" was the D-IV Farmington boys cruising past D-III Raymond, 78-51.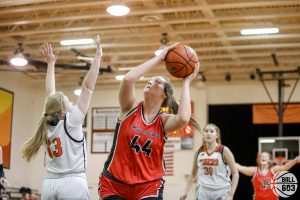 • The Coffee County squad that hails from Manchester, TN is no joke. The Red Raiders came in with an impressive resume and they wasted no time showing the field that they meant business as they jumped out to a 43-3 halftime lead over host Farmington. It should really come as no surprise as Coffee County Central High School boasts an enrollment of over 1,200, while Farmington has just 249 students. Regardless, the Red Raiders size, depth and revolving defensive schemes will be a tough match for anyone in the tournament.
• The top individual performers on the day were Somersworth's Aiden Heffron and Farmington's Brian Boisvert. They each netted 22 points and led their team to opening day victories.
DAY ONE BREAKDOWN & LINKS
BOYS: SOMERSWORTH 91, NUTE 71 – PHOTOS | VIDEO HIGHLIGHTS
Hilltoppers: Aiden Heffron (22), Dominic Starr (19), Evan Talley (19)
Rams: Gavin Forcier (19), Jackson Lafogg (14), Anthony Tracia (14)
GIRLS: FRANKLIN 51, SOMERSWORTH 36 – PHOTOS | VIDEO HIGHLIGHTS
Golden Tornadoes: Kourtney Kaplan (19 points), Elisabet Porras Mateu (10)
Hilltoppers: Aby Lambert (12 points), Gabby Lensky (10)
BOYS: KENNETT 80, FRANKLIN 24 – PHOTOS | VIDEO HIGHLIGHTS
Eagles: Bo Noung (15 points), Daven Bailey (10), Alex Clark (10)
Golden Tornadoes: Zeke McCoy (9 points)
GIRLS: KENNETT 72, NOBLE 12 – PHOTOS
Eagles: Kaley Goodhart (15 points), Sam Sidoti (11), Kaylee McClellan (10)
Knights: Natalia Rothwell (7 points)
GIRLS: COE-BROWN 37, BELMONT 34 – PHOTOS
Bears: Ava Telehala (10 points)
Red Raiders: Lena Rodrigues (13 points)
BOYS: COE-BROWN 63, PORTSMOUTH CHRISTIAN 32 – PHOTOS
Bears: Hugh Hamilton (21 points), Connor Bagnell (14)
Eagles: Cai Summers (11 points)
GIRLS: PROFILE 44, SANBORN 35 – PHOTOS
Patriots: Kyah Knight (16 points), Mya Brown (10)
Indians: Allie Bezanson (12 points)
GIRLS: COFFEE COUNTY (TN) 84, FARMINGTON 10 – PHOTOS
Raiders: Chloe Gannon (20 points), Channah Gannon (16), Alivia Reel (11)
Tigers: Madi Ricker (7 points)
BOYS: FARMINGTON 78, RAYMOND 51 – PHOTOS
Tigers: Brian Boisvert (22 points), Jordan Berko (17), Cody Brazee (13), Matthew Savoy (11)
Rams: Drezzell Duffaut (20 points)