By: KJ Cardinal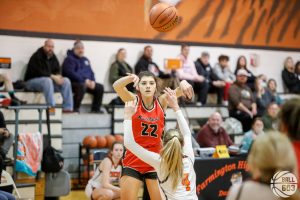 There's been a lot of talk and interest with Coffee County Central High School making their way to the 603 all the way from Tennessee to compete at this year's 43rd Annual Mike Lee Holiday Basketball Bash in Farmington. It seems like quite the trek for the Tennessee Division 8-AAA powerhouse to make in order to play in a tournament that features predominantly New Hampshire Division III & IV squads, but to Lady Raiders head coach Joe Pat Cope this trip is about more than basketball.
Following the Lady Raiders semifinal win over Belmont, we had a chance to catch up with Cope and he said "My aunt used to live in the area and I thought it would be a great opportunity for these girls to see part of the country they probably wouldn't see otherwise." When asked how he heard about The Bash, he said that he simply Googled basketball tournaments in New England and The Bash, which is the state's largest holiday basketball tourney, was at the top of the list.
Cope was searching for an event to play in because the tournament they were slated to play in Panama City, Fla. got canceled and they had to scramble to find a replacement event. The Lady Raiders fundraised all year round for this trip and The Bash seemed like a good fit.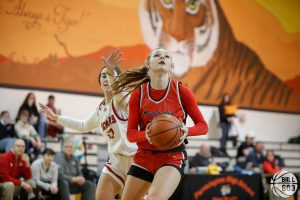 That internet search led Cope to The Bash Tournament Director Joel Chagnon. The two had lengthy conversations prior to the tournament and Chagnon said "After Joe reached out, I took a look at their enrollment and it was comparable to Spaulding and they've played in our tournament before." Coffee County's enrollment is currently just over 1,200, compared to Spaulding's 1,331. Coffee County Central High School is located in Manchester, Tenn. with a population of just 12,000, but the high school draws from eight elementary schools as it's regionalized by counties in Tennessee.
Chagnon told Cope he wasn't sure how much his team would benefit from the D-III and D-IV tourney, but Cope told him "the goal is for the girls to experience New England. None of them have been to New England. Many have not left Tennessee, except for a basketball tournament." Well, the Lady Raiders have achieved that goal as they've been sight-seeing around the area and a trip to the Nubble Lighthouse in York, Maine and lobster rolls on the coast are some of the favorites so far. The experience has been one more of bonding than basketball, but that will all change tonight as Coffee County takes on D-II Kennett in The Bash finals at 5:30 pm.
With a near 78-point average margin of victory through four games in the tournament, it's clear that the Lady Raiders have been the best team in the 10-team event. "It's real simple. They're in a league of their own, period," said tournament namesake and legendary Farmington High School boys coach, Mike Lee. The NHBCO Hall of Famer added, "Those kids are so well-drilled and skilled. It reminds me of some of the John Fagula teams when he was at Nashua & Londonderry. They were so skilled, they had to leave New Hampshire to play teams."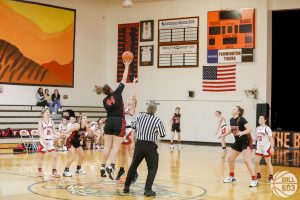 The skilled Lady Raiders set the tone right from the opening tip as they run a set play on the jump ball, called "Island". While it looks like a gimmick at first, there's no joke about it as it's resulted in a wide open corner three in all four games. And, in all four games the Lady Raiders have knocked down the open jumper to take a 3-0 lead about three seconds into the game. They're shooting over 70% from the field as a team in the tournament. It's impressive to see.
Despite giving a drubbing to the field, the Lady Raiders have carried themselves well on the court. "They are the most polite, respectful young ladies you've ever met," said Chagnon "Joe makes line changes for substitutions and when the girls check in, they have their arms around each other or are joking around. They are just classy."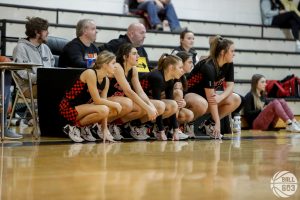 Opposing coaches have been very complimentary of the Lady Raiders skill level and demeanor. Following Belmont's 97-26 semifinal loss to Coffee County, Belmont head coach Mike Andriski went through the handshake line and then entered the Lady Raider huddle to address the team. The level of respect displayed by coaches and players alike has been somewhat inspirational.
Farmington sophomore Madi Ricker and freshman Anna Cardinal, who were defeated in their opening game of the tourney by the Lady Raiders 84-10, were seen sitting in the stands chatting it up with the Lady Raiders as well. "I think playing these Tennessee girls has taught the New Hampshire teams a huge lessons on what it takes to be an athlete," said Lee.
Speaking of lessons, school will be in session at 5:30 pm tonight when the Lady Raiders look to bring The Bash crown back to the Volunteer State.