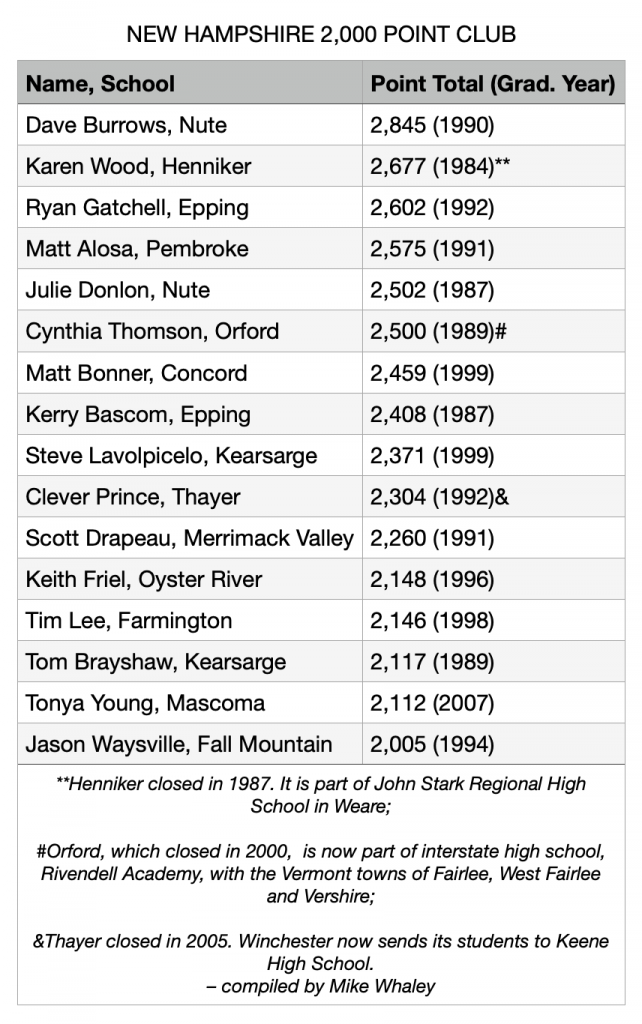 We love to honor those local legends from the past and thanks to our local legend himself, Mike Whaley, we have started a list of all-time NHIAA 1,000-point scorers list.
Check out our progress below. If you don't see your school listed, send us your 1,000-point scorer's list (boys and girls), and we will be sure to add your school. Simply take a photo of the 1,000 point banner in your gym or send us a list. We're hoping to get the total points scored (if known) and the year of graduation.
Send your lists to us at kj@ball603.com.
Here's what we've got so far..
ALVIRNE
Pat Manor
Mike Konovelchick
Caleb Donnelly
Max Bonney-Liles
Karen Biagini
Lauren Moore
Patty Skelton
Kelly Nadeau
BEDFORD
Cam Meservey (1,122 • 2014)
Isabella King (1,115 • 2021)
Aiden O'Connell (2023)
BELMONT
Verne Bryant (1951)
Ronald Smock (1974)
Cliff Greenwood (1983)
Chris Lockwood (1994)
Nathan Roach (1999)
Michael Messier (1999)
Sean Newman (2010)
Trevor Hunt (2017)
Mary Fogg (1984)
Diane DiRoma (1992)
Martha Bolduc (1993)
Courtney Jacques (1996)
Missy Smock (1997)
Beth Roberts (2000)
Bridgette Hooker (2005)
Julianna Estremera (2019)
BERLIN
Maxwell Agrodnia (1,151 • 1930)
Dave Agrodnia (1,012 • 1958)
Gary Boire (1,039 • 1959)
Reggie Marquis (1,433 • 1970)
Steven Buckovitch (1,034 • 1974)
Wayne Lurvey (1,166 • 2000)
Derek Leclerc (1,157 • 2002)
Curtis Arsenault (1,545 • 2012)
Evan Arsenault (1,143 • 2018)
Seth Balderrama (1,136 • 2019)
BISHOP BRADY
Thomas Hardiman (1947)
Andy Ansaldo (1961)
Frank Alosa (1965)
Bobby Paveglio (1969)
Maureen Robinson (1982)
Jim Clement (1986)
Jim Collins (1996)
Billy Collins (1998)
Marshall Crane (1998)
Spencer Wood-Friend (2001)
Cecilia Ortega (2005)
Tyler Penney (2010)
Jourdain Bell (2015)
Brendan Johnson (2015)
Sarah Thomas (2015)
Joseph Bell (2016)
Riley Bennett (2017)
Bryce Johnson (2018)
Samantha Will (2018)
Ami Rivera (2020)
BISHOP GUERTIN
No known list
BOW
Erica Kensey (2000)
Heather LaBranche (2000)
Jen Haubrich (2002)
Eric Riggs (2002)
Mike Chergey (2006)
Katelyn Nerbonne (2006)
Paul Chergey (2006)
Brian Chergey (2008)
Lindsey Nerbonne (2013)
CAMPBELL
No list submitted (submit now)
COE-BROWN
Andy Noyes (1975)
Joe Sims (1978)
Wade Sauls (1984)
Ginger Sanford (1989)
Kelly Hall (1993)
Todd Peterson (1993)
Jen Robinson (1996)
Emily Liskow (1998)
Kyle Purinton (1999)
Brandon Boggs (2002)
Ashley Cooper (2004)
Stacey Kent (2005)
COLEBROOK
Kevin Trask (1,645 • 2001)
Sage Smith (1,601 • 2021)
Samantha Howe (1,558 • 2021)
Michaella Biron (1,487 • 2017)
Dan Fournier (1,419 • 1992)
Katie Edwards (1,243 • 2005)
Josee Brunault (1,226 • 2013)
Gary Pinckney (1,152 • 1973)
Mackenzie Brooks (1,144 • 2009)
Brett McKinnon (1,113 • 1995)
Lindsie Lemieux (1,095 • 2005)
Sedrick Mckinnon (1,091 • 2016)
Tyler Griffin (1,055 • 2011)
Kristen Call (1,050 • 2011)
Lance Boire (1,026 • 1997)
Carson Rancourt (1,022 • 2021)
Richard Hebert (1968)
CONANT
Keith Johnson (1979)
Darin Hood (1980)
Paul Asel (1982)
Dave Springfield (1985)
Scott Baldwin (1986)
Mindy Stenberg (1988)
Kari Hunt (1995)
Karen Belletete (1996)
Craig Griffin (1998)
Andy Jones (2001)
Betsy Oswalt (2001)
Justen Nagle (2002)
Kathleen Neyens (2005)
Kyle Todd (2008)
Jimmy Peard (2010)
Brooke Springfield (2011)
Devin Springfield (2013)
Madison Springfield (2015)
Peyton Springfield (2019)
Elizabeth Gonyea (2020)
Emma Tenters (2023)
Brynn Rautiola (2023)
CONCORD
Hap Simpson (1,030 • 1948)
Joe Drinon (1,016 • 1962)
Jen Shadlick (1,050 • 1996)
Bill Haubrich (1,066 • 1971)
Jane Haubrich (1,047 • 1981)
Champ Simpson (1,155 • 1975)
Glenn Mathews (1,082 • 1984)
Matt Chotkowski (1,009 • 1995)
Matt Bonner (2,459 • 1999)
Becky Bonner (1,550 • 2000)
Kalen Marquis (1,036 • 2013)
Matt Giroux (1,170 • 2017)
CONCORD CHRISTIAN
Jeremy Shankle (1999)
Ryan Long (2000)
Nick Peters (2013)
Jeremiah Boulter (2015)
Brode Frink (2025)
CONVAL
Phillip Abbott (1,064 • 1978)
Todd Burgess (1,390 • 1984)
Hunter Burgess (1,048 • 1989)
Jon Tirone (1,124 • 1989)
Jon Horne (1,106 • 1991)
Christine Jutras (1,389 • 1994)
Jaime Leflem (1,856 • 1995)
Veronica Jutras (1,111 • 1996)
Brett Leflem (1,374 • 1997)
Danielle Statuto (1,341 • 2000)
Lindsey Carey (1,206 • 2019)
DERRYFIELD
Maya Mangawang (1,529 • 1991)
Becky Gallagher (1,457 • 1989)
Bethany Kalliel (1,293 • 2012)
Kendra Decelle (1,094 • 2005)
Carl Perron (1,018 • 1981)
David Larrivee (1,145 • 1984)
Adam Gillan (1,341 • 1989)
Jared Silverstein (1,408 • 1996)
Max Anderson
Sam Anderson
Max Byron
DOVER
Stu LaFramboise (1968)
Karen Vitko (1979 • 1,179)
Lynne Richard (1979 • 1,075)
Scott Leighton (1981)
Kevin Crowell (1987)
Jeff Pierce (1991)
Jill Downer (1998 • 1,192)
Jessica Clark (2001 • 1,137)
Seana Boyle (2002 • 1,090)
Shavar Bernier (2004)
Curran Leighton (2009 • 1,212)
Katrina Krenzer (1,074 • 2019)
Ty Vitko (1,159 • 2019)
EPPING
Lionel Levesque (1965)
Butch Langdon (1966)
Maureen Denyou (1983)
Kerry Bascom (1985)
Ryan Gatchell (1990)
Julie Freeman (1990)
Denny Wood (1991)
Matt Price (1998)
Samantha Newton (2002)
Shauna Mullenix (2002)
Ryan Newman (2003)
Chris Crowley (2008)
Meghan Fiore (2008)
Frank Stanley (2013)
Jimmy Stanley (2014)
Colby Wilson (2016)
Jackson Rivers (2017)
Hunter Bullock (2019)
Owen Finkelstein (2022)
EXETER
No list submitted (submit now)
FALL MOUNTAIN
Patrick Aumand (1,495 • 1973)
Karolyn Domini (1,240 • 1984)
Jason Waysville (2005 • 1994)
Morgan Ferland (1,016 • 2015)
Ryan Murdoch (1,030 • 2015)
Avery Stewart (1,108 • 2021)
FARMINGTON
Len Auclair (1960)
Danny Reynolds (1970 • 1,217)
Paul Moulton (1970)
Gary Boulay (1979 • 1,169)
Casey Howard (1984 • 1,138)
Steve Mosher (1986 • 1,385)
Julie Gagne (1990 • 1,432)
Kristy Woodill (1996 • 1,848)
Tim Lee (1998 • 2,146)
Nick Doyle (2001 • 1,052)
Jayson Whitehouse (2004 • 1,579)
Tabby Whitehouse (2010 • 1,015)
Katie Martineau (2017 • 1,779)
FRANKLIN
Larry Dustin (1965)
Bryan Baker (1974)
Dan Sylvester (1983)
Michelle Brusseau (1987)
Shelley Winters (1993)
Karen Malsbenden (1994)
Bryan Aube (1997)
Nate Bickford (1999)
Nicole Parenteau (2001)
Mason Roberge (2007)
Dana Bean (2016)
Kenny Torres (2016)
Jayden Torres (2018)
GILFORD
Sandy Thrall (1,263 • 1985)
Jason Van Bennekum (1,314 • 1992)
Bryan O'Leary (1,427 • 2006)
Eric Dean (1,023 • 2008)
Kirk Crecco (1,230 • 2008)
Lindsey Carr (1,934 • 2009)
Jalen Reese (2023)
GOFFSTOWN
David Wildman (1,396 • 1965)
Richard Fields (1,044 • 1966)
Gregory Pappas (1,091 • 1971)
Walter Foote (1,145 • 1974)
John Stone (1,140 • 1978)
Kelly Walsh (1,780 • 2021)
Ava Winterburn (2023)
GORHAM
Don Dimick (1954)
Christopher Martel (1968)
Frank Bruni Jr. (1979)
Doug Lavigne (1992)
Sarah Normand (1995
Ben Raymond (2007)
Eric Jensen (2009)
Hillary Oleson (2010)
Bryson Raymond (2017)
GROVETON
Dennis Langley (1961)
Bill "BJ" Johnson (1977)
Rick Barlow (1978)
Richard Penney (1978)
Doreen "Dodie" Johnson (1980)
Terri Gilbert (1981)
Jeff Merriam (1988)
Nanette "Nan" Gilbert (1990)
Michelle Frett (2000)
Jason Kenison (2000)
Dagan Cloutier (2002)
Mike Kenison (2004)
Nick Perras (2005)
Emily Pelletier (2010 • 1,213)
Kelley Jo Collins (2011 • 1,290)
Nathan Smith (2012)
Makenna Burke (2013 • 1,100)
Corey Gadwah (2017)
Abbey Pelletier (2016 • 1,266)
Austin Lesperance (2018)
Josh Wheelock (2020)
HANOVER
Elise Palac (1997)
Brendan Carney (1997)
Morgan Hall (1999)
Betsy Williams (2006)
Charlie Adams (2020)
Maddie McCorkle (2020)
Stella Galanes (2022)
HILLSBORO-DEERING
Harold Rowell (1966)
Keith Murdough (1978)
Diane Bean (1981)
David Ager (1981)
Brian Bean (1983)
Tom Garafoli (1986)
Tara Blake (1990)
James McGuire (1991)
Emily Kordas (2002)
Libby Dutton (2009)
Skyler Makkinje (2010)
HINSDALE
Mike Kerylow (1957)
Del Blanchette (1957)
Sleepy Brooks (1958)
Gary Beaman (1963)
Joe Sarsfield (1972)
Larry Scott (1975)
Jason Dillon (1994)
Julie Messenger (2000)
Steve Deschenes (2001)
Allison Scott (2014)
Skylar Bonnette (2014)
Matthew Boggio (2016)
Skyler LeClair (2017)
Angelina Nardolillo (2019)
HOLLIS-BROOKLINE
Jon Spence (1965)
Donald Marvell (1970)
David Orde (1973)
Scott Varney (1985)
Tina Griffiths (1990)
Elisabeth Stapelfeld (2022)
HOPKINTON
Bruce Johnson (1970)
Royal Ford (1992)
Evan Johnson (1992)
Jeff Adams (1994)
Beth Beckett (1995)
Amy West (2001)
Sarah Wofsy (2002)
Katie Barthelmes (2004)
Ryan Callahan (2004)
Kelly Flynn (2007)
Hannah Richard (2010)
Kevin Newton-Delgad0 (2020)
INTER-LAKES
Tom Parissi (1148 • 1967)
Patricia White (1014 • 1973)
Joan Pettengill (1329 • 1980)
Bruce Sanderson (1047 • 1983)
Andrew Swift (1069 • 1994)
Michael Roy (1335 • 1996)
Jeff Carpenter (1174 • 2004)
Dillon Dow (1026 • 2015)
Zach Swanson (1335 • 2017)
Eli Swanson (1181 • 2019)
JOHN STARK
Mark Watman (1989)
Beth Chartier (1993)
Gerry Healy (1994)
James Johansen (2000)
Justine Nims (2004)
Katie Cullerot (2011)
Chelsea Woodsum (2020)
Christian Barr (2020)
KEARSARGE
Tom Brayshaw (2,117 • 1989)
Steve Lavolpicelo (2,372 • 1999)
Bob Allen (1978)
David Bartlett (1989)
Stephanie Manus (1990)
Peter Lavolpicelo (1995)
Debbie Taylor (1995)
Tracy Fuller (1998)
Christine Gassman (1999)
Kristen Lucek (2002)
Andrew Ferreira (2006)
Marilyn Ferreira (2007)
Tommy Johnson (2018)
Tayler Mattos (2018)
KEENE
Jeff Holmes (1,275 • 1983)
Jim McGilvery (1,044 • 1992)
Tomy Depalo (1,235 • 1999)
Pat Luptowski (1,299 • 2007)
Camryn Warner (1,000 • 2010)
Ashley Clough (1,271 • 2012)
Logan Galanes (1,112 • 2017)
KENNETT
Rogdger Blanchard (1970)
Larry Day (1982)
Jeff Perry (1990)
Abe Wrobleski (1995)
Trevor MacDonald (1998)
Debbie Russell (1989)
Erin Russell (1994)
Alison MacDonald (1994)
Kristen Umlah (1999)
Alison Wagner (2011)
Melissa Frase (2011)
Isabel Wrobleski (2019)
KINGSWOOD
Greg Dollarhide (1,057 • 1981)
Craig Vezina (1,750 • 1992)
Nicole LaBelle (1,443 • 1993)
Josh Tetreault (1,578 • 2000)
Adrian Gross (1,218 • 2006)
Kohl Meyers (2012)
Ethan Arnold (2022)
LACONIA
Chip Veazey – 1973
Jim Swormstedt – 1987
Beth Gilbert – 1997
Sara Scott – 1999
Brady O'Neil – 2009
Christian Birt – 2009
Kayden Roberts – 2023
LEBANON
Jim Vanier (1970)
Chuck Hulse (1972)
Rich Parker (1977)
Les Doncaster (1981)
Jayne Daigle (1982)
Keely Boivin (1988)
Mike Joslin (1988)
Keith Blake (1991)
Joe Faucher (1996)
Emily King (1996)
Lorin Tedeschi (2001)
Meghan Daigle (2006)
Moriah Morton (2013)
David Hampton (2013)
KJ Matte (2016)
Rebecca Wright (2019)
LIN-WOOD
Stanley Dovholuk (1976)
Natalie Haynes (1986)
Jamie Bourassa (1987)
Ryan Jones (1996)
Jeremy Nelson (1996)
Ross Macauley (2002)
Sarah LeClerc (2004)
Randi Mackay (2007)
Brandon Harrington (2018)
Cam Clermont (2022)
Jake Avery (2022)
LISBON
Tom White (1973)
Russ Hubbard (1978)
Mike Hill (1979)
Linda Clough (1981)
Nikke Knighton (1988)
Steve Santy (1995)
Erica Elliott (1998)
Jeff Perham (1998)
Ed Natti (2003)
Tom White (2004)
Mike White (2007)
Jennifer White (2009)
Josh Woods (2018)
LITTLETON
No list submitted (submit now)
LONDONDERRY
No list submitted (submit now)
MANCHESTER CENTRAL
No list submitted (submit now)
MANCHESTER MEMORIAL
Mike O'Neil (1970)
Mike Flanagan (1971)
Ron Beaurivage (1971)
Mike Applegate (1972)
John Astarita (1989)
Haleigh Shea (2018)
Lyric Grumblatt (2020)
Shawndra Applegate (1993)
Kindyll Dorsey (2002)
Rebekah Grissom
Amra Lezovic
MANCHESTER WEST
No list submitted (submit now)
MASCENIC
Barbara Gerry (1981)
Kevin Rines (1989)
Heather Shaw (1990)
Brycen Blaine (1991)
Shannon Cunningham (1995)
Jason Starr (1999)
Chris Alix (2000)
Jared Stauffeneker (2014)
Daimon Gibson (2017)
Sam Stauffeneker (2019)
Shelby Babin (2020)
MASCOMA
Roger Cattabriga (1970)
James Martin (1980)
Jennifer Carter (1989)
Lynne Sullivan (1990)
Shannon Farrell (1990)
Aimee Beliveau (1991)
Joshua Chapman (1995)
Silas Ayres (2001)
Kati Lary (2002)
Katie Arey (2004)
Joy Depalo (2004)
Megan Evans (2004)
Tonya Young (2,012 • 2006)
Matt Pollard (2007)
Josh Poland (2009)
Alex Schwarz (2017)
Ben Seiler (2021)
MERRIMACK
No list submitted (submit now)
MERRIMACK VALLEY
Laurie Moran (1,349 • 1985)
David Huckins Jr (1,479 • 1989)
Scott Drapeau (2,260 • 1991)
Brian Huckins (1,174 • 1994)
Brad Huckins (1,257 • 1999)
Greg Carbone (1,125 • 2001)
Ethan Lavoie (1,172 • 2002)
Amanda Wells (1,070 • 2005)
Alicia Jensen (1,031 • 2005)
Megan Hardiman (1,049 • 2011)
Justin Abbott (1,010 • 2012)
Abby Grandmaison (1,034 • 2018)
Carly Huckins (1,085 • 2019)
MILFORD
Alan Shethar
Lesli Laychak
Doug Newbert
Kris Collins
Andrea Bowman
Jaci Stimson
Ryan Emerson
Shawn Bachelder
Jeremy Stinson
Nick Shepard
Kristen Calvetti
Jasmin Handanovic
Mike O'Loughlin
Jamie Holder
Dina Pitsas
MONADNOCK
No list submitted (submit now)
MOULTONBOROUGH
Matthew Swedberg (1,722 • 1987)
Lanette Burrows (1,078 • 1994)
Todd Engle (1,047 • 1994)
Marinda Cahoon (1,302 • 1996)
Ben Hallgren (1,132 • 1996)
Dan Ringelstein (1,181 • 1996)
Phil Cowels (1,084 • 2006)
Kevin Eisenberg (1,231 • 2009)
Drew Forsbert (1,077 • 2009)
Marcus Swedberg (1,090 • 2012)
Reese Swedberg (1,164 • 2018)
MOUNT ROYAL
No list submitted (submit now)
NASHUA NORTH
No list submitted (submit now)
NASHUA SOUTH
No list submitted (submit now)
NEWFOUND
Maurice Day (1972)
Scott Chamberlain (1984)
Kammi Reynolds (1987)
Karri Reynolds (1987)
Jackie Lyon (1989)
Sherry Vestal (1993)
Jen Evans (1994)
Dan Plourde (1994)
Eric Pescinski (1995)
Ethan Holmes (1995)
Patrick Hill (2000)
Cliff Cutter (2001)
Jill Walker (2001)
Caitlin O'Connor (2007)
Maggie Seaver (2008
Jordan Phinney (2011)
Amber Plummer (2014
Karissa Bony (2015)
NEWMARKET
Jeff Monroe (1976)
Tom Nelson (1979)
Ralph Longa (1980)
Randy Edgerly (1986)
Kristine Gorski (1992)
Matt Gordon (1995)
Allyson Benvenuti (2001)
Chad Mastin (2002)
Duncan Szeliga (2005)
Curtis Williams (2009)
Christian Hawkins (2013)
Anthony Senesombath (2018)
NEWPORT
No list submitted (submit now)
NUTE
Jim Damon
Bruce Regan
Steve Burrows
Al Chiasson
Scott Burrows
Julie Donlon (2,502)
David Burrows (2,845)
Stacy Dube
Matt Cloutier
Stephen Lacasse
Shannon St. Lawrence
Conner Bradway
OYSTER RIVER
Steve Bamford (1960)
Randy Kinzly (1977)
Pat Galvin (1981)
Julie Sasner (1984 • 1,143)
Johanna Michel (1986)
John Freiermuth (1988)
Pat Casey (1989)
Jennifer Friel (1993)
Keith Friel (2,148 • 1996)
Greg Friel (1997)
Mike Casey (1999)
Jeremy Friel (2001)
Brittney Cross (2003 • 1,008)
Rick Laughton (2006)
Jilliane Friel (2009 • 1,136)
Danielle Walczak (2011 • 1,191)
Joe Morrell (2020)
PELHAM
Kyle McInnis
Bob Backman
Pete Ostergaard
Brad Martineau
James Roman
Justin Hojlo
Stephen Spirou
Jake Vaiknoras
Keith Brown
Derek Crowley
Karen Sutcliffe
Briana Szidat
Lilly Shlimon
Danielle Sirois
Olivia Gagnon
Jasmine Becotte
PEMBROKE
Rick Morrill (1,290 • 1965)
Craig Keeler (1,255 • 1972)
Mark Yeaton (1,596 • 1973)
Steve Bodi (1,380 • 1976)
Alicia Young (1,016 • 1981)
Jim Sherman (1,021 • 1983)
Mike Drouin (1,198 • 1985)
Matt Alosa (2,575 • 1991)
Leslie Menard (1,048 • 1994)
Chris Barker (1,333 • 2002)
Kelly Thomas (1,202 • 2006)
Alex Hall (1,617 • 2009)
Matt Persons (1,080 • 2013)
Pat Welch (1,907 • 2014)
Noah Cummings (1,122 • 2019)
Sean Menard (1,087 • 2019)
PINKERTON
Carl Hepworth (1,050 • 1971)
Mark Dunham (1,025 • 1999)
Zach Mathieu (1.075 • 2010)
Jackson Marshall (2024)
PITTSBURG-CANAAN
No list submitted (submit now)
PITTSFIELD
Kevin Riel (1970)
Jeff Jones (1972)
Tom Boyd (1976)
Krista Hast (1980)
Fred Hast (1981)
Mike Mitchell (1981)
Josh Lank (1990)
Wylie Mousseau (1994)
Michelle Meader (1996)
Tony Martinez (1997)
Dan Chapman (2000)
Nikki Hill (2006)
Sean Kryander (2006)
Chad Fennessey (2010)
Ben Hill (2011)
Donovan Emerson (2012)
Xenthios Cyr (2017)
Cam Darrah (2018)
PLYMOUTH
No list submitted (submit now)
PORTSMOUTH
James Best (1,161 points • 1984)
Strider Sulley (1,091 • 1989)
Aaron DeGraffe (1,129 • 2002)
John Mulvey (1,299 • 2009)
Amy Kinner (1,061 • 1995)
Andrea Herold (1,166 • 2001)
Libby Underwood (1,253 • 2017)
Joey Glynn (1,068 • 2017)
Cody Graham (1,440 • 2018)
Alex Tavares (1,030 • 2019)
PORTSMOUTH CHRISTIAN ACADEMY
Cassaundra Thorpe (2004)
Alicia Long (2006)
Lauren Andrews (2008)
Bryson Lund (2020)
Madison Trainer (2021 • 1,020)
PROFILE
Kelley Grautski (1,262 • 1983)
Kim Derrington (1,335 • 1987)
Brian Mcguigan (1,188 • 1989)
Gregg Dixon (1,242 • 1990)
Kris Hultgren (1,136 • 1995)
Justin Stroup (1,109 • 2002)
Kate Ramsey (1,104 • 2003)
Julia Houghtaling (1,391 • 2004)
Josh Robie
PROSPECT MOUNTAIN (formerly Alton)
Frank Messier
Mike Lee
Jim Murray
Diane DeJager
Amy Birdsey
Pam Blackadar
Chris Irvin
Keri Pelletier
Heather Swabowicz
Kelly Lord
Eric O'Brien
Matt Pelletier
Ben Locke
Zach Christy
Terese Hopper
RAYMOND
No list submitted (submit now)
SANBORN
Bob Macurdy (1968)
Neal Dwelley (1977)
Seth Carr (1986)
Jeff Fisher (1991)
Anna Cavallaro (1997)
John Morano (2001)
Jackson Morton (2014)
Dylan Khalil (2021)
ST. THOMAS
Fran McNally (1964)
Terry Casey (1967)
Katie O'Keefe (1999)
Matt McLaughlin (2008)
Lindsay Towle (2018)
Andrew Cavanaugh (2019)
SOMERSWORTH
Chuck Favolise (1976)
Marc Roy (1979)
Jim Perron (1982)
Kyle Hodsdon (1984)
Diane Soule (1991)
John Coggeshall (1994)
Larry Francoeur Jr. (1997)
Melissa Heon (2000)
Katelyn Rideout (2002)
Rachel Hill (2013)
Bryton Early (2018)
SOUHEGAN
Rushmie Kalke (1995)
Courtney Banghart (1996)
Jesse Lynch (1996)
Jackie Lippe (1997)
Julie McLaurin (2003)
Jane White (2012)
Brandon Len (2013)
Mia Len (2018)
SPAULDING
Brad Therrien (1,700 • 1970)
Luke Croteau (1,595 • 2008)
Greg Lacasse (1,434 • 2001)
Tammy Fowler (1,299 • 2003)
Denny Hodgdon (1,236 • 1964)
Tiffany Bryant (1,194 • 1991)
Jacin Demers (1,107 • 1997)
Kelly Donohue (1,052 • 1997)
Deb LaValley (1,044 • 2009)
Dominic Paradis (1.098 • 2013)
Arie Breakfield (1,317 • 2019)
STRATFORD
Josh Stone (1993)
Troy Burns (1993)
Eric Hurlbert (1,780 • 1994)
SUNAPEE
David Muzzey (1986)
Beth Field (1988)
Trisha Shepard (1991)
Jennifer Colby (1995)
David Colby (1996)
Heather Wilkie (1997)
Meghan Wilkie (2001)
Jillian Hurd (2006)
Shawn Carpenter (2007)
Stephanie Larpenter (2009)
Liza Bourdon (2012)
Erika Waterman (2014)
Isaiah Chappell (2015)
Katie Frederick (2015)
Matt Tenney (2016)
Lexie Hamilton (2016)
Faith Larpenter (2017)
Sydney Clark (2017)
TRINITY
No full list submitted
Tyler Bike (2024)
WILTON-LYNDEBOROUGH
Tom Conrad (1,058 • 1974)
Judy Harrison (1,258 • 1980)
Dean Larpenter (1,569 • 1982)
Steve Claire (1,212 • 1987)
Shauna Carter (1,297 • 1990)
Mike McMurray (1,780 • 1991)
Chris Jacob (1,034 • 1993)
DJ Garnham (1,040 • 1998)
Dave Sherman (1,472 • 2005)
Stephen Chin (1,037 • 2008)
Jordan Litts (1,116 • 2015)
Trey Carrier (1,242 • 2017)
Jack Schwab (1,241 • 2020)
WHITE MOUNTAINS
David Hartshorn (1972)
Tom Kenison (1972)
John Ouellett (1983)
Jeremy Kilby (1989)
Niki Gingue (1995)
Jillian Kelly (1996)
Jennifer Martin (1999)
Jackson Curtis (2020)
WINDHAM
Clairee Putnam (2014)
Kaleigh Walsh (2018)
Sarah Dempsey (2021)
WINNISQUAM
Reeve Tracy (1955)
Bill Atherton (1965)
Tom Walsh (1967)
Mark Lavigne (1977)
Tim Nash (1,448 • 1984)
Raegan Jenkins (1,110 • 1991)
Matt McPhearson (1,155 • 2004)
Heidi Miller (1,164 • 2007)
Christian Serrano (1,585 • 2016)
Kyle Mann (1,022 • 2019)
Philip Nichols (1,051 • 2021)
WOODSVILLE
Ken Kinder (1,060 • 1986)
Jamie Walker (1,126 • 1988)
Chad Paronto (1,133 • 1993)
Ryan Ackerman (1,198 • 1999)
Jarrett Bemis (1,111 • 2016)
Cam Tenney-Burt (2022)