By KJ Cardinal
We're past the midway point of the 2022-23 season in all four divisions of NHIAA basketball and there are just four undefeated boys teams remaining around the state.
Let's take a glimpse at this quartet of flawless teams…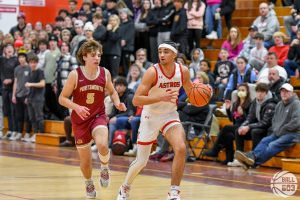 PINKERTON BOYS (9-0)
It should come as no surprise that head coach Dave Chase's Astros are sitting atop the Division I standings with a perfect 9-0 mark to start the season. Pinkerton made it to the state semifinals last year and with their big three of Jackson Marshall and the Chinn brothers (Anthony and Tyrone) clicking on all cylinders, the Astros are rolling through the division.
Pinkerton is holding teams to just over 44 points per game (PPG) and winning by an average of 20 PPG. The only single-digit victory that the Astros have earned was at Keene, 48-40, back on Jan. 13. Looking at Pinkerton's remaining slate, it's hard not to circle the Feb. 10 tilt at Bedford (8-1) as the biggest test that remains in the Astros quest for perfection.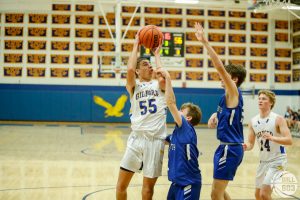 GILFORD BOYS (9-0)
The three-time defending champion Golden Eagles are a perfect 9-0 and sit perched atop the D-III standings. Another pair of brothers, Jalen and Isaiah Reese, are both averaging nearly 20 PPG to lead the way for Gilford.
While head coach Rick Acquilano's squad has yet to lose, they have been tested in three tough battles of late and came out on top in each one. The Golden Eagles started the new year with a four-point win at St. Thomas on Jan. 3. A week later, Gilford staved off a hungry Belmont squad, 61-58. And, just yesterday the Golden Eagles survived an overtime scare at Conant, 52-48.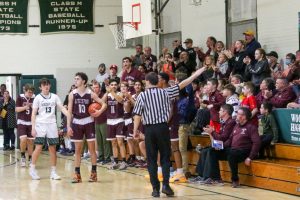 LITTLETON BOYS (12-0)
Trevor Howard's Littleton Crusaders are a state-best 12-0 and are coming off perhaps the game of the year in D-IV on Friday night, a thrilling 86-81 victory at Profile. Littleton's front-man Kayden Hoskins is pumping in over 21 PPG, but the Crusaders boast a line-up loaded with potential double-digit scorers and their balanced attack is very potent.
The Crusaders have proven they can win on the road as they earned hard-fought victories at Portsmouth Christian, at Woodsville, at Lin-Wood, at Colebrook, at D-III White Mountains and most recently at Profile. With five of their remaining six games at home, if Littleton can take care of business on its turf, the Crusaders may be sitting atop the D-IV heap when the dust settles.
CONCORD CHRISTIAN BOYS (9-0)
The Concord Christian Kingsmen are rolling through their D-IV slate. With big road wins at Derryfield, at Portsmouth Christian and at Holy Family, the Kingsmen look poised to make another deep run in the playoffs.
Sophomore sensation Brode Frink is the straw that stirs the drink for head coach Eric Heizer's squad. Frink is averaging over 25 PPG and can score in anyway imaginable. The Kingsmen have some obstacles on their schedule as they host Derryfield (7-2), Farmington (10-1) and head to D-III Conant.