By Mike Whaley
That the Conant High School girls basketball team is at the top of the NHIAA Division III standings is no surprise. The Orioles expect to be there.
Having now ventured into the second half of the D-III season, Conant is the last undefeated team left in the division with an 11-0 record and one of five in the state. Led by seniors Brynn Rautiola and Emma Tenters, both four-year varsity players, the Orioles have something to prove this season.
Small wonder.
Last winter, the Orioles flew into the D-III championship riding the wave of two straight state championships and 58 consecutive wins (66 if you count holiday tournament wins). Monadnock pulled off the upset, stinging Conant with a 50-31 loss.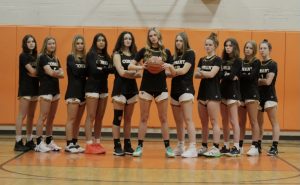 "I think there was a lot of pressure in that game," said Tenters, who scored 23 points including her 1,000th career point on Saturday in a 54-33 win over Gilford. "A lot of people were nervous. We just kind of played out of character. Everyone was like 'three-peat, 50-something game win streak.' All the pressure. All the talk. I think it just kind of got into our heads."
Rautiola said it was heartbreaking, but the loss fueled Conant in the offseason. "We worked hard with a chip on our shoulders. Obviously it sucked losing," she said. "We learned more from losing that game. Throughout the offseason we looked back at that game. It makes you mature in a way that you look at it as the best thing to happen. … It's motivation to keep working with your foot on the gas to practice every day and give 100 percent."
"You tip your hat to Monadnock last season," said coach Brian Troy. "They earned that victory. I think maybe we felt the weight of expectations a little too much. That may have played a role in it."
There are few New Hampshire communities that take their basketball as seriously as Conant – both boys and girls. Since the mid 1980s, the two Oriole programs have combined to win 21 state titles – all in Division III/Class M. No other D-III program comes close.
The girls teams have always been solid, but they really took off in the 21st century. Since 2004, the Orioles have appeared in 11 state championship games and won seven.
A native of nearby Keene, Troy played basketball at Keene High (2009 grad) and then Rivier University in Nashua. He was a co-head coach for the Keene HS boys for a year and then an assistant at Keene State University with the women's team.
He had no master plan to get into coaching, other than wanting to somehow be involved with basketball. He certainly never thought he'd be coaching girls.
Conant won the state title in 2015. A year later the position opened up. "I felt pretty confident and wanted to be a head coach and run my own program," Troy said. "Conant was always a storied program. I saw the opportunity and really wanted it. It's been great ever since."
This is Troy's seventh year. In that time, the Orioles have been to five championship games with three wins.
"There were definitely high expectations from the beginning," he said, although his first year there was a universal feeling that a down year was in store. Conant overachieved, making it to the 2017 final, losing by eight points to Monadnock.
"After that it just kind of took off," Troy said.
The Orioles won the title in 2018, lost in the 2019 semis and then won back-to-back crowns in 2020 and 2021. Last year was another trip to the finals, albeit a heartbreaking loss.
"No. 1 is the culture we have in the whole community and the basketball programs, both boys and girls, they really just wear their hearts on their sleeves," Troy said. "Basketball is the biggest thing around the community."
After last year's championship loss, one thing Troy wanted to do was to try to put the Orioles in a position to play in tighter games. With few exceptions, the previous three years had been a series of blowouts.
One thing he did is enter the team in the Manchester Central HS holiday tournament against bigger schools. The Orioles made it to the final with wins over D-I Central and Merrimack, losing to Bow (8-0 in Division II) by three points. "We wanted everything hard for this group," the coach said.
Their regular season has been more competitive. They opened the season with three tough games vs. Stevens, Monadnock and Hopkinton, which they won by 13, 12 and 11 points, respectively.
On Jan. 5, the Orioles had an early-season showdown with Concord Christian, a team that had moved up to D-III after dominating D-IV last year en route to an undefeated state championship.
The Orioles led by as many as 15 points, but then had to hold on to win, 59-58.
"We knew going in how talented they were," said Troy, a physical education teacher at Marlborough School (preschool through Grade 8). "That was a great game, even though it got too close at the end. We had a 15-point lead and almost blew it. … It was good to get a feel for that game and see and feel who they are as a team."
Rautiola said, "We kind of lost our composure a little bit in that game. We have experience on our side. We kind of know what it takes to win."
"That was another situational thing that was nice to have as an experience," Tenters said. "We had to really focus and make shots at the end. We ended up holding them off and winning the game."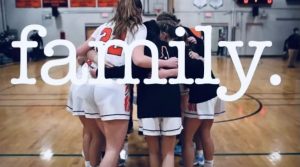 The Orioles have some tough games ahead, including several difficult tests on the road at Stevens on Saturday and Concord Christian on Feb. 6.
Rautiola and Tenters are the heart and soul of the Orioles – Rautiola as the point guard and Tenters as the 5-foot-11 force inside with the ability to hit outside shots. Last year she was the D-III player of the year.
Both girls plan to play ball at the next level – Rautiola at Keene State and Tenters at Emmanuel College in Boston.
"She's been great," said Troy about Tenters. "Her outside shooting has come a long way, which has added a huge strength to our team. Her overall leadership has been phenomenal. … It's huge to have a player like her. It makes things a little easier when things are tight."
Troys believes Rautiola is one of the best guards in the state. "Just in terms of her being able to manage the flow of the game and dictate the tempo," he said. The 5-foot-7 Rautiola has been called on to score more this year, a role she has embraced along with her point-guard duties.
"Those two are at the head of everything we do," Troy said. "We're riding their leadership. They've been phenomenal since the season started."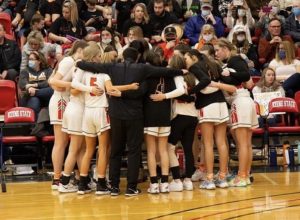 The rest of the rotation includes another senior, guard Adrienne Kennedy. "She brings a lot of intensity and all-out hustle and scrappiness and toughness that this team needs," Troy said. A bit undersized, Kennedy is a good shooter who helps the Orioles with her overall energy.
Junior guard Bella Hart "brings a great basketball IQ and skill set to the team" Troy said. She is a very good passer with great court vision. An adept ball handler, she can relieve Rautiola at the point when needed.
Rounding out the starting five is sophomore guard Hannah Manley, the team's third-leading scorer (5.9 ppg). "Her overall intensity and energy level and shooting ability is a perfect fit for this team because we're able to get into the paint and be more of a shooting team that maybe we weren't last year," Troy said.
The key reserves are junior forward Amy Lucier, the first inside player off the bench, and junior Ireyland Aucoin, the first guard to come in, bringing intensity, toughness and athleticism.
Offensively, the Orioles like to space the floor, dribble drive and kick. Troy feels they may shoot better than last year. "I think it's been a huge weapon for us," he said. "We've put a huge emphasis on it."
Whereas past teams may have been more run and gun, this year's edition of the Orioles will still do that, but they're comfort level is in their halfcourt sets – strengthened by their shooting.
Conant primarily uses half court man-to-man on defense. "Conant basketball starts and finishes on the defensive end of the floor," Troy said. "Just being able to shut down teams if we're not scoring as much as we can. … We like to get in your face. We're aggressive. It's kind of what we've been ever since I got here from day one."
The Orioles follow the lead of their two senior stars. Tenters (19.4 ppg) and Rautiola (18.3 ppg) pace the team in scoring, accounting for two-thirds of Conant's offense. They're as good a 1-2 scoring punch as there is in the state. Since they were freshmen, Conant has gone 79-2 overall, including holiday tournaments.
"She's my point guard," said Tenters of Rautiola. "Whether she's making plays, sticking 3s or locking someone up on defense, she always is making an impact on the floor."
Rautiola appreciates her teammate's court presence. "She makes the game a lot easier for everyone," Rautiola said. "A lot of teams have to put a lot of focus into her. Once they do that, I feel like the game opens up a lot for everyone else."
When Tenters hit 1,000 points on Saturday, she joined a pretty select Conant group of girls on the banner in the high school gym; names like Stenberg, Hunt, Bellette, Oswalt, Neyens, Springfield and Gonyea.
While the milestone was a goal for Tenters, it was not an obsession. "I'm focused more on the game than the points," she said. When Elizabeth Gonyea hit 1,000 during Tenters' sophomore year, the senior made a point of telling her younger teammate, "I want to see your name up there next."
Tenters laughs. "That kind of motivated me to actually get there."
Of course, Tenters embraces the bigger picture as do all of the Orioles. "At the same time it's more about winning games," she said. "Not necessarily how many points I'm going to get."
Conant forges ahead, eyeing the rest of its regular season and the playoffs beyond. The goal doesn't change. Like past Oriole teams, they expect to be playing on the last day of the Division III season, which in this case is the state championship on Feb. 25, 5 p.m., at Keene State College.
"We just need to make sure we take every game seriously," Tenters said. "We know that everybody is coming for us because we have that history of winning."