By Mike Whaley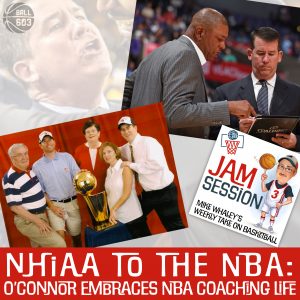 Brendan O'Connor always had a feeling that basketball would be his career path. He just never expected it to lead to the professional ranks.
The New Hampshire native is in his 10th season as an assistant coach with the Los Angeles Clippers – an odyssey that started in New England and, for now, has him in a good place on the West Coast.
O'Connor has been in the NBA since 2000, which includes stops with the Detroit Pistons, New York Knicks, Sacramento Kings, Charlotte Hornets, Brooklyn Nets and the Clippers. He was part of the staff when the Pistons won the 2004 NBA championship.
"To be honest, to start, I was probably thinking I wanted to be a college coach," O'Connor said. "But then I got into the pro game right out of college and I've been doing it ever since."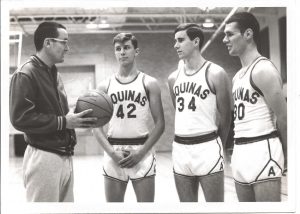 O'Connor grew up in Manchester and Gilford the son of a former high school basketball coach. John "Jack" O'Connor coached in the late 1950s and early 1960s at St. Patrick's in Berlin, New Boston High School and St. Thomas Aquinas HS in Dover where he was a founding member of the faculty while coaching basketball, golf and track. He died in 2020.
"He was a basketball guy," O'Connor said. "I have three older brothers who were basketball players. I had a love for the game. I kind of knew that was the road I wanted to take."
O'Connor's family moved to Gilford when he was 12 where he starred on teams at Gilford High School. He led the Golden Eagles to the 1989 Class M championship game, the 1990 semifinals, and was selected to play in the Alhambra Game – the annual contest that pitted New Hampshire's top senior players against those from Vermont. It was discontinued after the 2016 games.
He spent a year at prep school with the idea to play in college, but that never panned out. He enrolled at Saint Anselm College in Manchester. "I really wasn't that good, to be honest," O'Connor said. "I got hurt. It was the end of my career."
One door closed and another opened.
Because the O'Connors had roots in Manchester – three of O'Connor's siblings attended Trinity HS – they knew a lot of people. Pat O'Neil hired him to coach the Trinity freshman team with his cousin.
O'Connor did that for one full season and part of another. He graduated from Saint Anselm in December of 1995 with the thought he would finish out the second Trinity season and then maybe find a college position.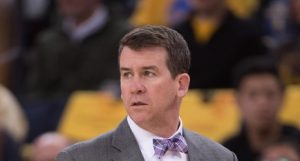 A TASTE OF THE PROS
That changed when – sight unseen – he got in contact over the phone with the Florida Sharks of the United States Basketball League (USBL). The head coach was Eric Mussleman. They hired him, gave him some housing, and had him come down to help out.
"That was my big break," O'Connor said. "Pat O'Neil gave me my first one."
Well, the Sharks were a summer league team, so when O'Connor arrived in January, Musselman directed him to recruit players in the old Continental Basketball League (CBA), essentially what the G-League is today.
Musselman would send O'Connor to a city where he knew there were players he wanted to recruit, and get their hotel phone number. "I'd call their room until I got an answer and see if they were interested," he said. "And if they were, I'd get their number and their agent's number. So it was really recruiting more than anything else. But we ended up getting some good players."
Musselman elevated O'Connor from intern to assistant coach before the USBL season, making it clear that he could only hire one assistant, which he already had. But he needed a second assistant on the bench to do some of the charting.
O'Connor was in.
"He and I worked well together," O'Connor said. "He was a huge part of me doing what I'm doing today."
The Sharks won the USBL championship during the summer of 1995 and again in 1996. After that 1995 USBL season, Musselman recruited O'Connor to join his CBA staff with the Rapid City Thrillers. "I was the second assistant," O'Connor said. "Same rule. Not a lot of money. They gave me a place to live and a car. By the end of the season I was his top assistant."
Musselman ended up getting an NBA job in 1998. O'Connor moved on to another CBA team, also in Grand Rapids, with player/coach Mark Hughes. Hughes had played briefly for Musselman with the Sharks. "He didn't play for us for long, but we developed a great relationship." O'Connor said.
O'Connor was an assistant, but when Hughes was on the court as a player, O'Connor became the head coach. "That was a great experience for me," he said.
O'Connor was set to return for a second year, but the CBA was purchased by former NBA star Isaiah Thomas. He decided to take a job for one year in another league – the International Basketball League – with a team in Richmond, Va.
THE NEXT STEP IS THE NBA
Through his relationship with Hughes, O'Connor met Joe Dumars, who became the president of basketball operations with the Detroit Pistons in 2000.
That led to his next breakthrough, joining the NBA.
O'Connor remembers it well. He was on his honeymoon with his wife, Marlene, on a cruise along Alaska's Inside Passage.
It was the early days of cell phones, and his was "the size of my car," O'Connor recalled. He got a call from Dumars, but the reception wasn't good. He needed to use a pay phone to call Dumars back.
Dumars wanted O'Connor as an advance scout. "I was like 'I'll come right now,'" he said. "He said, 'No rush. Take your time." It was the end of June. Dumars told O'Connor just to give him a call when he returned home.
O'Connor was living in Massachusetts at the time. When he got home, he called Dumars who put him in touch with somebody else to help him get set up when he got to Detroit.
He flew out on July 4 and was to meet with Dumars the next day. O'Connor woke up that morning in a hotel in Detroit. The stunning headline in the newspaper announced that Detroit's big star, Grant Hill, had signed with the Orlando Magic.
"I ended up sitting there for about three days without talking to anybody," O'Connor said. "They were too busy; caught off guard with that one. They were shocked that it was happening. They needed a few days to get everything figured out about what they were going to do."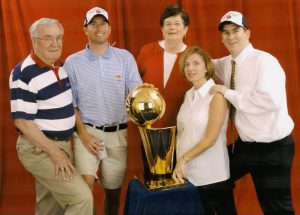 Believe it or not, O'Connor's first morning in Detroit was the beginning of the Pistons' NBA championship build. Hill's departure actually worked out in Detroit's favor. They got two players from the Magic – most notably Ben Wallace, who went on to become the NBA's top defensive player of that era and one of its best rebounders.
In addition, injuries limited Hill to 47 games over the next four years.
"Part of the trade was Ben Wallace. That's what started it," O'Connor said. "It was a rough year the first year. It just kept building from there."
Over the next couple years the championship team took shape. In 2001, Tayshaun Prince and Mehmet Okur were selected in the first two rounds of the NBA draft, and Corliss Williamson was added in a trade; in 2002, free agent Chauncey Billups was signed and Richard Hamilton came to Detroit in a trade for Jerry Stackhouse; in 2003, Lindsey Hunter was reacquired in a trade, and then in February of 2004 the final piece was added – Rasheed Wallace.
By that time, Detroit was on its third coach – Larry Brown. George Irvine had been there for O'Connor's first year. He was replaced over the next two years by Rick Carlisle, and then Brown was brought in.
"It was a slow process," O'Connor said. "But when you look back on it, it was pretty quick after that devastating first day."
As an advance scout, O'Connor was on the road a lot, although by the time Brown took over, he was around the team a little more because Brown wanted that.
"I was in charge of the scouting report for every game," O'Connor said. "I would send it to the assistant coaches and have conversations with them about our game plan. It was an incredible way to learn the league because you're on a plane every day when you're not with the team. You're going to see teams play and you're seeing a lot of NBA games each week."
In 2004, Detroit entered the playoffs as the number three seed in the Eastern Conference. Their road to the NBA finals featured series wins over the Milwaukee Bucks (4-1), New Jersey Nets (4-3), and Indiana Pacers (4-2). In the NBA championship they rolled past the LA Lakers in five games.
"They set all kinds of (defensive) records," O'Connor said of that team. "It's a little bit different today. We had a lot of guys with that defensive mindset. At the end of the day it was all about winning."
O'Connor has had debates with people over the years who claimed the Pistons didn't have a star. "I thought we had five-plus stars," he said. "I'd put Chauncey, Rick, Tayshaun, Ben and Rasheed against anyone. They might not be the guys to get 30 (points) every night. But on a given night anyone of them could.
"They all guarded their position and helped each other out," added O'Connor, while also pointing to the key contributions of Hunter, Okur and Williamson off the bench.
The following year was another banner season, although they were unable to repeat, losing in the NBA finals in seven games to the San Antonio Spurs.
Brown left after that season, taking O'Connor with him to join his staff with the New York Knicks. It was his bounce-around time. Brown lasted one year in New York, so O'Connor joined Musselman in Sacramento for a season, and then back with Brown for several years in Charlotte, and then to Brooklyn with P.J. Carlesimo.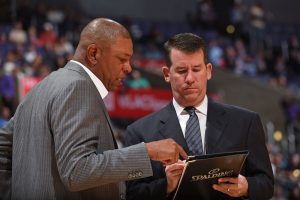 In 2013, Doc Rivers hired him as an assistant with the LA Clippers and he's been there ever since. Again, it was a case of building relationships. O'Connor recalls working with Mark Hughes in Grand Rapids in the CBA. Hughes and Rivers had the same agent when they played.
Rivers had retired as a player in 1996. He was doing some TV announcing in 1996-97, but he knew he wanted to get into coaching. He was going to do a second year with TV, but the NBA lockout ended that.
"We're playing in the CBA, so he came and spent a month with us," O'Connor said. "He was on the bus with us – six-hour rides. Great guy, great to be around. He and I were the two assistant coaches. We obviously developed a relationship."
When Rivers was with the Celtics, he wanted O'Connor to join his staff, but it never quite worked out.
That changed, of course, when Rivers got the Clippers job. "He was trying to put a staff together," O'Connor said. "He called me to see if I'd be interested. Of course, I was interested. It worked out."
Like his first year with the Pistons, there was more craziness his first year in LA. At the time, the Clippers were owned by Donald Sterling, who was viewed as one of the worst owners in all of professional sports. In the midst of LA's first-round series with the Golden State Warriors, a racist recording was released between Sterling and his mistress that referenced NBA Hall of Famer Magic Johnson.
"It is something I will never forget," O'Connor said. The team was in San Francisco for Game 4 of the series. He recalls coming down to have breakfast at the hotel, and there was Rivers all by himself in this big banquet room.
"He said 'you're not going to believe this,'" O'Connor recalled. "He told me the whole story."
The story had not broken yet, but it would shortly. Rivers called the team together, told them without providing details. "It's not going to be good," Rivers said. "We've got to stick together."
After a day of practice it came out that night around 10, remembered O'Connor. The team was leaving practice at the University of San Francisco for the bus ride back to the hotel. The media presence was suffocating. ABC, NBC and CNN were there with their big network trucks, in addition to waves of print and radio reporters. "It was nuts," O'Connor said. "I'd never seen anything like it."
The Clippers briefly considered boycotting Game 4, instead deciding to wear their team jerseys inside out to obscure the team logo during the pregame huddle.
When the Clippers got back to LA, the series even at 2-2, their general manager announced to them that NBA Commissioner Adam Silver had issued Sterling a life-time ban from the league.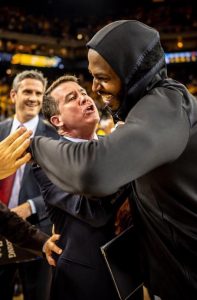 The Clippers ended up winning the series, 4-3, but lost in the next round to Oklahoma City.
The silver lining, in O'Connor's mind, was that the new owner, Steve Ballmer, was what the Clippers needed. "It was like winning the lottery, to be honest," O'Connor said. "We didn't know it at the time. Then Steve Ballmer took over. Talk about a good change at the top. That's about as good as it gets."
LA has had success, too, after many years as one of the NBA's worst franchises. They've been to the playoffs nine times since 2011, including the conference finals in 2021.
Rivers was fired in 2020, and Tyronn Lue took over as head coach. O'Connor had worked with Lue during his first year with the Clippers in 2013-14. "He was running the defense for Doc that year," O'Connor said. "I worked really closely with him."
Lue left for Cleveland for four years, winning an NBA championship in 2016 as the head coach after taking over at midseason. He was fired in 2018, worked informally with the Clippers for the remainder of the 2018-19 season, and then was hired as the lead assistant in 2019-20.
"If I had not met him, I probably would not still be here now," O'Connor said.
Lue's first year proved to be the best in franchise history. The Clippers advanced all the way to the conference finals, losing to the Phoenix Suns in six games. Last year they went 42-20 and missed the playoffs.
CLIPPERS EYE A PLAYOFF RUN
The Clippers are currently 31-26 and fourth in the Western Conference standings through Tuesday. They have won eight of their last 10 games. "We've had to battle through injuries with guys being in and out of the lineup," O'Connor said. "Hopefully we can keep moving in the direction we are and have a chance to win at the end. We've got plenty of time left."
LA is led by veteran all-stars Paul George and Kawhi Leonard.
These days, O'Connor's job is working mostly with the defense. "It's not like football where there's an offensive coordinator and a defensive coordinator," he said. "I do a lot of the defensive stuff. Tyronn does the offense. I'll throw some ideas on the offensive side, but I mostly work on the defense."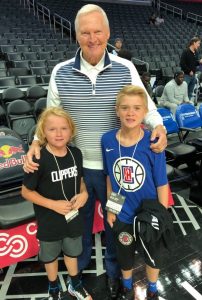 O'Connor lives with Marlene and their three sons just outside of LA in Manhattan Beach.
Being a head coach has crossed O'Connor's mind. "I've had a few opportunities to leave with positions that might lead to that," he said. "If you're in this business you would like to run your own team."
O'Connor, however, likes where he is. There is great ownership, Lue is an amazing head coach to work with. There's plenty of upside. "It would have to be a really good situation for me to leave here," he said. "It would be great to do all the things you want to try. But I love the position I am in right now."
The subject of 2004 comes around again, and O'Connor says it seems like yesterday. "You look at the calendar. It isn't," he said. "I'm like, holy cow, next season will be 20 years."
He feels that championship opportunity might come again with this current LA team, which some say is the deepest squad in the NBA (seven players averaging in double figures). "Having the group we have and having a chance to win a championship is really at the end of the day what it's all about," O'Connor said. "It was a special year – 2004. I'd love to experience that again."
Got a story idea for Jam Session – email whaleym25@gmail.com