By: Mike Whaley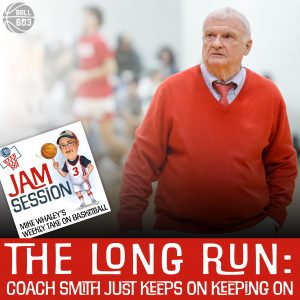 When you've been coaching basketball for as long as Dave Smith has, it stands to reason that like it or not you will hit milestones and break records. Smith has been doing a bit of both lately, although he'd prefer the less said the better.
Smith recently completed his 56th straight year coaching hoop in New Hampshire, dating back to 1967-68 when he stepped into the head position at his alma mater, old Alton High School. The dean of the state's hoop coaches, he's the head boys coach at Coe-Brown Northwood Academy, a position he has held since 1990. Of his 56 years coaching, 46 have been spent at the high school varsity level – 13 years at Alton and 33 and counting at Coe-Brown.
At age 77, Smith is old enough to be a great grandfather to his players, and honestly most NH coaches weren't even born when he got his start in '67. He's not only CBNA's boys hoop coach, but also the school's headmaster (since 1980). On Feb. 6, during a 70-40 win over Plymouth, Smith became the winningest high school boys basketball coach in the state with his 628th win. He took that honor from the late Danny Parr, who happens to have more wins than any other coach in the state with 704 (627 as a boys coach and 77 coaching girls).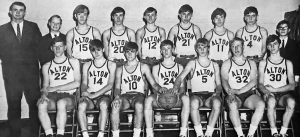 Smith is third among the five N.H. coaches with over 600 wins with 633. He hit 600 in 2021 and passed John Fagula (624) earlier this past season. Should he return to coach at 78, he could overtake Gary Jenness (639) next year. Colebrook's Buddy Trask (606) rounds out that select group. Jenness and Fagula coached girls, exclusively. Jenness at Groveton and White Mountains, while Fagula, who died in 2020, guided teams in Nashua and Londonderry.
"I really don't follow it that closely," Smith said of the new record. "Other people do. Obviously, I feel honored that I've been able to coach a lot of young men over the years." Smith's first win came in December of 1967 over Belmont, 93-62.
Smith is very familiar with Parr, who he first coached against when Parr was at St. Thomas Aquinas HS in Dover. The two also served for many years together on the New Hampshire Interscholastic Athletic Association (NHIAA) Basketball Committee. "Dan was a true gentleman," Smith said. "I was very fortunate to have that opportunity to know him. … He was a hard worker on that committee for both boys and girls."
Smith also mentioned that Parr enjoyed Coe-Brown's pep band when his teams came to Northwood for games. "He would always take the time to go over and talk to our band director because he loved the pep band," Smith said.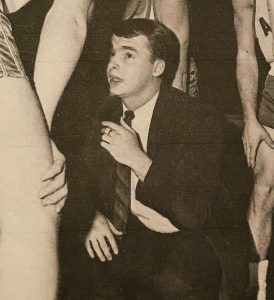 Smith is an aberration in today's high school coaching world – probably in any era given that at his age he still coaches and works as a headmaster. It has become less and less that coaches spend long stretches of time in the coaching profession. There are many factors, most notably the demands of the sport, which requires a year-round commitment to be successful. But at the top of the list is how parents have thrust themselves into the picture, in part due to specialization. Their presence can be an unwelcome and draining distraction for coaches.
Smith is fortunate in that he has provided Coe-Brown with stability. He has 56 years of service under his belt as a coach and an educator, while his top two assistants – David Daigle and James Johnson – have been teaching and coaching basketball at Coe-Brown for a combined 68 years. Daigle has been a math teacher and JV coach for 37 years (the first four years under Smith and the last 33 as the head JV coach). Johnson has been the reserve head coach for 31 years, and also teaches math in a room that adjoins Daigle's. Between the three that's 124 years of coaching experience. Now that's stability.
"It's been a blessing," Smith said. "They all have the common goal of developing that individual team. We work as a glove together during the season and during the offseason too. We don't usually have the top talent. By the end of the year we usually have them trying to be pretty competitive. … David and Jamie are dedicated and resourceful and are willing to do similar things. Everything kind of falls into place from there."
Daigle recalls being Smith's assistant JV coach (1986 to 1990). "He was obviously my mentor when I first came out," Daigle said. "I wasn't even a basketball player. I played football. Coach Smith took me and taught me how to be a coach."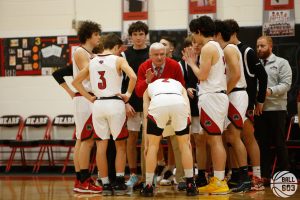 Smith's seemingly endless supply of energy that he brings to what he does, continually amazes Daigle. "I'm 60 years old," he said. There will be nights when I'm tired and he's out there at 77 years old going at it, and not accepting a mediocre effort; cranking them up and getting at them."
Daigle said the parental support has been excellent. "You hear all this crazy stuff about other schools," he said. "That's just not the case about Coe-Brown."
Johnson is a Northwood native. He recalls that his freshman year at Coe-Brown in 1980 was Smith's first year as the school's headmaster. "I'm the new guy," Johnson laughs. "(Smith) still relates to the kids. He has this amazing ability to make every person feel like they are the crucial linch pin in the whole system. He's been the leader for so long. It's amazing how he does it."
Still Smith laments the state of coaching in regards to the pressure parents and specialization, among other things, bring to bear. "It's harder to get teachers to do it or want to be able to do it and be trained to do it," he said. "If you want to stay in coaching, you have to stay up with the sport and be willing to continue learning. You have to maintain an understanding of how the profession is developing and where it is going."
Smith attended Alton High School and then Plymouth State University before returning to Alton to teach and coach in 1967. He knew he wanted to be in education for the long haul. He wasn't so sure about coaching.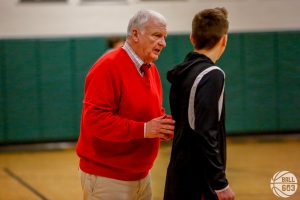 One thing he did know was that he liked the kids. The first couple of years he spent a lot of time with Frank Weeks in the gymnasium during weekends working with a variety of age groups – "just having fun enjoying working with kids," he said.
He found over time that he enjoyed working with high school age kids, but the experience was invaluable in that he got to learn a lot about the different age groups and what made them tick.
Weeks was initially Smith's assistant coach before he went on to coach girls. He recalls Smith's decisiveness. "When you went to make a cut, he wanted a sharp cut," said Weeks, who remains a friend of Smith's more than a half century later. "Sometimes kids don't understand that. Fake first and go fast. That was big with him. I think you can see that today with his teams. They're very decisive in their moves."
Former Farmington HS coach Mike Lee has a unique perspective about Smith unlike anyone else. He saw him as a player, played for him on his first teams in the late 1960s, and then coached against him when Smith was at Alton and Coe-Brown.
"He was not an outstanding player, but he was a tremendous role player," said Lee of his old coach. "He knew you needed role players to win games. I think that was one of his mantras as he moved along. He had some tremendous role players. He always had two or three kids who could play, but those other kids knew exactly what they had to do to be successful."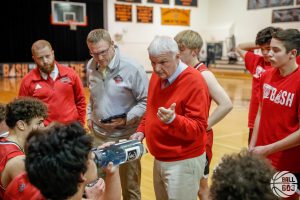 For example, Lee knew his role for Smith was a shooter/scorer, while also being expected to rebound and play defense. But there were other kids who weren't allowed to shoot. That rubbed off on Lee when he coached. He had guys he wanted shooting the ball and others he did not; but those non-shooters still had integral roles.
Lee recalls Smith doing some drills with them and he was very competitive. "Consequently you wanted to beat the old man," Lee said. "If you couldn't beat him, he'd call you out on it. He didn't put up with any crap." Those who wouldn't toe Smith's line weren't around for long, so Lee learned to keep his mouth shut.
Another memory for Lee was a state tournament game against Hollis when he was a senior in 1970 in which he had pneumonia. He played the whole game and Alton pulled off the upset. "That was a thing between us for a long time," Lee said. "Was I sick and tired of playing for him or was I just sick?"
Lee started coaching at Farmington in 1977 when Smith was still at Alton. The two schools played each other and Lee remembers losing every game against Smith's team during those first three years. He recalls being intimidated by his former coach.
There is one instance that stands out. Alton came to Farmington for a game. Lee wanted the floor to be spic and span, like it was when they went to Alton. The custodian swept the floor, but he applied a spray to the broom that made the floor slippery. When Alton came out for warmups, the players started slipping and falling down. "I'll tell you, (Smith) went right off from there," Lee said. "'We're not playing until this floor is playable'" was Lee's recollection of Smith's fired-up words. Smith pulled his team off the floor to make his point.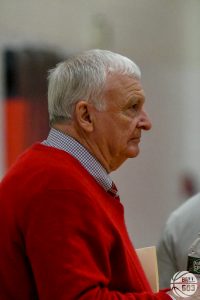 Eventually they got the floor in a playable state, but Lee was completely intimidated and, of course, the Tigers ended up losing to Alton. It was a lesson learned for Lee. "He taught me that you can't be intimidated. You have to go out and coach what you believe in and don't worry about the other team and the other coach," Lee said. "I think he got the first six wins against us because I was scared to death."
When they met up again in the 1990s, Lee was finally able to get some wins. But it didn't stop him from learning from his old mentor. "He's the only coach I know who will take a timeout 30 seconds into a game," Lee said. "I've seen him do that a dozen times in my career. I could go out and score the first four points of the game – timeout right away. He wasn't going to wait until he was behind 8-0 or 10-0."
Lee tells a story that kind of sums up who Smith is. Coe-Brown was playing in the Farmington holiday tournament last December, and Lee noted to Smith that it must be great for him – just like a home game. Except Smith, instead of making the short drive to Alton after the game, said he's taking the bus back to Coe-Brown with the team because his assistant coaches have longer drives than he does. "How many coaches do that nowadays?" Lee said. "That's an example of his leadership; how he treats his team and his family. Hence respect."
Smith has done just about everything one can do in his profession as both an educator and coach. He's won a lot of games, touched a lot of kids, and elevated Coe-Brown as an educational institution. Heck, he's even had a building named after him (Smith Hall where there are classrooms and the gym). His 1996-97 team won a state championship (in Class M/Division III). And he's coached his own son and then has coached against him.
During his break from varsity HS coaching in the 1980s, Smith coached elementary hoop for a while with his son, Mike, on the team. "I have the distinction of being in the last class not coached by coach Smith," said Mike with a laugh, referring to his graduation year of 1990 from Coe-Brown. His dad took over as head coach the following year.
"Not every kid has a hall of fame coach for their elementary/middle school experience," Mike Smith said. "It was amazing. I told one of my buddies the other day, 'I've sat on the bench in some capacity for the last five decades.'"
Mike recalls in the 1970s being a ball boy for his dad's Alton teams. "Then it was playing and finally coaching," he said. "He instilled in me, like so many other kids, a love for the game. I had amazing experiences from fifth to eighth grade learning the game from my dad."
During that time, coach Smith recalls becoming a referee, and did quite a few games at the high school and prep level. "That process helped me to be a better coach in my mind," he said. "I respected officials even though sometimes we might not see eye to eye on every individual call. But I respect them."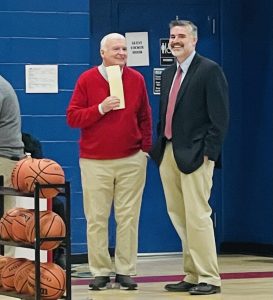 When Mike got into teaching, he was all in, but he wasn't sure about coaching. But then Stark head coach Don Poitras needed a JV coach, so Mike hopped right in. After three years guiding the JVs, he was elevated to head coach. He has been a social studies teacher and coach at the Weare school for 26 years.
In 2004, he faced his dad for the first time – in the Class I/Division II semifinals at UNH. "There was so much going on it was maybe hard to appreciate at the time," Mike said. "I just remember that I was fortunate to have better players than he did that night. We were able to get him."
Mike added, "It did help that I knew some of the stuff that they would be throwing at us."
"I love seeing him and I love playing him," Smith said of games against his son. "It's not like an Army-Navy type of game. It's not like we're playing Oyster River. That type of rivalry thing. It's more of a respectful game. Obviously he plays to win. I play to win. When it's over, it's over. It's not going to affect Christmas or Thanksgiving at all."
Another memory for Mike is showing up at Coe-Brown for a game with his John Stark team, and finding out that his dad was going for his 400th career win from his old coach, Walt Damon. Damon turned to Mike and said something to the effect of – albeit a little more colorful, 'your dad's going for his 400th tonight. Good luck getting a call.'"
Mike chuckles, adding, "I have played a role in (my dad) getting some wins for sure."
One thing Mike learned early on from coaching and from his dad is that it's about the players. "It's the kids who sort of make or break things," he said. "As coaches, we try to put them in positions where they can be successful. Out of all the stuff I learned from him, that might be the most important."
Smith feels he has been able to continue to coach because he's willing to adapt. "You have to be willing to accept change and be willing to change yourself, and yet not give up on the things you think are important for the character development of young men and women," he said.
Smith added, "I think it's a willingness to evaluate what's around you, a willingness to listen to people, to listen to kids even if they believe in different things that I believe in as far as certain directions or themes in life in general."
It's a year to year thing for Smith when it comes to what he does coaching and as an administrator – especially with his wife experiencing health problems in recent years. He said he still feels like he has the energy and enthusiasm to continue without actually saying he's coming back. Part of it has been due to the high quality players he had this year. They made the season enjoyable. The Bears qualified for the Division II tournament, won in the first round before they were upset in the quarters by rival Oyster River.
"I'm blessed with the kids that I had," Smith said. "They're genuinely nice young men. They get along. If I were to write a chapter on how all this should be, they would be in that chapter."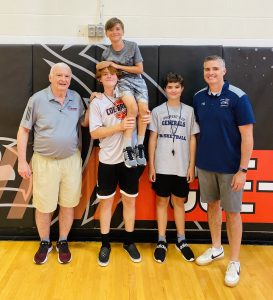 Smith talks about the family commitment, which plays a major role in him continuing to do both jobs, along with his physical and mental health. "My wife (Maureen) will go down in sainthood for putting up with me for many years," he said. "You take each year at a time. It's a sacrifice for her. I do worry about it at times. But she has been so supportive."
Even his children (Amy and Mike) were supportive during their formative years because they spent countless hours in the gym with their dad. "They were around it a lot," he said. "There were a lot of good things, a lot of good kids that they met. Nothing bad about being in the gym as opposed to other places.
"I was lucky," Smith said. "It has to be a family commitment, even now that I have grandkids. Fortunately they have liked basketball at some time in their lives – early or late – and other sports."
Family, education and basketball are at the center of Dave Smith's universe. All important. All connected. "Basketball obviously became a life experience for many kids because it does represent life in a lot of ways as far as the team atmosphere."
Mike Smith can't drive home the point enough about the effect his dad has had on his life. "I was just very fortunate that I had the dad I had," he said. "One of the biggest lessons I've experienced from a personal perspective through coaching is you come across these kids and they either don't have a dad or their dad is not involved as much as they could be or should be. It was in my fifth or sixth year of coaching and I remember driving home. I called him and said 'Thank you.'"
Smith didn't know at first what his son was saying, but Mike explained it and it became immediately clear. "All those nights when he spent that time with me, whether it was pitching Little League or shooting (baskets) in the backyard, all of that helped me to develop to be the person that I am," Mike added. "To see kids not having that is so tough. But at the same time it's what drives us to give those kids that experience. He's great. Words sometimes fail me. He's been a mentor for me as a man, as a coach, as an educator. I've been very fortunate to have him in my life." Now that's a victory.