By Mike Whaley
No one is as astonished as Jen Robinson Watson to be playing competitive basketball at age 45. But here she is.
Once a New Hampshire schoolgirl star at Coe-Brown Northwood Academy from 1992 to 1996, the 6-foot-3 Deerfield native played college ball at New Hampshire College (now Southern New Hampshire University) before embarking on a career and a life that has kept basketball close at hand.
She currently lives in northern England in Yorkshire with her husband, James, and two children, Elizabeth and Harry. James and her run the family canal boat tourism business, Skipton Boat Trips.
Watson recently tried out for and made Great Britain's top-flight masters women's basketball team – the O40's GB Maxiballers. Last month she was chosen as team captain as the team prepares for the world championships next month in Mar Del Plata, Argentina.
"Trust me, no one is more surprised than I am," Watson said during a recent phone interview. "I'm just trying to stretch it out as long as I can. I'm hoping I've got another five years. I don't envision playing on the (over) 50 team, but we'll see how it goes. I feel really grateful for everything I have so far. It's alright if it finishes. I feel like I've had a great career."
Which is true.
Watson grew up in Deerfield, a small N.H. town that is a 30- to 40-minute drive to many destinations in the southern half of the state. Presented with multiple choices for high school at Concord HS, Manchester Central, Manchester Memorial, Oyster River and Coe-Brown, Watson dug her heels in against Coe-Brown, where her three older sisters had gone. "I didn't particularly want to go there," she said. "It was kind of my last choice because it was probably my best choice for me as a teenager. I rebelled against it and definitely wanted to go to Oyster River."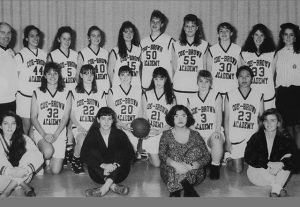 Then Coe-Brown girls hoop coach Tom Hall started planting the seed of coming to and playing at the Northwood school. "I thought he was a great coach and we got along well," Watson said. "I ended up going there and absolutely loved it. It was a great experience."
There was plenty of success. Coe-Brown lost three games during Watson's four years, won two Class M state championships, and lost in a third. She scored over 1,000 career points. In 2021, Watson was inducted into the school's Hall of Fame.
Watson played in college, but that experience was not the same. She was heavily recruited by the University of Maine, an NCAA Division I program. "Everything was great, and then the night before I was going to sign my scholarship, they called me and said 'actually our first choice called and decided she wanted to come, so we don't have room for you anymore. Thank you for everything and best of luck,'" recalled Watson.
At the time, Watson was devastated. She did not have a backup plan, and was suddenly in panic mode. Fortunately, a former UMaine assistant coach, Deb Reardon, had taken the head job at New Hampshire College. She invited Watson to join the team, which she did.
It was a great academic experience. But basketball was difficult. Used to winning at Coe-Brown, there was a lot of losing at NHC. The team won 11 games in her first three years, including an 0-27 mark during Watson's junior season. "Basically I thought that was the end of my playing career," she said. "I didn't want to play any more after my junior year. I was thinking about giving up."
The school made a coaching change just before Watson's senior year. The new head coach was Dennis Masi and his assistant was Chris Wood. Ready to give up the game, the two convinced her not to. "I loved them," she said. "They completely changed my whole attitude towards basketball; made me fall in love with it again."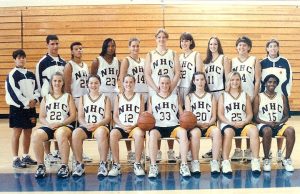 Watson had a decent senior year, the team won eight games, and she ended her career three points short of 1,000 points.
Masi talked with Watson after the season, noting she had some unfinished business. He felt she could play at the next level. She briefly considered pro basketball in the U.S., but figured that level was too much. Then she thought about playing in Europe.
Here the story takes an interesting turn. Already planning to vacation in Scotland thanks to a plane ticket purchased by her sister, Watson reached out to a team in Edinburgh. She was invited to their training camp, which she fit in during her vacation. The coach suggested she'd be better off playing in England – better money and more opportunity. There was one problem: it was already July and English teams were allowed just one American on their roster. Still, the coach was able to put Watson, who had returned to N.H., in contact with two teams. The Doncaster Panthers, located in Yorkshire, showed interest and offered her a contract. "I took a chance, got on a plane and came over," she said.
Watson played one season with them, but was cut after the season. The coach was honest. It came down to Watson not scoring enough points. During that time, she had met her husband. "I left England thinking that was fun. One and done," she recalled. "I met this great guy. I thought that was that." Except it wasn't.
She got a call from a team called Stockport, near Manchester, England. They had heard she had been cut, so they reached out. They couldn't pay as much, but they were willing to piece together some other jobs coaching and working at area elementary schools to make it work. She played with the Lapwings for three seasons.
"Some of those girls are my current teammates," Watson said. "I made some great friendships and am still quite close to the club."
But after three years the Watsons needed a change. Her husband was in the British Army and decided to leave. There wasn't much money. "We had to grow up and get some real jobs," she said. "We went back to America."
Watson stepped back from playing basketball while in the U.S., but she still stayed close to the sport. She coached the women's team at Bard College, an NCAA Division 3 school in upstate New York, for five years; was the athletic director and head girls hoop coach at St. Francis High School in Watsonville, California, also for five years; was an assistant principal at a California elementary school for one year, and then spent three years as an assistant commissioner for the California's high school sports governing body running large-scale athletic events.
In 2018, the Watsons bought the family canal boat business in England, moved overseas and have been there ever since.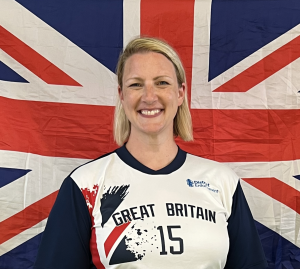 Both of Watson's children are athletic. Elizabeth, 12, is a soccer goalie, while Harry, 10, is a basketball player. Both are big for their age and are projected to be tall like their mom when they get older – Elizabeth (6-4) and Harry (6-9). Mom calls Elizabeth a "tough little cookie," while she describes Harry as "long and lean and athletic."
Back in England, competitive basketball was not on her radar. Watson was playing with a local league team, but had not heard about masters basketball. An old teammate contacted her to say there was an ad online looking for women 40 and older to play for a FIMBA masters team to represent Great Britain.
"We both stewed on it for a while and then thought 'why not?'" Watson said. "'Let's go for it.' We jumped in the car and decided to give it a go. It was brilliant."
Watson made the team. It started from there with six women. Today, the team has a roster of 21. The team ended up representing Great Britain last summer in the European Championships in Malaga, Spain. "It's grown from there and there have been more opportunities from that," Watson said.
Watson was already on a local league team, which is essentially neighboring towns playing each other. She joined the FIMBA club team with friends. Both are social teams.
This past January, Watson attended a tryout for the top-level over-40 team, the GB Maxiballers. She made the team and started training for the world championships in Argentina, to be held Aug. 25 to Sept. 3. In June, she was picked as the team captain.
Although she is on three teams, the commitment is hardly overwhelming. The Maxiballers require one weekend every other month for a weekend of training. The FIMBA club team is a one weekend a month commitment, and her local league squad plays once a week. The Maxiballers are very competitive, but the other two teams have a fun factor that she enjoys. To illustrate that, her club team recently played in a tournament in Venice, Italy. "It's very social," she said. "Equal parts basketball and beer drinking."
Staying in shape at her age is a challenge. "Being older and a big inside player, I have to work harder at things like fitness and endurance," Watson said. "I do work out a lot on my own. I have a trainer I work with to get me ready."
Watson had had no traumatic injuries, but there has been wear and tear on her knees. "They feel like they're 85," she said. "That's a challenge. When you're playing masters, you're playing against other people your age. Everyone's got little bumps and bruises."
She laughs. "When you get to the tournaments on Saturday, everybody looks like LeBron James. When you go home on Sunday you definitely feel your age. … My knees struggle a little bit," she added. "I've learned how to stretch out properly. I have to put in a little more time to get ready before and I have to take care after."
Watson continues to embrace her New Hampshire roots. She still wears her reversible Coe-Brown warmup top when she practices. In fact, she left it behind after a recent Maxiballers training session. "I thought I had lost it," she said. "I got pretty emotional, and then it turned up with a guy at the front desk."
After her playing days, Watson sees herself getting into coaching. "It kind of naturally happens anyway," she said. "I boss people around and people tend to listen."
Player/coach anyone?