By KJ Cardinal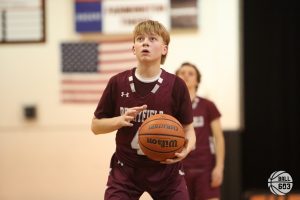 With the win over previously unbeaten Epping on Friday night, the Derryfield Cougars appear to be hitting their mid-season stride just in time for the toughest portion of their Division IV slate and they are being fueled by an emerging freshman with a familiar name.
Thomas Ferdinando, son of Keith Ferdinando (Manchester Central '88) is a do-it-all point guard for a deep Derryfield squad that currently sits at 4-1 on the season. Thomas is averaging nearly 22 points per game, including 26 in the big win over Epping.
"Basketball is life for Thomas," said third-year head coach Ed Meade. "He is practicing, shooting or playing at all times. He's a really hard worker and a very smart player. He knows the game and is 100% dedicated."
His dedication on the court shows as he has a well-rounded game and veteran-like poise in the big moment. Down the stretch versus Epping, the Andover, Mass. native was unflappable, making savvy, winning plays at the most crucial of times.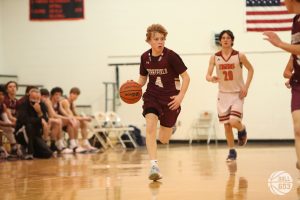 "We purposely put our best defenders on him every day in practice, Janai Cruz or Alex Camire, and it doesn't bother Thomas," added Meade. "He's very poised and has all the confidence in the world. I think his confidence is a factor of him playing so much basketball. He plays AAU in the offseason down in Mass. with some of the top players in Eastern Mass."
Ferdinando is a member of the highly touted Middlesex Magic AAU team, which was home to the Miami Heat's Duncan Robinson the Milwaukee Bucks' Pat Cannaughton. "Thomas has a lot of opportunity to pick up a lot of knowledge during his AAU time and he takes advantage of it," said Meade.
While he puts in the time all year round, Thomas also has family lineage on his side.
"He comes from a long line of good basketball players. His dad [Keith at Central] and uncles [Mark and Greg at Trinity] were all very good players in high school. His dad was a standout player at Bates College up in Maine."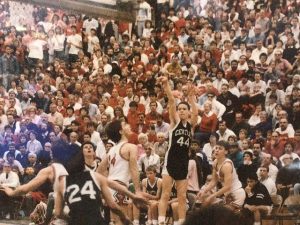 In fact, Keith helped lead Central to a 1988 Class L Runner-Up finish and later went on to become a 1,000-point scorer (1,140) at Bates College in Lewiston, Maine.
Ferdinando and the Cougars will be put to the test on Tuesday as they head to Concord Christian Academy for a highly anticipated match-up with the Kingsmen. CCA is 5-1 on the season with its only loss coming at Epping when the Kingsmen were without three players, including senior sensation Isaac Jarvis.
"We've got to rebound well and play hard," said Ferdinando. "They've got size."
Coach Meade echoed the freshman's sentiments, "We'll have our hands full on Tuesday. We have some plans for what we want to do defensively, but it's a tough matchup for us with their size. We have very little size, so hopefully we can stay with them and make a statement that we're a pretty good basketball team, win or lose."
Derryfield may lack size, but that didn't seem to slow the Cougars down on Friday when they took down an Epping squad with depth in the front court. Whether Derryfield can knock off CCA or not, the future is bright for the Cougars with Ferdinando at the helm.