New Hampshire's basketball history includes a total of 16 players that have eclipsed the 2,000-point plateau and in the recent Jam Session entitled The evolution and de-evolution of the 2,000-point scorer, Mike Whaley talked with some all-time greats about the rise and fall of prolific scorers. Whaley continues with capsules on each of these legends to reach the elusive double century mark.
New Hampshire's 2,000-Point Scorer List
| NAME | SCHOOL | POINT TOTAL | YEAR OF GRADUATION |
| --- | --- | --- | --- |
| Dave Burrows | Nute | 2,845 | 1990 |
| Karen Wood | Henniker ** | 2,677 | 1984 |
| Ryan Gatchell | Epping | 2,602 | 1992 |
| Matt Alosa | Pembroke | 2,575 | 1991 |
| Julie Donlon | Nute | 2,502 | 1987 |
| Cynthia Thomson | Orford # | 2,500 | 1989 |
| Matt Bonner | Concord | 2,459 | 1999 |
| Kerry Bascom | Epping | 2,408 | 1987 |
| Steve Lavolpicelo | Kearsarge | 2,371 | 1999 |
| Clever Prince | Thayer & | 2,304 | 1992 |
| Scott Drapeau | Merrimack Valley | 2,260 | 1991 |
| Keith Friel | Oyster River | 2,148 | 1996 |
| Tim Lee | Farmington | 2,146 | 1998 |
| Tom Brayshaw | Kearsarge | 2,117 | 1989 |
| Tonya Young | Mascoma | 2,112 | 2007 |
| Jayson Waysville | White Mountain | 2,005 | 1994 |
**Henniker closed in 1987. It is part of John Stark Regional High School in Weare

# Orford, which closed in 2000, is now part of interstate high school, Rivendell Academy, with the Vermont towns of Fairlee, West Fairlee & Vershire;

& Thayer closed in 2005. Winchester now sends its students to Keene High School.

---
By Mike Whaley
Karen Wood, Henniker (1984)
The most prolific female scorer and the most successful team-wise (four state titles), Wood at one time held the record for points in a tournament with 98. She went on to play at Boston University for three seasons (1984-84, 1986-87 and 1987-88). The '87-88 team was the first BU team to win 20 games (21-8), capturing the Seaboard Conference championship. Wood played in 82 games, averaging 5.6 ppg with 261 assists and 340 rebounds. She led BU in rebounding as a freshman in '84-85 with 178 boards.
Julie Donlon, Nute (1987)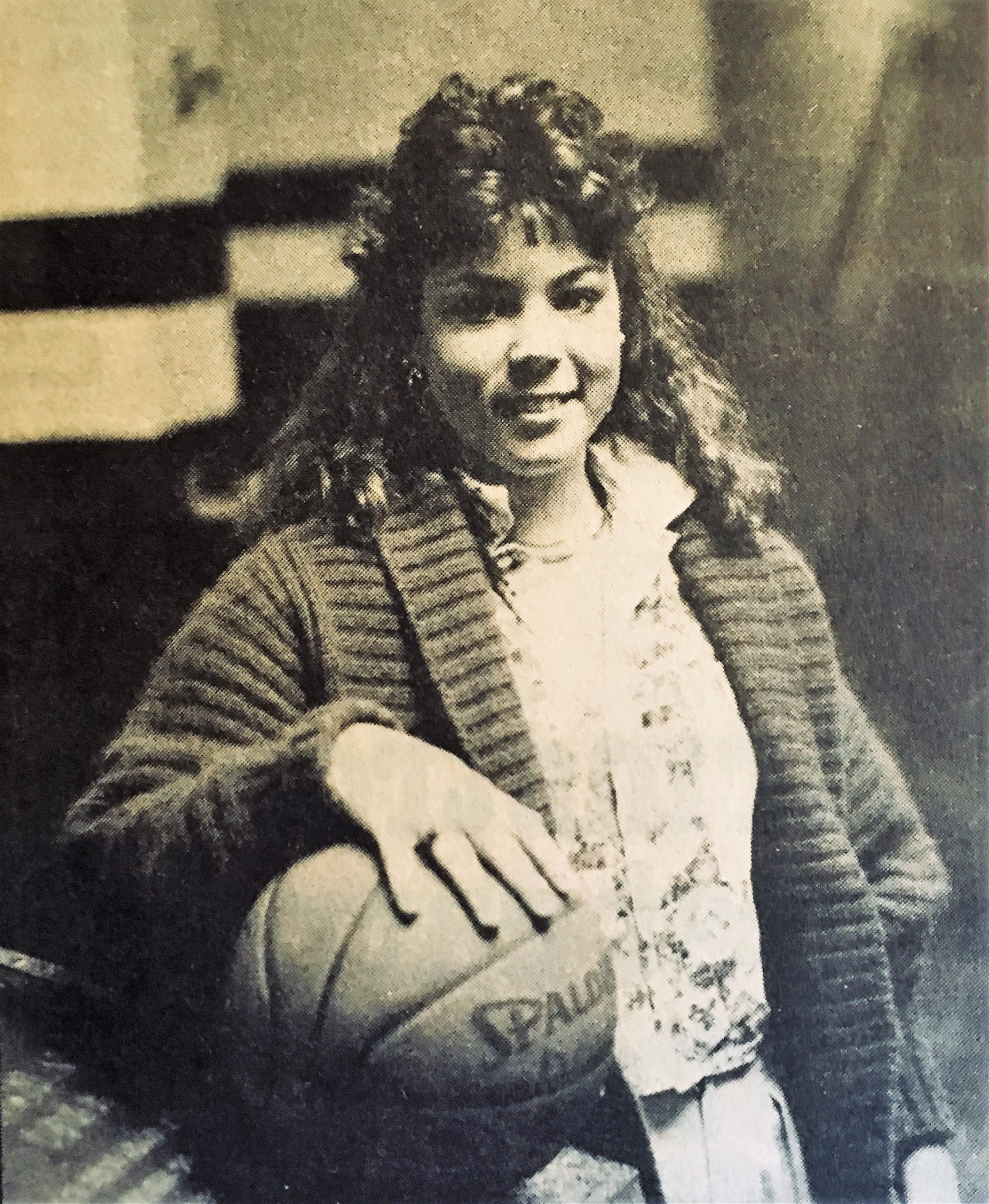 One of the state's greatest all-around athletes, she also excelled in volleyball and softball (leading the Rams to back-to-back undefeated Class S titles in 1986 and 1987 as a pitcher. She collected 14 career no-hitters). Donlon later played hoop at the University of New Hampshire on scholarship, scoring 804 points while carving out a niche as one of the program's finest 3-point shooters (126 career, 8th) and top point guards (336 assists, 8th). She later coached girls at Spaulding High School in the 1990s and helped out with the Nute program in this century as an assistant. Sadly, her alma mater, due to lack of players, has not had a high school program since the 2017-18 season.
Kerry Bascom, Epping (1987)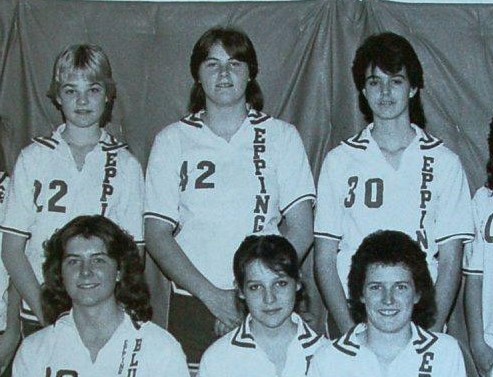 On reflection, Bascom has to be considered the state's finest female hoop player, given her exceptional college resume. Her Epping body of work isn't all that shabby. Led Blue Devils to 1985 Class S championship, and then to a pair of Class M finals when the school's enrollment numbers were miscalculated and moved them up a class. She still holds the Class S tournament mark for most points in a championship game with 31. At UConn, she was the first prime recruit for Geno Auriemma. She led the Huskies to their first Final Four (1991), was named Big East Player of the Year three times and was UConn's first All-American. She is the only New Hampshire 2,000-point scorer to have also scored 2,000 points in college (2,177).
Cynthia Thomson, Orford (1989)
Grand-daughter of the late Meldrim Thomson, N.H.'s governor from 1973 to 1979, she was a prolific scorer for the little border school, which is sadly no longer (still in Orford as Rivendell Academy, but part of an interstate compact with towns in Vermont whose athletic teams compete in the Green Mountain State). At one time she held the Class S/D-IV tournament record for most points in a single game with 44 (broken in 2017). She still shares the tournament record for 3-pointers in a game with six. Thomson later played at Liberty University, an NCAA D-I school in Lynchburg, Va. She scored 1,055 career points despite being hampered by a hip injury for much of her career. Thomson still holds or shares many of the program's 3-point records, including season (64) and career (227), as well as season and career records for 3-pointers attempted.
Tom Brayshaw, Kearsarge (1989)
The first male 2,000-point scorer, Brayshaw also was named the state's Gatorade Player of the Year in 1989, as well as Mr. New Hampshire Basketball. Kearsarge's pace was so breakneck that games were often played in the 80s, 90s and 100s. In Brayshaw's senior season, the Cougars advanced to the Class I semis, setting a tournament record, indicative of their style, in a 99-85 quarterfinal win over Oyster River for most combined points in a single game (184). He later played parts of two seasons in the Ivy League for Cornell University.
David Burrows, Nute (1990)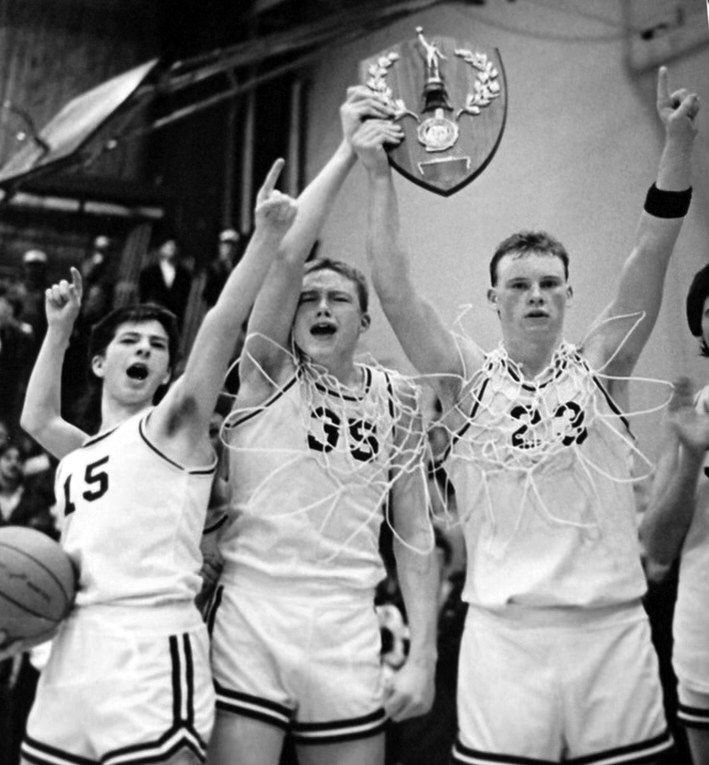 The state's all-time scoring leader for over 30 years now, Burrows led the Rams to the 1900 Class S championship. He set a Class S/D-IV mark for most points in a tournament with 149 that still stands and is the standard state-wide for boys and girls. He scored 336 points in 12 tournament games, which, although not charted, is likely a record as well. Burrows played four years on scholarship at Bryant University, then a NCAA Division II school. He scored 1,499 points, capping his career with an outstanding senior season (1993-94) in which he scored 646 points (22.3 ppg) to earn All-Northeast Conference First Team honors. Bryant was seeded sixth in the NE-10 tourney, but advanced to the championship, losing to American International College by a point. Burows later coached high school teams at Spaulding (boys) in the mid 1990s and Oyster River (girls) in the early 2010s.
Matt Alosa, Pembroke (1991)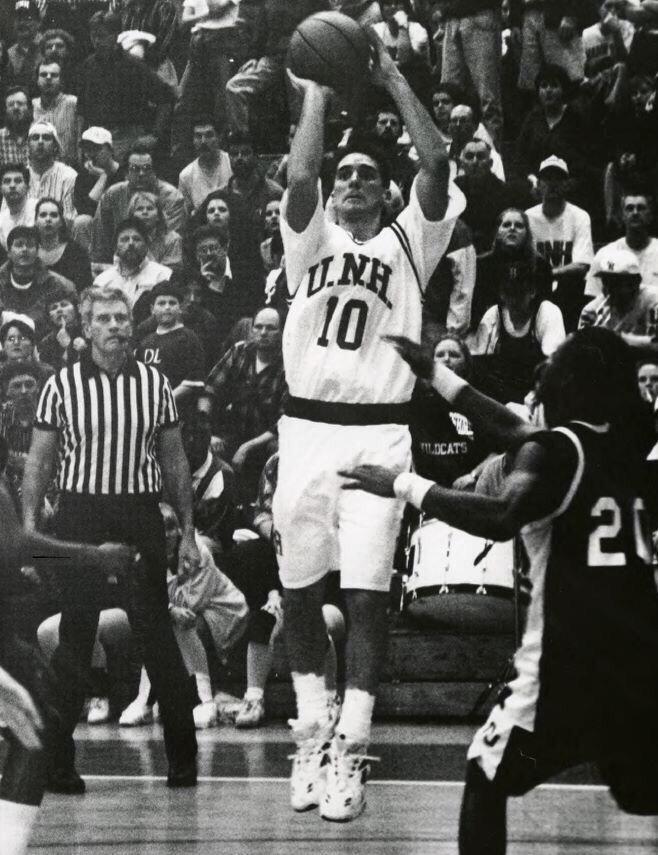 His career total is the most by a four-year player in N.H. Alosa led Pembroke to the 1991 Class I championship in which they beat Merrimack Valley for the title, 79-61. He still holds or shares tournament records for foul shots made in a tournament (38) and foul shots made in a final game (16). MV featured another 2,000-point scorer in Scott Drapeau, a player long linked to Alosa as both rivals and teammates. Alosa, a two-time Gatorade Player of the Year, was recruited to play at Providence College where he appeared in 42 games over two years, scoring 191 points. He transferred to the University of New Hampshire for his final two years, flourishing for the Wildcats. Reunited with Drapeau, the two led UNH to its best record in the modern era – 19-9 in 1994-95. Alosa scored 1,247 points in his two years for an average of 23.1 ppg. He was twice named to the All-North Atlantic Conference Second Team. His senior year he averaged 24 ppg, which remains a program record. After playing pro ball overseas for 10 years, Alosa returned to coach Pembroke Academy, guiding them to back-to-back D-II titles in 2013 and 2014.
Scott Drapeau, Merrimack Valley (1991)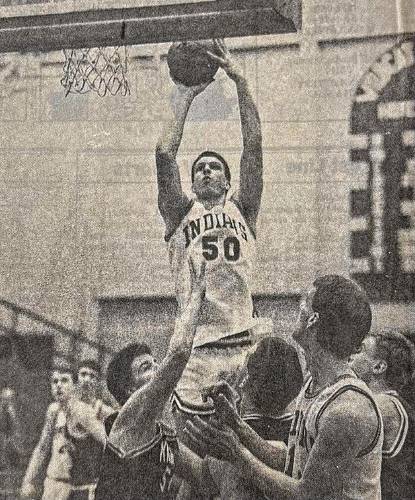 "Drapes" led Merrimack Valley to back-to-back Class I crowns in 1989 and 1990. His MV team lost to Matt Alosa and Pembroke in the 1991 final. He holds or shares two Class I/Division II tournament records: most points in a game (43) and most free throws in a game (17). After a celebrated high school career, Drapeau embarked on a bit of a college hoop journey that took him to UMass, Southern New Hampshire University and finally to the University of New Hampshire where he was reunited with Alosa. At UNH, he rewrote the record books while leading the Wildcats to a 34-22 record over two years, including 19-9 in 1994-95, the best record in the program's modern era. He scored 1,290 points in 56 games and was twice named All-NAC First Team, as well as NAC Player of the Year in 1993-94. Drapeau has UNH's top two single-season scoring marks with 648 and 642 points. He coached both the Hillsboro-Deering High School boys and girls teams for a season each, and this past December was named head boys basketball coach at Bow High School, succeeding another 2,000-point scorer – Farmington's Tim Lee.
Ryan Gatchell, Epping (1992)
The lithe 6-foot-4 lefty led Epping to three Class S championships in four years and still holds Class S/D-IV single-game tournament records for points (52), field goals (19) and 3-pointers (8). Epping's 1989 championship win with Gatchell as a freshman came at the expense of Nute and David Burrows, a convincing 58-39 victory. After spending a prep year at Maine Central Institute, at the time one of the top prep hoop programs in the nation, he returned to the Granite State to suit up for the University of New Hampshire, reuniting with AAU teammates, Alosa and Drapeau. Playing from 1993 to 1997, Gatchell appeared in 91 games and scored 293 points.
Clever Prince, Thayer (1992)
The first Class M/Division III player to join the 2,000-point club, Prince was a four-year star for the Tigers. Their best season was his last one in 1992 when they advanced to the Class M semifinals. Prince later had a short stint on the Springfield College hoop team.
Jason Waysville, Fall Mountain (1994)
A big star from the southwestern section of the state, Waysville, a 6-foot-6 forward, led the Wildcats to the 1994 Class M championship, a 67-55 win over Inter-Lakes. He in fact is the only member of the 2,000-point club to score his milestone point in his final game, which also happened to be the state final. Not a bad curtain call. He enrolled at Colgate University where he played three seasons (1994-95, 1996-97, 1997-98), appearing in 48 games.
Keith Friel, Oyster River (1996)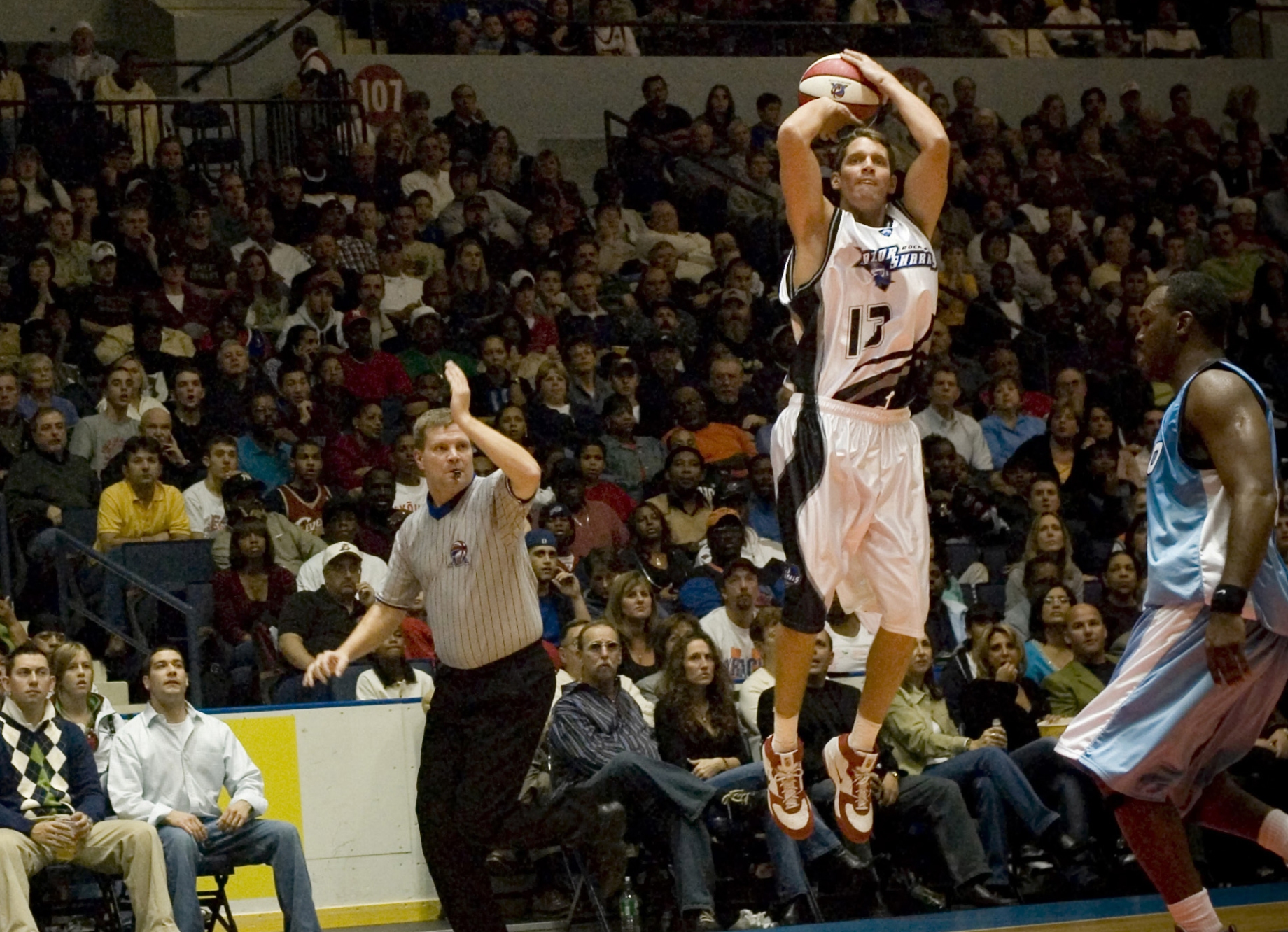 The son of former University of New Hampshire men's basketball coach Gerry Friel (1969 to 1989, Keith was one of five Friel siblings to score 1,000 points at Oyster River and is the lone one to reach 2,000. With his younger brother, Greg, he led the Bobcats to back-to-back Class I state championships in 1995 and 1996. He was the Gatoradde Player of the Year as a senior. Friel played college ball at Notre Dame and Virginia. As a senior for the Cavaliers, he led them to the NCAA tournament, a first-round loss to Gonzaga. He was the program's career 3-point field goal percentage leader (.421) until Kyle Guy broke the mark in 2019. Keith played professionally in the Premier Basketball League with the Rochester RazorSharks from 2005 to 2013, leading them to four championships. He holds many franchise records, including scoring, 3-pointers and field goals made, steals and free-throw shooting. His number 13 was retired in 2016.
Tim Lee, Farmington (1998)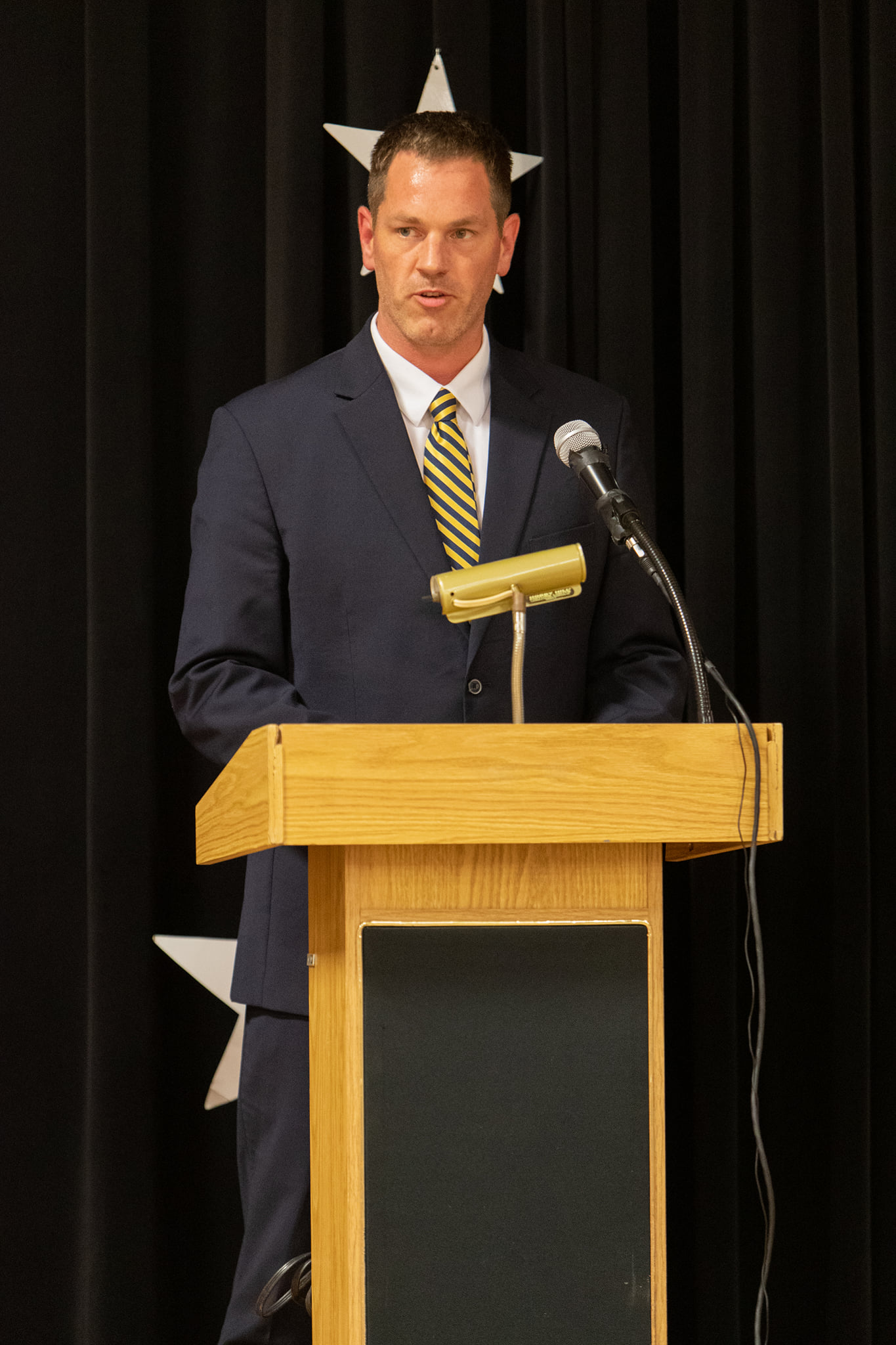 The son of Farmington's Hall of Fame coach Mike Lee, Tim played four years for the Tigers, leading them to the playoffs every year, peaking with an appearance in Class M semis as a senior. That year in the quarterfinals he tied the tournament record for points in a game (45) in a win over Gilford. Tim attended Southern New Hampshire University. A two-time team captain for coach Stan Spirou, he scored 1,291 career points in 109 games, while his 301 career 3-pointers remains an SNHU record to this day. The Penmen made the NCAA Tournament during his freshman year. Lee has coached at various levels over the past 14 years, most recently as an assistant at SNHU, and the head high school coach at Bishop Brady and Bow.
Matt Bonner, Concord (1999)
The state's greatest basketball player, he starred for four seasons at Concord High School, leading the Crimson Tide to three straight Class L championships. Bonner was a three-time Gatorade Player of the Year, and showed his smarts by being selected as class valedictorian as a senior. He played in college for Billy Donovan for four years. As a freshman, Bonner played in the 2000 NCAA championship game, losing to Michigan State. He played in 131 games for the Gators, scored 1,570 points and pulled down 778 rebounds. In addition, he was a three-time All-Southeastern Conference pick, and was selected as honorable mention All-American twice. He was drafted in the second round of the 2003 NBA draft by the Chicago Bulls, but never played a game for them. Ten of Bonner's 12 NBA seasons were spent with the San Antonio Spurs, with whom he won two NBA championships. He appeared in 792 games and scored 4,632 points.
Steve Lavolpicelo, Kearsarge (1999)
Another product of coach Marty Brown's exciting run-and-gun style, Lavolpicelo was a prolific scorer who flourished in that kind of situation. He played four years at Southern New Hampshire University, a teammate of another member of the 2,000-point club – Tim Lee. For a short time, Lavolpicelo coached boys hoop at Newport High School.
Tonya Young, Mascoma (2007)
The last player to reach 2,000 points, Young did it with flair. She reached the milestone on her senior night against Berlin, exploding for 51 points. She averaged 28.4 points and 14.5 rebounds a game that season. The Royals won the Class M state championship in 2004 when she was a freshman, going 24-0. It's their last title to date. She went to the University of Vermont on scholarship, playing all four years. Young appeared in 121 games, scored 896 career points and pulled down 464 boards. Vermont advanced to the NCAA tournament in her sophomore and junior years (2009 and 2010), winning the program's only tournament game in the process – a 64-55 upset of No. 7 Wisconsin in 2010 when the team went 27-7 overall. Her senior year was her best effort. She averaged 12.1 points and 6 rebounds per game, while earning American East Conference Second Team honors. Young, after playing professionally in Europe, is back at her old stomping grounds. She's teaching at the Enfield Village School, and is in her first year coaching her old high school hoop team, the Mascoma Royals.