By Mike Whaley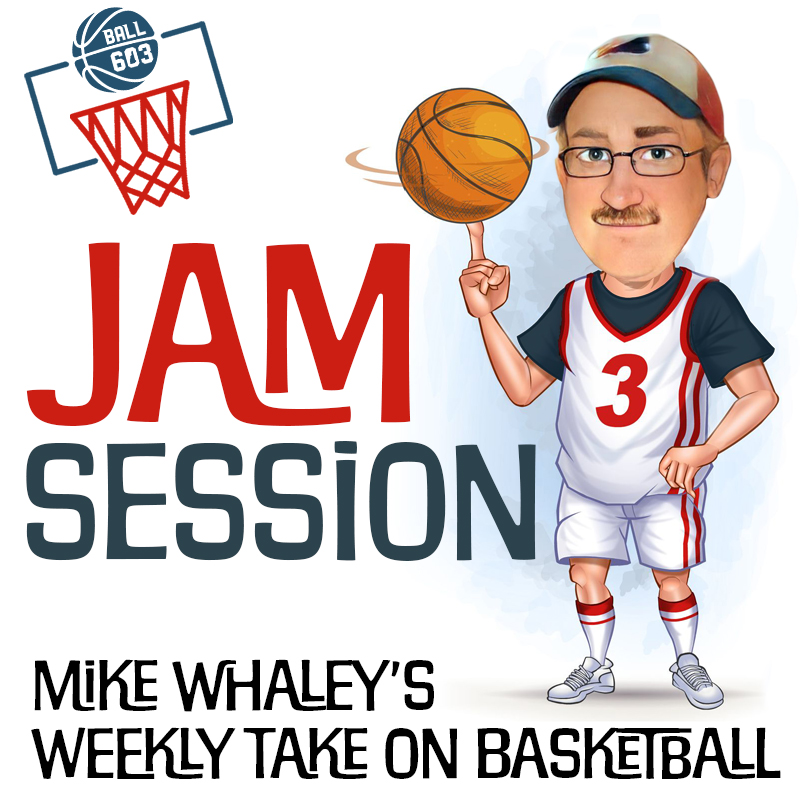 Note: This is the last in a three-part series on the elusive 2,000-point milestone.
Henniker's Karen Wood became the state's inaugural 2,000-point basketball scorer in 1983. The first boy to hit the milestone was Kearsarge's Tom Brayshaw in 1989.
Brad Therrien would have beaten them all to it in 1970, if some bad luck had not befallen him during his final season.
The former Spaulding High School star missed six games due to sickness during his senior year of 1969-70, otherwise he'd have been a lock as the first to surpass 2K.
One of the finest players of that era, Therrien was a versatile 6-foot-3, 190-pound forward, who scored 1,700 career points for the Red Raiders from 1966 to 1970. That number was the Class L/Division I record until Concord's Matt Bonner came along in the late 1990s to break it, scoring over 2,000 points himself.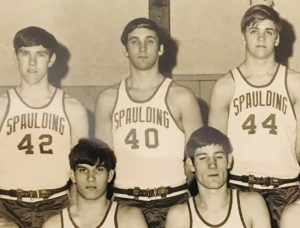 Fifty-plus years later, he remains Spaulding's all-time scoring leader.
What is less known about Therrien is that he played on the varsity team at neighboring Farmington High School as an eighth-grader in 1965-66, scoring a team-high 238 points. That, coupled with his Spaulding numbers, puts his career total at 1,938.
Given that Therrien averaged 19.7 points per game as a senior, fourth in the state, it's easy to speculate that he would have scored at least 120 points in those six games he missed to handily eclipse 2K.
Therrien was a three-sport standout at Spaulding, also excelling in football as a defensive end and tight end, and baseball as a first baseman/outfielder.
He grew up in Farmington, spending his first 14 years there playing sports with some pretty good players like Paul Moulton, Danny Reynolds, Alan Hagar and Tony Quinn. That collection of boys came together in 1969-70 to lead Farmington to its first high school basketball state championship. Their memorable tournament run was capped with a record-setting 95-83 win over Merrimack in the Class M final after a colossal upset of highly-regarded Woodsville in the semifinals.
Therrien recalled being a solid, mature 5-foot-11 as an eighth-grader, good enough, it was determined, to play with the varsity. "Some of the older players on the team weren't too happy with me," said Therrien, who retired from Eastern Propane two years ago. He still makes his home in Rochester with his wife, Bonnie. The Therriens winter in Florida near Fort Myers. They have two grown children, Nick and Callie.
"The big thing, honestly, is I could use both hands," he said. "That was a great advantage."
Therrien said a couple of the seniors quit the team when it was evident he was going to play. "They were pretty resentful," he said. "I understood it. I'd be pissed, too."
Therrien's dad, Alfred "Bud" Therrien felt some pressure from outside forces to move his son to a bigger school. St. Thomas Aquinas and Spaulding both popped up on the Therriens' radar. The Therriens had roots in Farmington. Bud, a Farmington HS grad, was instrumental in starting a boys youth hoop program in the early 1950s through the Farmington 500 Boys Club, which continues to this day.
Brad Therrien recalls playing in the 500 program when everyone, at the time, shot the ball from the chest. "My father got me a book by Oscar Robertson about the fundamentals of basketball," he said. "I was the first kid to put the ball over his head (to shoot). They all kind of made fun of me, but it worked out."
Therrien remembered going with his mom to Spaulding's 1964 Class L championship game, the school's only appearance in a final. The Red Raiders lost to old Bishop Bradley High School (now Trinity), 48-46.
"I was hanging on the edge of the bleachers," he said. "I couldn't really see, but I kept boosting myself up. That inspired me. Of course, Denny Hodgdon was always a good player."
Indeed, Hodgdon was Spaulding's first 1,000-point scorer who later played in the backcourt at the University of New Hampshire from 1965 to 1968.
Watching that championship game leaned Therrien towards going to Spaulding. "I just thought St. Thomas was too far," he said. "I don't think I was really in the St. Thomas mode."
It's easy to speculate how well Farmington would have done had Therrien stayed. "I'm not saying we would have won another championship," he said. "I'll tell you one thing, we wouldn't have lost a lot of games."
Therrien enrolled at Spaulding as a freshman. Halfway through the fall, his family made it official when they moved to Rochester. He has mixed feelings about it all.
"I was kind of pressed by my father," he said. "He was getting people telling him things."
There were questions whether he was even eligible to play after playing as an eighth-grader in Farmington. But it was all hot air. His Farmington year was above board, and he was good to go in Rochester.
Although Therrien went on to star in three sports at Spaulding, he always had a sense of being on the outside. "I never felt truly accepted at Spaulding," Therrien said. "I was always kind of the kid from Farmington."
That being said, it was still a positive experience. "I developed some really good friendships through sports," Therrrien said. "I played with some great guys."
Some of those players were Mike Taylor, Steve Thompson, Paul Castonguay, Jim Cook and Peter Bebris. Bebris,a 6-3 point guard, teamed up with Therrien over the final two years to give the Red Raiders a imposing 1-2 scoring punch. It was Bebris, with Therrien out sick, who scored a school-record 54 points to beat Laconia in late January of 1970.
"Peter Bebris was a terrific defensive player and slick on offense," Therrien said. "He was really something, like Spiderman."
Bebris died young at age 33 in Las Cruces, New Mexico.
Those Spaulding teams were very good, winning 12 or more games in each of Therrien's final three seasons and making the Class L playoffs.
"But again we were going up against Nashua," Therrien said. "Honest to God, their second five was almost as good as their first five."
As good as he was, Therrien feels in retrospect that he let himself down. "I wasn't what you call a model citizen," he said. "Honestly, I wish I had taken it more seriously. But sometimes you just waste your talents when you don't apply yourself. You coast through."
Still, Therrien remained a player that Spaulding's opponents always took seriously.
"He was a hell of an offensive player," recalled Greg Kageleiry, who coached at Dover High School at the time, including the Green Wave's 1968 Class L championship squad. "I remember off the top of my head that he could handle the ball, number one. He was a good passer, number two, and he was a good rebounder. Put those three together and you've got a pretty good player."
Kageleiry remembers Therrien had a very good inside-outside game. "It seems to me he could shoot from the outside and go inside," Kageleiry said. "That made him a tough matchup. I couldn't put a little guy on him."
Indeed Therrien's game created all sorts of matchup problems for opponents. "I drove to the basket and had a mid-range jumper," Therrien said. "I had a nice touch close to the basket."
That he was adept with both hands around the basket made him an exceedingly difficult player to defend. On the occasional night when his outside shot wasn't falling, Therrien would perch himself down low. "I'd hang around the basket and get some garbage points," he said. One can see him now plucking a rebound and scoring, as the situation dictated, with either hand.
Therrien was a big scorer right from the moment he put on a Spaulding varsity uniform as a freshman, scoring nearly 20 points a game his first two seasons. To illustrate that fact, one need only look at the two games Spaulding played vs. rival Dover his freshman year. The Red Raiders lost both contests, 74-62 and 55-49, but Therrien was a presence even then with 21 and 25 points.
By his third year, he was one of the top players in the state. As a junior, he led Class L in scoring, averaging over 26 points per game. He eclipsed 1,000 points in January of 1969 in an 84-71 win over Concord.
Before his senior season, Therrien was recognized as one of the top 100 players in the country by Sunkist Magazine.
His final year began just fine. Therrien played a couple games, but then he got sick and missed the next six in which the Red Raiders suffered the bulk of their losses. When he came back, it took a couple of games to regain his groove. Therrien was still in the top-five in scoring, leading the Red Raiders to a 14-6 record and the No. 4 seed in the 12-team Class L tourney. Had he not fallen ill, Spaulding might have gone 17-3 or 18-2.
In the tournament, the Red Raiders beat St. Thomas Aquinas in the quarters, 61-55, before falling in the semis to Nashua. In that game, as Therrien recalls, Spaulding fell behind 16-1 in the opening quarter, but responded to take a 32-31 lead at the half. Therrien made an ill-advised foul on a breakaway layup by Nashua with six minutes to play in the game. It was his fifth. With Therrien on the bench, Nashua broke it wide open, winning by 30.
Manchester Memorial beat defending champion Nashua for the title, 68-65.
Therrien recalls that era being loaded with talent. Nashua was a beast with great players like Gureckis, Briggs, Terrell and Kopka, while the Manchester teams were always good. Memorial, which won back-to-back titles in 1970 and 1971, had a couple of big stars in Ron Beaurivage and Mike Flanagan. Flanagan, of course, went on to excel in baseball for 18 years at the major league level as a pitcher. He won the 1979 Cy Young Award and was part of a World Series championship in 1983, both with the Baltimore Orioles.
Therrien had no big-time basketball aspirations. "I could have played D-3, mayber D-2," he said of college. "I was a white guy playing against white guys, which hurt my development." He cited his lack of quickness and height as a setback from playing at a higher level.
He got some letters of interest from colleges, including one as a senior from the University of Hawaii. "That would have been fun," Therrien said. "To go there and even sit on the end of the bench. I would have liked that."
Therrien did play a couple of seasons of ball at a pair of defunct small colleges – Leicester Junior College (Mass.) and Concord College in Manchester, N.H. He teamed up with Dover's Dave Feeney on the Concord squad, which went undefeated in the Northern New England Small College Conference. Concord won the conference tournament with Therrien earning MVP honors.
But that was it. He did not pursue college further. Therrien made Rochester his home and eventually found his way, raising a family and working 31 years with Eastern Propane.
Therrien doesn't think a lot about missing 2,000 points. "You know," he said, "I'd trade in all those points for a state championship."
RIM NOTES: A few final thoughts on the 2,000-point club. Of the 16 members, 10 were on teams that won at least one state championship, and five played on squads that captured multiple titles: Karen Wood (4); Matt Bonner (3); Ryan Gatchell (3); Keith Friel (2) and Scott Drapeaul (2). Winning single titles were David Burrows, Matt Alosa, Jason Waysville, Tonya Young and Kerry Bascom. … Waysville and Burrows are the only club members to score their 2,000th point in a championship game. Waysville did it in his last high school game, a 67-55 win over Inter-Lakes in the 1994 Class M final. Burrows' milestone came from the foul line in the 1989 Class S championship when he was a junior, a 57-39 loss to Epping.. He had 30 of his team's 39 points. … Bascom and Julie were not only fierce rivals in the mid 1980s, but they were also recruited by UConn's Geno Auriemma. Bascom went on to become the Huskies' first big star under the legendary coach, while Donlon decided to remain local at the University of New Hampshire.
For feedback or story ideas, email jamsession@ball603.com.