By Mike Whaley
NEWMARKET – There's this hazy memory of a young, mop-haired Brian Cronin, maybe 6 or 7 years of age. It's the turn of the century in the Rochester Community Center gymnasium – now "Coach Tim Cronin Court." While the Spaulding High School boys basketball team practices, Brian is flying around the gym's periphery, dribbling a basketball like the Looney Tunes cartoon character, the Tasmanian Devil.
The quintessential gym rat, Brian eventually played for his dad at Spaulding, graduating in 2011. His dad retired from coaching in 2020 after building the Red Raiders into a respectable Division I program (five trips to the D-I semis). Now Brian, 29, is a head coach himself, beginning his first year guiding the boys team at Newmarket High School.
He smiles at the memory. "When my dad took over (in 2001), I was there all the time," Brian said. "There was nowhere else for me to go. My mom was working late. I was just leaving school and going there."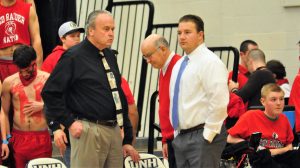 He adds, "There's an ongoing joke of one of the rec administrators over there that I was born in the rec, in one of the couches out back."
Tim Cronin recalls bringing Brian along out of necessity. "I always had him with me," Tim said. "So that went all the way up basically. He always enjoyed being around the gym. He always enjoyed being around the players. They all knew him. It's a good start to his career as a coach."
The coach said he never had to worry about Brian during practices. "He was always dribbling a ball on the side," Tim said. "He always entertained himself."
Basketball was Brian's life because he didn't know anything different. The Community Center was his second home.
Another benefit was that his dad was close with many D-I coaches. It wasn't unusual for Brian to come downstairs on a Saturday morning and find a coach chatting with his dad on the family couch. Winnacunnet's Jay McKenna, former coaches Mike Romps (Dover) and Tim Goodridge (Merrimack) are among that group. Noah LaRoche at Integrity Hoops is another influence. Brian is good friends with Great Bay Community College coach Alex Burt. "I became friends of my dad's friends," he said. "I was able to get so much knowledge because of that. … Seacoast guys have always been on my side. It was fun when I was in high school. They'd come over and talk to me on the side after a game."
Although Brian says it wasn't until he was out of high school in 2013 that he realized he wanted to coach, there were earlier signs. Close family friend Gerry Gilbert recalls coaching Brian on a third- and fourth grade recreation team. "He wanted to be a coach from the very beginning," Gilbert said.
Tim believes all those years in the gym growing up rubbed off Brian in the right way. It made him a leader. "He would echo what he heard over the years from me," Tim said. "He'd translate to the players on the court."
Tim recounts a story during a game in Rochester. Winnacunnet's McKenna told him the story. "Jay was yelling out some kind of defense that he wanted his team to run," Tim said. "So Brian told everybody on his team what they were going to do." McKenna told Tim that he knew his team was in trouble with Brian out there telling people where to go.
"He was like a sponge," Tim said. "He always listened. He was a student of the game."
Brian laughs at recalling his high school days at the thought of "being a coach on the floor." "I don't think in high school I necessarily believed I was striving to be a coach," he said. "As much as I was striving to have my dad yell at me less. I'm a product of what he created."
Although Brian started getting the coaching bug once he graduated from high school, it was not an easy or direct path. After a year of college, he returned home for a year, helping out his dad's team as a volunteer assistant. Then he returned to college for four years at Keene State before rejoining his dad's staff for his final two years from 2018 to 2020.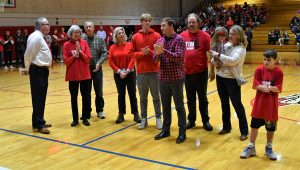 In between he had to deal with the failing health of his mom, Leslie, who died from Alzheimer's disease in 2015 at age 63. Brian did not handle that well. "Anyone who was an outlet for me to yell at, I was using," he said. "I was really bringing only negative things to the table. My attitude as a whole, not just basketball, was very negative during those years."
Brian was also disheartened by his dad's final year as head coach at Spaulding. The team started 4-3 but lost its final 11 to end at 4-14 to miss the playoffs, ending a streak of 13 consecutive postseason appearances.
That season left a bad taste in his mouth. "It was constantly discouraging," he said. "There was never a day that was better." Then he applied for the Spaulding job, but didn't get it. That hurt. "I felt kind of hit hard not getting that Spaulding job, even though I didn't necessarily believe I deserved it," Brian said. "It went to the right candidate (Lorne Lucas)."
Brian was a little soured with the sport of basketball.
But he took a job with the Raymond High School boys hoop team under Jay Piecuch. It was just what he needed.
"Those are probably some of the best kids I've met. Period," Brian said of the Raymond players. "Having that back; having kids who wanted to be there. Having athletes that were there to be better basketball players and working together as a team. The fact that we had a little bit of skill really brought everything back to me. 'Oh yeah, this is what I missed.' This is the way it should have been going."
Raymond had a solid season, advancing to the semifinals of the Division III tournament. Brian was prepared to come back, but Piecuch got wind of the Newmarket opening when Jamie Hayes stepped down after 18 years. He convinced Brian to go for it. He's glad he did.
"Now being at Newmarket, I get goosebumps just thinking about it," Brian said. "These kids are so amazing. Every single one of them is 'Yes, coach. Thank you, coach. We'll be there on time. Early. Whatever you need.'"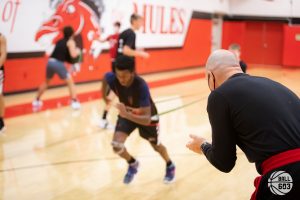 He likes that they are ready to work, ready to go hard. They are like pitbulls, a little chippy. "It rekindled the flame in me," Brian said. "Jamie instilled a mentality in those kids to come ready to work."
Having his dad in the background as a sounding board has helped. They talk on the phone three or four times a week. They talk basketball, but also about the off-the-court stuff that all coaches must learn to navigate.
What has Brian taken from his dad? "Being prepared," Brian said. "The fact that my dad was watching game film right after the game, then watching again in the morning. That's something I just did today "after Friday's 58-55 opening loss at Holy Family.
"I don't want questions," he said. "I want to have answers. It's something I watched my dad give to the kids."
There's also the encouragement piece – compliment and constructive criticism. "These are things you need to succeed," Brian said. "When I was playing, my dad was prepping me for the real world."
Another important point of emphasis passed on from father to son is not accepting failure. Brian recalls the early days of the Spaulding program under his dad – tough years with very little success. "That was a constant grind," Brian said. "We've got to change the atmosphere. We've got to change the culture."
Eventually Tim did just that, leading Spaulding to 14 playoff appearances in his 19 years.
When Tim Cronin looks at his son, he sees a lot of good things. "I think he relates to the players very well," Tim said. "I talked with him at length about all the mistakes that I made in my early years. He learned a little bit from that."
Tim added, "He's in charge and he's very organized. He knows the point he wants to get across."
One important thing Tim learned from another coaching dad, Dave Faucher, whose son, Scott, is the head coach at Assumption College, is this: "He told me, it's a big point, 'I wait for him to ask,'" Faucher told Tim. "'I don't say that much unless I'm asked. He always calls me after games and we talk. But I wait until I'm asked.' I think that's a good thing to follow."
Faucher, coincidentally, coached at Newmarket back in the 1970s, before going on to become the head coach at Dartmouth College from 1991 to 2004.
Although Newmarket lost its first game. Brian felt good about the effort. The team trailed by 14 points at the half and by as many as 17 points in the third quarter. They made a run from there, and had a chance to tie it at the buzzer, but a 3-pointer rimmed out.
After the game, a Newmarket dad came up to Brian, ecstatic about what he saw. Brian had to smile. "He told me it was awesome to see these kids grow as the game was going on," he said. "They were getting better every quarter."
Which, of course, is the product of good coaching.
For feedback or story ideas, email jamsession@ball603.com