By Mike Whaley
ROCHESTER – Lorne Lucas knows all about challenges. Diagnosed with multiple sclerosis (MS) in 1998, it's a battle he's taken seriously. It's also one that he's kept private.
Last year, however, with the escalation of Covid-19, he had to go public with his affliction. It affected his job as a wellness and health teacher at Rochester Middle School and head boys basketball coach at Spaulding High School.
His doctors said because of the MS, he could not be in a school setting because he is a high-risk individual. So he taught remotely until April and coached the Spaulding team from his home in York, Maine, for the entire, albeit short, season – from January to March.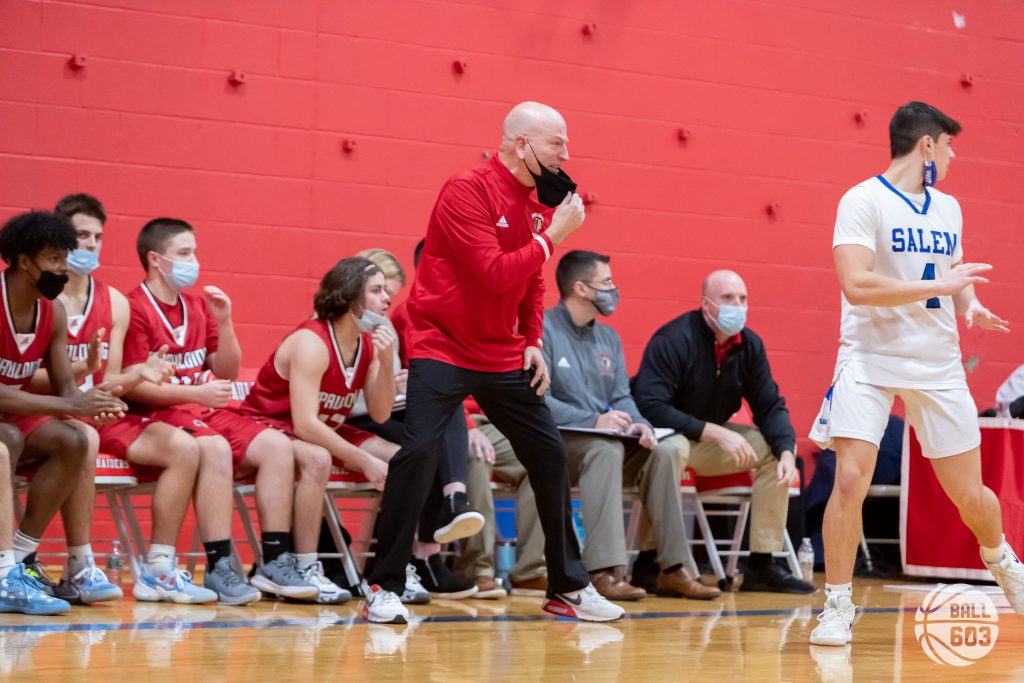 Now he's back in person, his 21st year as a head basketball coach in Massachusetts and New Hampshire, and his second at Spaulding.
Lucas, who turns 52 shortly, was fully vaccinated by the end of March, at which point his doctor gave him the greenlight to go back to teaching at RMS in early April. This past summer he was back on the basketball court coaching the Red Raiders during a summer league.
"It's funny," Lucas said. "I showed up in April. By April people are definitely pretty tired in a regular year, never mind a covid year. My perspective of being so excited to be in the building and everybody else being 'oooooh.'"
Lucas laughs. "I was like 'Let's go,'" he said. "They're going, 'Come on Mr. Lucas, relax.' Being away from something you love, that just fuels your fire. It makes you realize how important that stuff is to you."
The same with basketball.
"That's really what happened to me this year," Lucas said. "I haven't taken for granted one minute of being on the floor or being in practice, having our games or summer league."
Ah yes, summer league. Lucas was ecstatic to be back coaching basketball in person. "I was like 'let's go," he said. "It was great fun being with other coaches. Matt Fennessy (Dover's coach) was great. He told me how awesome it was to have me back on the sidelines. Things like that were obviously very nice."
But, again, challenging. During a summer league game in Portsmouth, Lucas said he felt overwhelmed. "It was moving so fast," he said. "I wasn't ready. It's not like riding a bike. You can't just hop right back onto it. The summer really helped me get my feet wet again."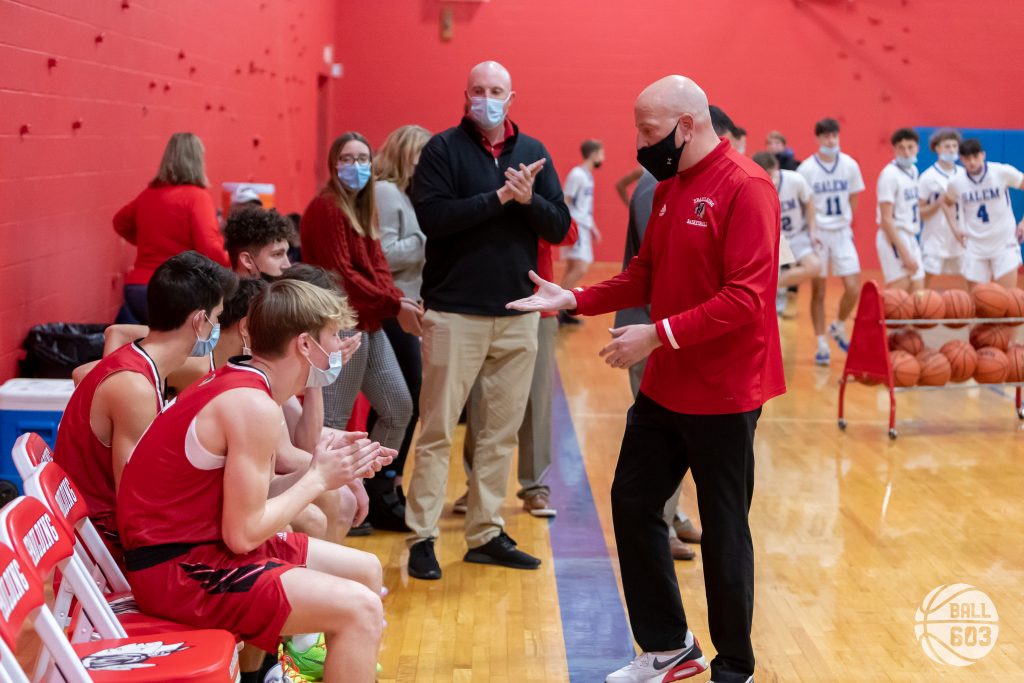 Of course, Lucas took his greatest pleasure from being back working with the players. "It was so nice to get back in the gym with the kids and work on the game," he said.
Lucas can't say enough about the Spaulding players. "They'll do whatever you ask them," he said. "They work hard. They're pushing themselves and being physical. They've been great all along. They figured it out last year. But it's nice to hit the ground running this season."
Last year was challenging in so many ways for Lucas and the Red Raiders. "It was difficult," he said. "This may be a surprise to people, but being a coach at the high school level is not always a lot of fun. Get off the floor and there's all kinds of things you take care of: schedules, grades, parental issues."
Lucas said you, of course, preface that with the time coaches get to spend on the court with the players. "That's why we're all in it because of the players," he said. "The energy they bring and how hard they work."
Last year Lucas had none of that.
What he did have was technology that did not allow him to watch practices live and some games were on a delay.
"I had to sit around during practice," he said. "Especially early on, that was brutal. Knowing they were there and I wasn't."
Then Lucas had to watch and break down film, and remotely pass his observations on to the players. "It wasn't what I dreamed I would be doing ever in my life," he said.
When it got really challenging, Lucas would remind himself that "I wasn't the only person in the world who wasn't doing what he wanted to do. Everybody was sacrificing in some way or form," he said.
Games were the worst.
Lucas actually talked about that during his first game of the season with the Salem coach. "We have a lot of control as a coach out there calling defenses," he said. "You can sub, call timeout. There's so much we can do. I had zero ability to do everything."
He was at the mercy of technology, which sometimes was on a time delay.
One such instance was a game against Exeter in which the stream was on a small time delay. Lucas would communicate with one of the assistant coaches via text. One text asked for a play for a quick score.
"How the heck am I going to send a play," Lucas asked himself. He drew it up, took a picture with his phone and sent it. But they never ran the play.
At halftime, Lucas asked why they didn't use the play. It was a case of the time delay. By the time the assistant received Lucas's message the play had already happened.
"I'm sitting on my couch or standing and yelling and screaming at the TV like a crazy uncle watching the Patriots. The weirdest thing was that when the game ended, I'm just sitting in my living room. No one in my family wanted to be anywhere near that room."

Lorne Lucas on remotely coaching last season
During games, Lucas was in his living room following the stream. "I'm sitting on my couch or standing and yelling and screaming at the TV like a crazy uncle watching the Patriots," he said. "The weirdest thing was that when the game ended, I'm just sitting in my living room. No one in my family wanted to be anywhere near that room.
His wife made it clear that he was screaming louder (at the TV) than she had ever heard him scream when he was physically at a game.
That it worked at all is a tribute to Lucas's friend, Rob Fauci, who stepped in to do the in-person coaching. A former head coach at Somersworth High school for five years (D-III championship in 2018) and an assistant under Lucas there before that, Fauci had Lucas's absolute trust.
"If I didn't have Rob, it wouldn't have worked," Lucas said. "He deserves all the credit. I helped. He knew my system in and out. He knew what I was doing. I told everybody: 'You don't have to worry about coach Fauci.'"
While Lucas found the remote practices and games trying, he kept his sanity by exercising. In 2017, when his Oyster River team went all the way to the Division II championship game before losing to Hollis-Brookline, Lucas said he was at 285 pounds. Two weeks after the championship loss, he lost a sister to ovarian cancer at age 56. His dad had died young at 51.
"I'm sitting around at 285 pounds and 'what in the world am I doing?'" he asked himself. That motivated him to lose weight and get healthy. "I did it the right way," Lucas said. "I exercised. I ate well."
Essentially trapped in his Maine home, he exercised often. "That's the best thing you can do to help yourself is to eat well, exercise and take care of your whole body," Lucas said. "A lot of research shows that's good for everybody, particularly people with MS. That's what I did. That helped me get through the day."
The Lucas family had built a house on a farm in York. Plenty of space. No social distancing issues. "I just couldn't wait to get outside," he said. "I can walk the whole farm. I can snowshoe in the winter. It was great. That's what helped me get through it."
Lucas has his MS under control. "I'm doing great," he said. "I had my checkup. My doctor was thrilled. She actually told me I had to put on a little weight."
The basketball season is going just fine, although Spaulding has yet to win a game. Lucas knew it was going to be an uphill battle with senior forward Jack Sullivan the only player back who saw significant playing from a year ago. Still, the Red Raiders have been in all five games, losing by no more than 11 points.
"We played pretty well," Lucas said of the first game against Salem, a 59-48 loss. "It was good to see. I didn't know what to expect with a lot of kids without (varsity) playing time. We played a great first half. The third quarter we kind of fell apart. … It's going to be a little bit with the young guys."
Lucas has also noticed a change in his coaching approach. He was able to take a step back and look at people somewhat differently. The remote experience made him even more observant of how the kids are feeling. "Where they are with what I'm asking them to do," he said. "I was pulling them aside to talk with them."
He's also developed a deeper trust with Fauci. "I always knew I could rely on Rob," Lucas said. "Now even more. We're the co-coaches of everything. I know I can absolutely rely on him. I let him run parts of practices."
Lucas has learned not to be so controlling, to be able to rely on other people. "That's only going to help me long term," he said. "It's exhausting when you have to do everything. . I've got guys who proved it to me last year that they could help me out."
That's more people to help Lucas to deal with the challenges ahead. Challenges that excite Lucas. "That's what you want in life," he said. "That's what makes life interesting."
For feedback or story ideas, email jamsession@ball603.com.