By Mike Whaley
SOMERSWORTH – Last year was a down year in many ways for the Somersworth High School boys basketball team. The young Hilltoppers, led by sophomores, went a Covid-19 shortened 1-9, losing in the opening round of the Division III tournament to St. Thomas Aquinas.
Coach Leon Shaw believes that was an aberration and that Somersworth has the necessary personnel to return to form, fitting of its winning tradition.
The 'Toppers have won six state basketball championships since the 1960s. They captured Class I titles under late coaching legend Ed Labbe in 1969 and 1979; went undefeated to capture the 1984 Class I crown, coached by Larry Francoeur, after back-to-back runners-up finishes, and then in 2005 got back to the top again in Class M/Division III, guided by John Langlois.
In recent years, the success has continued. In 2011, Lorne Lucas coached the team to the D-III title, while in the five years preceding last year, Rob Fauci was at the reins as the Hilltoppers made four trips in a row to at least the D-III semis, winning the whole enchilada in 2018.
Shaw feels this team, which is led by a trio of juniors – Aiden Hefferon, Jeff DeKorne and Dante Guillory – has the potential to get Somersworth back to the top tier again.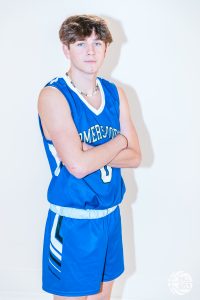 Hefferon, a six-foot junior point guard, is the key. Early in this season, he has already displayed his vast potential as one of D-III's top scorers (20.5 ppg), although the 'Toppers are off to a lukewarm start with a 2-2 mark.
"He's been handling every challenge that I've given him so far," Shaw said. Hefferon is ready to set into that rarified air with previous all-state players like Bryton Early and Evan Gray, who led the 'Toppers to the 2018 title.
Shaw said that even before Hefferon was in high school, townspeople were speaking about him in the same sentence with Early and Gray. There has been that kind of expectation.
"He's had to deal with everyone saying that since he was in seventh and eighth grade," Shaw said. "'Wait until Aiden gets here.' I don't have to put any pressure on him because everyone in the community is already looking at Aiden as the next marquee player."
Shaw's preseason speech to Hefferon was pretty simple: "We'll probably win or lose based on you."
Hefferon, who grew up watching Early and Gray play, has embraced that role. Watching those two former stars "definitely inspired me for my future years," he said. "Watching them, they were the face of Somersworth. I tried to learn from them; seeing how they pushed their teammates. Little stuff that they did off and on the court. I just followed them."
It's been a growing process. As a freshman, Hefferon saw time off the bench for a team that advanced to the D-III semifinals. "That was game-changing and fast-paced," he said. "I loved it. I loved how fast the game was at the varsity level. I definitely had some things I needed to work on."
Last year was by far the most difficult challenge. "We were focusing on a lot of things," he said. "It wasn't just basketball."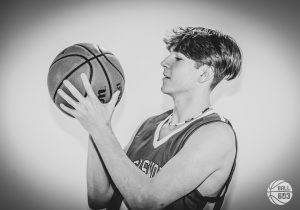 Covid was the X factor. Players were constantly getting sick. He recalls going to some practices with only five or six players in the gym. "We couldn't run full drills sometimes," Hefferon said.
It was a tough stretch for Hefferon who tried to keep his mind in a good place by focusing on basketball, but he admits stressing out over covid.
The team had no trouble offensively, but defense was a different story. Hefferon said they struggled on defense because other teams were able to push them around physically. They had trouble coping with bigger, taller players.
It's been a point of emphasis going forward, one that is a work in progress. Shaw said two things that need to get better are defensive rebounding and getting back to defend opposing transition offense. "It's little things we need to improve," he said.
Which should come with time.
Hefferon will be at the forefront of that renaissance – the point man leading the way.
"Going into every game, (opposing teams) are probably going to put their best defender on (him)," coach Shaw said. "Every game we need you to score at least 20 points. You have to have close to 10 assists a game."
Hefferon has delivered for the most part. After an overall offensive off night at Conant in the opener (a 56-42 loss), he has risen to the challenge. In a 78-60 win over Raymond on Dec. 14, he nearly had a quadruple double with 34 points, 12 rebounds, 12 assists and nine steals.
He followed that up with 20 points and six steals in a 69-51 loss to Winnisquam and 21 points, 10 steals and five boards in a 66-62 win over Berlin.
DeKorne, the quarterback for the state championship football team, has been a solid No. 2 scoring option, averaging 14.5 ppg. He had 21 points in the win over Berlin, and 17 points and 13 boards against Raymond.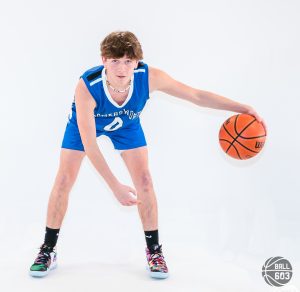 Hefferon may need to get to a higher level as the Hilltoppers have a brutal stretch looming ahead in January with difficult games with Campbell, Gilford, St. Thomas and Mascenic.
"Those teams are in the top eight," Shaw said. "We need to come out of the positive end of wins and losses."
How the Hilltoppers do will likely rest on Hefferon's shoulders. "He plays well enough in every game to usually surpass who is guarding him," Shaw said. "But when he gets irritated, he puts it at a level that is equal to a Bryton or an Evan."
That is Shaw's next challenge. "(Aiden) needs to be at that level more often," the coach said. "Being better than the guy in front of you is great. But how about we be way better than the guy in front of us every time we touch the ball."
Hefferon is ready to get the Hilltoppers back to the top. He wants to be that guy leading the way. "I always make sure if (my teammates) make a mistake that they're all good and I make mistakes too," he said. "No one cares. Work hard on defense. You can get the ball right back. If you shoot an airball, I don;t care. I've missed eight shots in a row and I keep on shooting. Leave that behind you. Keep on moving forward."
That's the way to success. "I just play at 100 percent," Hefferon said. "I know I have to play a big role. I always try to get my teammates involved."
But when Somersworth needs a score, Hefferon knows he has to be that guy. "I'm willing to step into that role," he said. "I know I need to do the little things. On defense I need to put a body on a guy. I need to go up for rebounds. It's not just scoring."
RIM NOTES: Since 1950, Somersworth has appeared in 11 championship games and won six state titles. The first was in 1969, a 66-56 win in Class I over Milford. That was followed by the 1979 title win in I over Pembroke, 77-51; the 1984 perfect 1984 crown, also in I, over Pembroke, 55-51. … Three Class M/D-III championships came in 2005 (55-48 over Conant); 2011 over Bow, 45-39, and 2018 over Campbell, 53-38. … There was a little bit of controversy with the 2005 win. One of that team's stars, DJ Gregoire, transferred to Somersworth from Kingswood after the Christmas break, raising questions about his eligibility. He played the rest of the season with the 'Toppers, and then after the championship win, finished up and graduated from Farmington High School. … Somersworth's 1,000-point scorers: Chuck Favolise (1976), Marc Roy (1979), Jim Perron (1982), Kyle Hodsdon (1985), Diane Soule (1991), John Coggeshall (1994), Larry Francoeur Jr. (1997), Melissa Heon (2000), Katelyn Rideout (2002), Rachel Hill (2013), Bryton Early (2018).