By Mike Whaley
The first two games that Dave Chase coached freshmen twins Anthony and Tyrone Chinn made an impression.
It was 2019 and Chase was Pinkerton Academy's new junior varsity boys basketball coach, his third stop in a 26-year career as a New Hampshire hoop coach (36 years overall). He has also coached at Concord (three years) and Hopkinton High School (20 years), where he still is a physical education/adventure ed instructor, and baseball and golf coach.
Those two games were played against two of the state's stronger programs in Exeter and Portsmouth. "Both of them being freshmen, they were AAU players true and blue," Chase said. "They tried to break everybody down. The first two games we lost by 25 and by 30."
Chase recalls a discussion the team had during the Christmas break. "'How are we as a team going to learn how to play together, instead of everybody watching you two trying to juke everyone and go by them?" was a hard question Chase asked. "You know what? They learned that lesson well. Today they are Nos. 1 and 2 on the team in assists. They are the most unselfish and nicest boys I've had the opportunity to coach."
Two years later, Chase is now the Pinkerton head coach and the Chinns are integral members of the Astros' resurgence – 12-2 in Division I (15-2 overall including 3-0 in a Lowell, Mass., holiday tournament). Anthony is a 6-foot-3 small forward, who is averaging 17.2 points per game, while Tyrone is a 6-1 point guard, chipping in with 8.9 points and 5 assists a game.
The twins, now juniors, recall that first lesson.
"It was frustrating at first," Anthony said. "But then I finally decided to listen to (Chase) and see my game start to get better."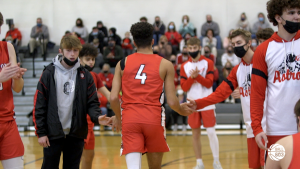 "It was all about scoring," recalled Tyrone. "So me and Ant were always trying to do it ourselves. Midway through the season we realized that (Chase) kept repeating himself, that it's more than just scoring. You have to get your teammates involved and share the ball. That gives your teammates more confidence."
After losing those first two games in which the twins scored three points each, the JV Astros won 16 of their next 18.
That success has followed them to the varsity. Last year as sophomores, the Chinns played active roles in the team going 9-3 overall, losing in the second round of the D-I tournament at Londonderry. The Astros were 1-37 over the previous two seasons.
Expectations are high this year on a deep team that has just two seniors.
Other key players include talented 6-foot-7 sophomore forward Jackson Marshall, one of the top big men in the state who leads the team in scoring (20.7 ppg) and rebounding (10.8 rpg); gritty 6-1 senior guard Aidan Kane (6.3 ppg), improving 6-4 junior forward Sean Jenkins, and a couple of defensive-minded forwards in 6-5 junior Quinn Hammer and 6-4 senior Anthony DeSalvo.
The supporting cast has been more active as of late to look for their offense to take the pressure off Marshall and the Chinns.
The twins, both elected captains along with Kane and DeSalvo, have upped their game after Chase challenged them at the end of last season. "You guys have this wild thought of playing at the next level," Chase said. "It's going to take a little bit more than you understand. You're going to have to start lifting; getting bigger and getting stronger. Working on your legs, so you can jump better. Working on your skill development. They took that to heart."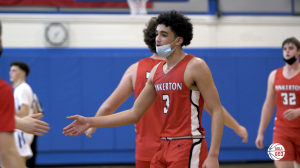 Both hit the weight room and put on at least 15 pounds each.
"Tyrone went from being a six-foot guard who could barely touch the rim, to now he dunks fairly easily," Chase said. "He takes the ball strong to the rim." [VIEW OUR HIGHLIGHTS BELOW]
The two have combined for 16 dunks this season including a handful of Chinn-to-Chinn highlight-reel alley-oops.
Tyrone is also hitting his stride after missing the first four games with a separated shoulder. It was a struggle at first to play hard and not worry about reinjuring himself. "Coach Chase would say you're not being yourself and attacking the rim," Tyrone said. "I finally realized to forget about it. It's really been getting easier, especially with the brace that I have now. I feel more supported."
He is also the floor general a year after playing a secondary role behind Drew Brander, who decided to head to prep school at Bradford Christian Academy (Mass.).
Anthony has blossomed as an all-around player. "He's become a beast with his strength," the coach said. The 6-3 junior is second on the team in scoring, rebounding (8 per game) and assists (4 per game). When his brother was out with his injury, Anthony had to step up and handle the ball more.
"The thing that people don't see is that (Anthony) only plays about 23 minutes," Chase said. "We've had the opportunity to beat some people fairly comfortably. Both him and Ty are sitting down by the fourth quarter. So they're playing 23 and 21 minutes each."
The first part of the schedule was easier, but now the Astros are getting into the meat of their schedule. Losses to Nashua North (69-63 on Jan. 14) and Bishop Guertin last week (71-61) were good lessons.
"(Nashua) North took us away from what we do," Chase said. "We got anxious and the guys tried to do it on their own. We kind of went into a funk because it wasn't easy anymore. BG kind of did the same thing. They out-executed us."
The twins, and the team in general, have responded well after losses, refusing to feel sorry for themselves or to make excuses. After their first loss this season to Nashua North (69-63 on Jan. 12), Anthony said, "We need to be more intense in practice leading up to big games like that. … They shot the ball really well. I think we let our emotions get the best of us."
"I don't think we came ready to play – especially in our own gym," Tyrone said. "We just thought we were never going to lose. I think that was a lesson to us to come into games ready. Now we realize we're beatable."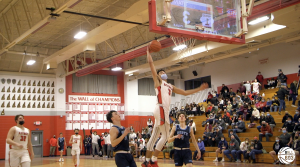 The Astros bounced back from the BG loss to beat rival Londonderry, 64-58, and Bedford, 69-50. The Chinns combined for 23 and 24 points in those two wins. The Bedford win was particularly telling.
"(That) was probably our most complete game that we've had in a long time," Chase said of the Bedford win. "We shared the ball. We had 19 assists in the game. Hopefully we can build on that."
A willingness to share the ball has grown throughout the lineup. It's certainly become a focal point for Anthony who has upped his assist numbers in the last four games.
"He's starting to make extra passes," Chase said. "That's a huge leadership thing that he's done for us. The Marshall kid, the same thing. They're all looking for each other now."
Then there's defense, where the Chinns are Pinkerton's two defenders. They are both often guarding the opposing teams' top players at their positions.
"I'm definitely defense first," Tyrone said. "I have to lock down the other point guard to make things tough for them, which has been a goal all season for me."
"They're both kind of special kids because it's not about me, me, me," coach Chase said. "It's about the team, and they are great leaders. They both defend the crap out of people. That's even more important to our team, how well they defend people."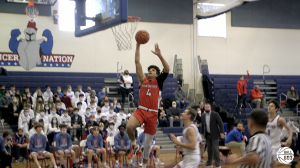 Anthony agrees. "Our defense is really why we're good," he said. "All five guys can defend. We're really good at playing team defense."
The Astros wind up the season with four games against some pretty good teams, starting tonight at home vs. Exeter (10-4). They then play Monday at unbeaten Trinity, and end up with Alvirne (5-9, five losses by four points or less) and Nashua South (7-7, wins over BG and Nashua North). "We peaked early and then had a couple of valleys," Chase said. "These (games) are going to prepare you for the tournament."
So there's still work to do. Plenty of it with the Chinns, of course, doing their part to improve.
"We're pretty good," Chase said. "But our IQ still needs to get a little bit better if we're going to be able to pull this thing off."
RIM NOTES: Pinkerton has a pretty good basketball tradition going back to the 1940s. The Astros won three straight Class B (now Division III) titles from 1947 to 1949, two in the 1950s ('57 and '58), and then three in Class L (D-I): 1988, 1990 and 2010 – a 61-59 victory in double overtime vs. Winnacunnet. … As noted above, coach Chase has 36 years of HS hoop coaching experience, 26 in N.H. Outside of the state he coached in Richford, Vt.; Worcester, Mass., and Moab, Utah.
For feedback or story ideas, email jamsession@ball603.com.
PINKERTON VIDEO HIGHLIGHTS