By Mike Whaley
GILFORD – In the last couple years, Gilford has clearly emerged as the top high school boys basketball team in Division III. The presence of at least two Reese brothers in the lineup hasn't hurt.
The Golden Eagles shared the 2020 title with Mascenic when the tournament was cut short after the semifinal round due to the Covid-19 pandemic. They won the title outright in 2021, beating Hopkinton in the final, 42-40.
With the current season set to wrap up this weekend, Gilford leads the D-III standings with a 15-1 record. Over the last three seasons the Golden Eagles are a remarkable 48-3.
Jalen and Isaiah Reese have played key roles in that continued success.
Jalen is a 6-foot-6 junior point guard, while Isaiah is a 6-2 sophomore wing. Last season, Jalen was named to the D-III All-State First Team, the only sophomore across all divisions in New Hampshire to earn first-team distinction.
Gilford has a very solid lineup that makes a shot at a three-peat well within reach. In addition to the Reeses, coach Rick Acquilano's solid lineup also features 6-foot-2 senior point guard Riley Marsh, 5-11 senior point forward Austin Normandin and 6-5 junior big guy Sam Cheek. Senior Mitch Pratt is a dependable first player off the bench.
All six played on last year's championship team.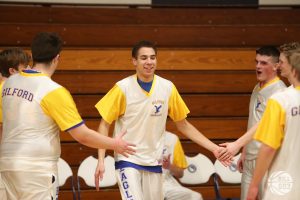 Gilford plays a fast-paced game, pressing on defense and pushing the ball on offense. As a point guard, Jalen pilots the offense. "He can lead us in rebounding," the coach said. "He leads us in assists. He can lead us in scoring on any given night.
"He's a really complete player," the coach said. "He has a good sense of the floor. He's becoming more assertive, which is good for us."
Acquilano succinctly calls Isaiah, well, a freight train. "He's the quarterback on the football team," the coach said. "He's probably a little more physical."
Both Reeses play football. Jalen was the quarterback two years ago, but missed this past season because of surgery. He plans to play next year, but won't challenge his brother for the QB position. Jalen sees himself possibly at wide receiver, setting up a potentially dangerous Reese-to-Reese connection.
Coach Acquilano said that Isaiah runs the floor well and defends at a high level. The sophomore, who played valuable minutes last year off the bench as a freshman, is also able to hit the 3-pointer. "He just has a lot of energy on the floor for us," said Acquilano, in his third year as Gilford's coach and athletic director. He returned to New Hampshire after a long stint in Ohio, but has roots here as a coach. He was Bow High School's inaugural hoop coach in 1997 when that school opened, holding the post for five years. He also coached at Belmont.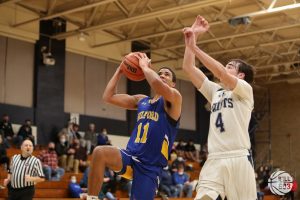 Acquilano replaced long-time coach Chip Veazey, who coached Gilford for 35 years and over 400 wins, including its first state title in 2004.
The brothers are 1-2 on the team in scoring with Isaiah leading the way (15.2 ppg) and Jalen right behind him (13.8 ppg). Jalen's stat line, however, goes well beyond points. He is also averaging a team-high 8.5 rebounds, 5.2 assists and 2.4 blocks per game, as well as being second in steals (2.8). Isaiah chips in with nearly three rebounds and four steals, along with 3.4 assists per contest.
Last year the duo teamed with their older brother, Malik, to lead the Golden Eagles to the state title.
Two years ago, Malik and Jalen helped Gilford to win the 2020 title.
Malik was known for his defense, which has rubbed off on his younger brothers. "I liked (playing with him)," Isaiah said. "I learned a lot from him, mostly that defense is the most important part. That's what his game revolved around."
Jalen begrudgingly agreed. "He was definitely better at defense than me," he said. "Last year at least."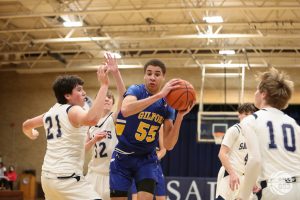 Although all three played multiple sports growing up, last season was the first time that all three played together on the same team. "We actually didn't think we were going to get along," Jalen said. "We don't usually (get along) at the house. But it was fun."
Especially being on the floor together to take in the championship moment. "It was exciting," Jalen said. "It's a memory I'll have for my whole life."
Gilford's success can be tied to its defense, a halfcourt matchup zone press that can create all kinds of problems.
"It's a nightmare trying to get the ball across halfcourt," said St. Thomas Aquinas coach Sean Murphy. "They turn a turnover into two points quickly. It's a perfect defense for their length and athleticism."
That defense allows Gilford to play its uptempo game. "We really want to push the play and play in the open floor well," said coach Acquilano. "That's what we've relied on the last two years. We run the floor and defensively work hard on holding people to one shot."
Marsh is the key to the defense. He's on top of the zone, a "one-man press harassing the ball," said Acquilano. "He really sets the tempo for us defensively. He gets his hands on a lot of things. He has tenacity. A lot of the grit we play with is initiated by Riley."
The Reese brothers create matchup problems for opposing defenses. "You put a big guy on them and they go by him," Murphy said. "Put a small guy on them, and they take him down low."
Additionally, teams can't just focus on the Reese brothers, because Gilford has alternate quality scoring options in Marsh, Cheek and Normandin. Marsh is third on the team in scoring (11.5), second in assists (4.1) and leads in steals (4.1). Cheek is averaging a very tidy 8.6 points and 6.2 rebounds per game, while the scrappy, physical Normandin contributes 4.1 points and 4.3 rebounds per game. Pratt (5.4 ppg) is a solid sixth man.
"You try to take away something, you have to pick and choose," Murphy said of Gilford. "It's difficult. They have weapons all over the place."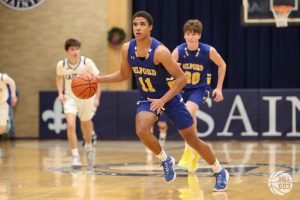 All teams at some point in a season face adversity. Gilford's came in unlikely fashion. During a game with White Mountains on Jan. 21 (a 46-35 win), Jalen was surprisingly assessed with two technical fouls – one for hanging on the rim after a partially-missed dunk that he actually tipped in and the second for saying something under his breath to a teammate regarding the first technical. Coach Acquilano felt both Ts were questionable.
The bottom line, however, was that the two infractions carried an automatic one-game suspension from the New Hampshire Interscholastic Athletic Association (NHIAA). A Gilford school policy mandated suspension for a second game.
Three days later, without Jalen in the lineup, Gilford lost its first game of the year, 53-51, at Mascoma.
"We talked about resiliency," coach Acquilano said. "In the course of a season that's three and a half months long, things aren't always going to go your way. You have to find a way through things if you're going to be that team."
Gilford battled at Mascoma, but fell at the end. Which may be a good thing. "We have our eyes on the prize," Acquilano said. "I'm not sure if being undefeated in that pursuit would complicate things down the stretch or not. It didn't change our outlook, but it actually helped us tighten up the ship."
Acquilano said everyone took responsibility for going to Mascoma and not playing well, including Jalen for not being available.
In fact, since returning to the lineup Jalen has played even better. His scoring numbers have gone up. "He's increased his game," Acquilano said. "In missing that time, you can see him cranking it up a little. I want him to. He's such an unselfish player. There are times when I want him to be more selfish."
The Golden Eagles have stayed atop the standings, navigating the weaker part of their schedule without letting down after a tough loss. They also had statement wins over quality tournament teams in Winnisquam and St. Thomas by 30-plus points. Jalen had 17 points in each of those two wins, while Isaiah had 20 and 12.
"We've got to focus," Isaiah said. "I think we can't play down to the competition. We have to rise above anybody that we play."
As an example, Isaiah said, the team, despite winning big, is able to reset the score at halftime to 0-0. "See if we can win that half," Isaiah said. "Take it piece by piece."
"We can't become complacent," Jalen added. "We're not as good as we think we are. … We just have to realize that we have to get better every day. That's our motto. We've got to keep working and getting better."
For Jalen, getting better means, believe it or not, gaining more confidence, especially in his ability to shoot. "I don't believe I can shoot sometimes," he said. "I know physically I can. Sometimes it just comes down to confidence for me."
Isaiah says he needs to work on his footwork and improve his ability to pull up and shoot off the dribble.
It's all about getting better.
Both want to play sports at the next level: Jalen eyes college basketball, while Isaiah is leaning toward football.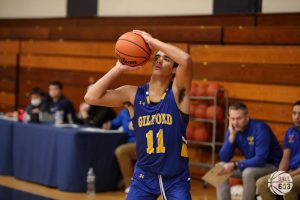 Gilford plays its final game Friday at Berlin. The 15-team tournament starts Tuesday with opening-round games. The Golden Eagles will likely earn a first-round bye, which means their first game will be in the quarterfinals Friday, Feb. 18, at home. The semis are set for Feb. 22 at Bedford High School with the championship scheduled for Feb. 26 at Keene State College.
"I think there's nine good teams out there," Acquilano said. "Any of those teams can cause problems for anybody. We'll get the winner of 8-9, which means a good team will be walking into our gym."
As the first step towards a third straight state title, the Reese boys and Gilford wouldn't have it any other way.
For feedback or story ideas, email jamsession@ball603.com.
GILMANTON VIDEO HIGHLIGHTS