By Mike Whaley
Wednesday was a big evening for high school girls' basketball coaches in New Hampshire. Three of the four coaches in the NHIAA Division IV semifinals were women, which is something to celebrate in a state where women are vastly under-represented in that profession.
No. 3 Derryfield held off No. 2 Pittsburg-Canaan in overtime in the first semifinal at Newfound High School, 47-40, while unbeaten No. 1 seed Concord Christian dispatched No. 4 Woodsville, 64-44, in the second game.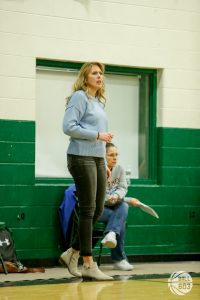 Rebecca Carlile's CCA squad will meet Courtney Cheetham's Derryfield five in the championship Sunday at Keene State College at 1 p.m. – a rarity in N.H. for two women coaches to face off in a basketball championship game.
The third female coach in Wednesday's mix was Woodsville's Tori Clough, who, at 24, is one of the youngest coaches in the state.
Farmington coach Dawn Weeks was excited about the semis with three women patrolling the sidelines. "Being one of few, it drives us to work that much harder," she said.
Of New Hampshire's 85 varsity high school girls' basketball head coaching positions, only 17 – or 20 percent – are held by women. In Maine, the percentage is 28.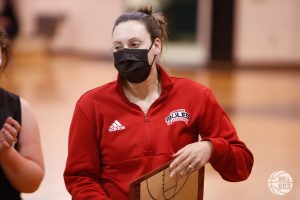 Cheetham was ecstatic about the opportunity to coach against other women, especially in the tournament. "I just coached against (Newmarket's) Meghan Averill," she said of her team's quarterfinal win over the Mules. "She's my coach of the year in Division IV. She's another female who is right there. She's great."
She added," I think it's really good for girls' sports. … It's good to see a decent amount of female coaches in the south." Of the 17 women's varsity hoop coaches in the state, seven are in D-IV, five in D-III, three in D-II and two in D-I.
"I think it's good for kids to see some role-modeling," Cheetham said.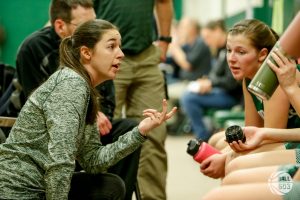 Clough, in her first year as a head coach, knew it would be a challenge against Concord Christian. "Rebecca Carlile has done such a great job with her team," she said. "If we can just hang with them, that would be a successful first year in my book.
"Rebecca, Courtney, Meghan Averill from Newmarket, I look up to all of them," said Clough, a 2016 Woodsville grad. "They have such great teams and they do such a nice job with them."
"I think it's amazing," Carlile said. "I think it's great. Anytime you see women being empowered to use their gifts and talents, what she's passionate about. … I love to see women doing what they're doing and not feeling like they can't do it because it's a men's job.
"I also think it's a great opportunity for the girls to see women doing something that they are passionate about, that they're knowledgeable about, and they're willing to instill what they know on a younger generation."
SMALL FRATERNITY, BIG CHALLENGES
But the fact remains that women make up a small part of New Hampshire's basketball coaching landscape.
Why is that? Are women not applying? Are they not being considered or even encouraged? Does the climate turn them off? Is it more difficult for women to coach in an environment stocked with so many men? There is a lot of speculation.
Although armed with no specific answers, Dover High School Athletic Director Peter Wotton did note that the New Hampshire Athletic Directors Association (NHADA) will be dealing with similar subjects at its spring conference in May. "We'll be looking at gender equity, Title IX and how to increase participation in females in sports," he said. "We didn't specifically mention basketball, but it is something we are going to be talking about as a group at our conference. It is something we do recognize in general."
That being said, the position of athletic director in the state is another that is held mostly by men. Of the 88 high schools in the state, 12 have women ADs.
Speaking for Dover, Wotton said a woman has not been a head hoop coach at the school since he's been there, which dates back to the mid 1990s. "I'm trying to think back," he said. "We've had maybe a couple applicants. But only one good one, one that was close (to getting hired)."
Wotton said there is a common misconception from the general public that schools are receiving dozens of applicants for coaching positions. "If we get five, six, seven, eight, it's oh my god, I can't believe we have this many," he said. "This is great."
The opposite, however, is usually the case. "We've had head positions of significant sports that we got one or two," Wotton said. "We've had one before."
Dover is currently advertising for a new head girls' basketball coach.
New Hampshire Basketball Coaches Organization President Dave Chase agreed with that assessment. "The first thing I would say: it's hard to get male coaches," he said. "Times have changed. It's a bigger commitment. I don't think anyone is saying they don't want to hire a female to coach basketball. There are so few women that are getting into it. I really don't know why."
It is a topic, however, that Chase intends to put on the agenda for the next NHBCO meeting on March 12.
He also pointed out that the NHBCO right now just has Averill (treasurer) as one of its four officers. The organization is currently looking for a vice president and secretary. "We're begging," he said. "It's tough to get women to do it if there's not a lot of women coaching."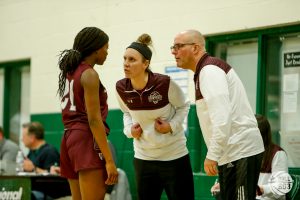 Cheetham did note that before Derryfield, where she is in her second year as the head coach, she was the head coach at D-I Merrimack for six years. She had some pretty good success there, and was named coach of the year in her final season (2017-18).
She took a year off from coaching, but then put her name back out there in 2019. "I applied for other jobs the next year and I didn't get them, which is funny to me," she said.
Now she's happy she didn't get any of those jobs because she enjoys coaching at Derryfield so much, where she is also the Director of Wellness.
Certainly another reason that is universal is that some women want to have families. Carlile falls under that category. A 1994 graduate of Alvirne High School, she played basketball at Southern Nazarene University in the mid to late 1990s (two-time NAIA national champs). Coaching basketball wasn't even on her radar until she was approaching 40.
Even then it came more out of necessity than anything else.
She was watching her son and then daughter play youth basketball, and not enjoying the experience. She finally decided she could bring more to the table with her past expertise to help out the well-meaning, but less knowledgeable volunteer coaches when her daughter was in third grade. "It got to the point where I've just got to help here," Carlile said.
Eventually that evolved into coaching CCA's middle school team for two years, and then she was approached to coach the high school team three years ago. "It's not like people are banging down doors to get coaching positions," she said.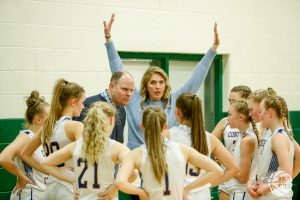 That coincided with a rejuvenation of sports at CCA. The school had built a new athletic facility. "There was extra energy," she said. "There was some extra effort focused on winning, honestly. We can win and be Christian. We can be loving and kind and still win. That's been fun to watch the last couple of years."
As much as her first year as a head coach has been a great experience for Clough, it does provide insight into some of the challenges a young female coach faces.
"It was a lot," said Clough, who played for and worked under male coaches at Woodsville. "I won't lie. I'm coaching against the coaches I played against six, seven years ago."
She was able to use some of those coaches as resources like Littleton's Dale Prior and Groveton's Tim Haskins. "It was fun to have them as mentors this year," Clough said. "They've kind of helped me along; given me some tips. It's nice when you can look up to those coaches."
Clough felt it was a good change for Woodsville having a young woman coach. "I know the kids appreciate having a female role model now," she said. "It feels different as a young female coach. You look around and it's all the typical middle-aged males."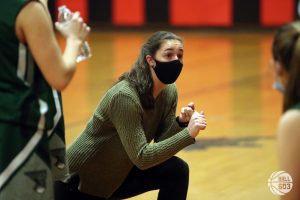 Clough is a patched basketball official in Vermont, and there are very few women officials in that state. The case is the same in N.H.
"It's daunting to be a young female trying to do anything right now," she said. "It's nice to have the men to support me and it's nice that they do. But I wish that I would see more females."
Clough recalls it was a battle when she first started as the head coach. "I don't think people trust you as much as they would a middle-aged male," she said. "We definitely have to earn people's respect much more than a middle-aged male would. I know that sounds crazy, but it's true.
"I see that in officiating and I see it in coaching, too," Clough said. "I step onto the floor to officiate and (she gets the look) – 'it seems like she looks really young.' I do just as good a job as a 50-year-old man."
Along the same lines, Cheetham found it funny when she began coaching at the Division IV level. She was learning who some of the referees were. "Ninety-five percent of the time everybody would walk over to my assistant (a man) and introduce themselves," she said. "They thought he was the head coach. And every time he'd point to me – 'She's the coach.' There's this assumption that he was the coach. Why him?"
She added, "This is no knock on referees because I'm a patched referee myself," she said. "I've got a lot of respect for referees."
"It's tough that we have to earn that respect, to earn people's trust to have faith in us, when we do just as good a job," Clough said. "I think that keeps a lot of females from hanging around. We have to work extra hard for something that a man doesn't have to" because of who they are."
Even now, Clough isn't sure what future coaching path she will take. She's also involved with high school soccer, and feels she could pursue that with or instead of basketball.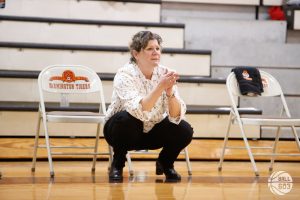 Weeks sees challenges in regards to a few of the male coaches she deals with, although most of her relationships are very good. However, there are a few men who won't shake her hand or share scouting information. She recalls, as well, trying fervently to get a timeout in a game and could not get a male official's attention. She was only awarded the timeout when her male counterpart finally was able to catch the official's eye.
Another important advantage for Clough is her flexibility as a teacher. She teaches third grade at nearby Monroe Consolidated School. That allows her to get to practice and games without impacting her job, something that cannot be said for those who do not work in education.
Ditto for Cheetham and Pinkerton Academy's Lani Buskey, who work in the school systems where they coach. Carlile has maintained her coaching flexibility working part-time for her family's business.
"My players have more of a comfortable friendship personally with me," Clough said. "They'll share things with me that I say 'Would you have shared that with a male coach?' They tell stories. They're so comfortable and relaxed. I haven't seen that in the past when there was a male coach. They take advice from me, whether it's coaching or life advice. It's kind of nice to think I could be a role model for them."
WOMEN COACHES EMPOWERING GIRLS
Buskey is one of two D-I coaches, recently leading her team to the D-I semifinals. She was named D-I Coach of the year for the third time.
A 1998 graduate of Pinkerton, Buskey played basketball for the Astros. She has taught English and coached basketball at the Derry school for the past 19 years. This was her ninth season as the varsity coach.
She has no answers as to why there are so few women's hoop coaches in the state. "Knowing that there are not a lot of us, I take the role very seriously because I know I'm one of few," Buskey said. "For me, understanding that representation matters in all forms, I really try to be the kind of leader that girls can look at and see themselves doing that. They can see a strong female in a leadership role doing it correctly, holding the whole program accountable and being successful at it. I think that's important for girls."
It's an important point that the other coaches agree with.
"My theme in life, whether coaching or not, is to help people get to their potential or help them maximize their potential," Cheetham said. "That's my life coaching mentality. I always like to find that everybody is awesome."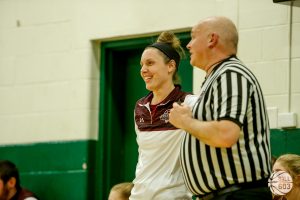 While Cheetham feels it's important to expose kids to different voices whether they're male or female, she is convinced that having strong, passionate female coaches are necessary role models to help impact the future of young women. "I do believe there is a role-modeling component," she said. "And me being a female I might have the opportunity to do what someone who is male couldn't."
Weeks expanded on her take on accountability. A 1991 graduate of Farmington High School, where she was a player, she has been a girls' head hoop for 10 years, the last nine at Farmington. "We have these 'Come-to-Jesus' moments when we sit at center court if I'm aggravated about something," she said. "I don't sugar coat anything. That's not real life. Is it the teacher's fault that you failed the exam? That's not the teacher's fault. It's about accountability and ownership. It's about realizing in real life that you're going to have to work harder than everybody else. You can't make excuses. And start now. Put on your big girl pants and own it."
Weeks goes on to say, "I do want to be a good role model. I kind of lead by example and send the right message empowering them: don't set limits on yourself. You can do anything you want to do."
Shared experience is at the top of the list. As ex-players and as women, some women coaches feel they can offer insight because they went through some of the same stuff.
"I can say, 'I've been here and here is how I handled it,'" Buskey said. "'This is how you could approach it if you wanted to.' I do think that's the advantage of a female coaching another female. It makes communication or our delivery of things a small advantage over our male counterparts because I've been there before. I've walked in their shoes."
"So much about teaching and coaching is about your own personal experience," said Cheetham, 37, who played at Trinity High School. "Good or bad, I can relate to what it's like to be a female athlete more than a man can. … I know what it's like to be in their shoes. That's a valuable perspective to have people who have similar experiences they can share."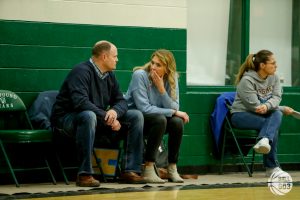 Carlile has a different take on a similar theme. "For me, I didn't handle them well," she said of some of her decisions made when she was younger. "I was facing it and here's how I wished I handled it. Kids are kids. They don't know. You do the best to help them and work them through the issues. I'm sure that perspective definitely affects my coaching."
As for being a good coach for female athletes, Cheetham feels it is key to "understand how each of them ticks as individuals. It's very different from coaching male athletes. Coaching female athletes you have to really understand each kid as an individual and how they want to be coached and how you can get the most out of them. I think that's where I would have the slightest advantage as a female just trying to understand that."
Carlile says that "Psychology 101" is her biggest coaching asset. "Getting kids to work hard for you and want to work for a common goal is as valuable as knowing Xs and Os on the basketball court," she said.
Carlile feels that coaches who focus on Xs and Os and drill their kids to improve their skill and win games ultimately get unhappy kids who don't want to play for them. "That's an aspect of coaching that I love," she said. "Trying to figure out how to get these kids to want to work together and want to work hard for you. I don't know that every coach is even aware that's a big aspect of the game. I think it is."
Part of the job can also be forging a path for the next generation of women coaches.
One of Cheetham's former players at Merrimack, Abby Yuan, fits in that category. A solid player and good leader in high school, she has a scholarship at St. John's University as a basketball manager. Yuan is graduating this spring and plans to pursue a career in coaching. Cheetham said Yuan will apply for different graduate assistant jobs at the Division I college level.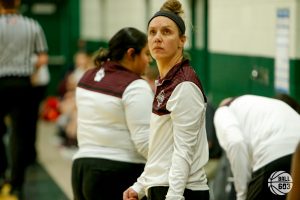 "She's a great example of a kid who came up, wasn't the best player, but was able to understand the value of female leadership and empowerment seen around her and then take it in," Cheetham said.
Buskey talks about a former player, Ashley Hugh, who is one of her assistants. "She's a sponge," the coach said. "She's constantly trying to take in our culture and how we approach things. I work really hard to build relationships with my girls. She's also working to find a way to do that."
Another woman who played at Pinkerton when Buskey was an assistant, Laura Pierce, is now the head women's coach at Fitchburg State University. "I was around for her," Buskey said. "She coaches at the college level and she used to work at my camps. She's a fantastic coach. Coming back to some of those camps along the way helped her hone in on some of the advantages you can have to be a strong female coaching a female program."
"For me, the mission is let's play good basketball and let's make you really great basketball players," Buskey said. "So let's make you even stronger, confident women to go out in the world and change it."
In New Hampshire, the fraternity of women coaching girls' basketball remains small but, for the most part, committed to their craft and the empowerment of their girls.
For feedback or story ideas, email jamsession@ball603.com.