By Mike Whaley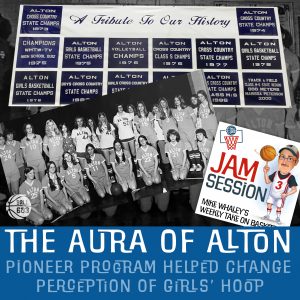 (Note: Little Alton High School was the state's first small-school girls basketball power in the 1970s. They won three state championships in four years, amassing at one stretch a 64-game winning streak. It seems fitting to recall those Alton pioneers on the 50th anniversary of Title IX – the 1972 federal anti-discrimination, civil rights law, which helped to close the athletic gender gap and led to a considerable increase in the number of females participating in organized sports in high schools and universities. Quotes from the main Alton players are from a 1988 story that appeared in the old Rochester (N.H.) Courier. None of the women responded to recent requests for comment for this story.)
In the 1970s, girls sports in New Hampshire were finally getting their due. Basketball was the first major team sport to have a sanctioned season and tournament under the auspices of the New Hampshire Interscholastic Athletic Association (NHIAA) in 1969-70. By the end of the decade field hockey, softball, volleyball and soccer would be added.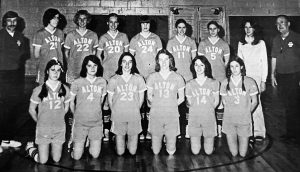 In doing so, the girls left behind the restrictive dark ages of 6-on-6 basketball to embrace 5 on 5, as played by the boys.
In the early NHIAA years the girls game was considered to be mostly ponderous. However, one little school in Alton, near the southern tip of Lake Winnipesaukee, was a pioneer in developing a basketball style that still resonates to this day. Alton blazed a high-octane trail for future small-school programs. Those great Henniker teams in the 1980s, Groveton squads in the 1990s and 2000s, and the Sunapee girls in the 2000s and 2010s, you could see a little bit of Alton in all of them.
Those 1970s' Alton teams, coached by Frank Weeks, ran the court, pressed and played at a pace that was ahead of its time. They had size, speed, played tenacious defense and could score. The Apaches, in their trademark Columbia blue uniforms, altered the perception of girls' basketball in N.H..
They proved that the girls' game could be every bit as exciting as the boys' game.
Weeks laid the groundwork in 1969 when he started the Alton junior high girls' hoop program. He had some experience having coached the Alton HS boys JV team for two years, working with his good friend Dave Smith, an Alton grad who coached the varsity. Once Amy Birdsey and Pam Smith transitioned from cheerleading to basketball, they teamed with classmate Diane DeJager to form the core of the greatness to come, along with Diane's younger sister, Arlene.
That first year the 6-on-6 game was still being played, which Weeks struggled to coach. He recalls one game with Northwood in which they won, 6-5, and all the points were scored from the foul line.
The old game was restrictive in that three players stayed on the offensive end and three on the defensive end. One player for each team was a rover and could travel to both sides of the court. Only two dribbles were allowed after which one had to pass or shoot.
It certainly stunted player growth. "Players couldn't develop all the skills – dribbling, rebounding," Smith said. "That changed once girls could use the full floor."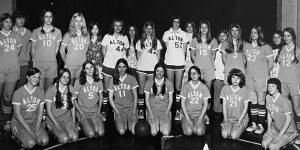 In 1972-73, with that nucleus now in eighth grade, the Alton girls went 21-0. That year they challenged the Alton HS varsity to a scrimmage. The game was stopped at the half with the junior high girls in front.
THE BIRTH OF A HOOP POWER
Weeks was offered the high school job. He accepted the position, inheriting a team that had gone 2-13 the previous season. With Birdsey, Smith and Diane DeJager coming in as freshmen, Alton's fortunes were about to improve.
Weeks built his team around those young players, cutting juniors and seniors to make room for the influx of youth. Although that move was met with resistance, it paid quick dividends.
"The kids really worked," said Weeks, who taught science at area schools from 1967 to 2008, and has retired to Gilmanton Iron Works, a short drive from Alton. "They committed so much."
In the early 1970s, girls rarely played out of season – except Alton, who was ahead of the curve. What they did then is a necessity today if teams want to be successful. The girls played in the summer and often with the boys in the gym and on outdoor courts. They also competed in a summer league with the neighboring towns from Pittsfield, Gilmanton and Weir, as well as going to a weekend hoop camp at Assumption College in Massachusetts.
"The girls really learned a lot playing against the boys," Weeks said. "The girls got used to a fast game. They had positive attitudes and dedication. There were no distractions. Basketball was it."
"They were very focused," said Smith, the headmaster at Coe-Brown Northwood Academy and the dean of high school coaches in New Hampshire. He has been coaching at either the high school or middle school level since 1967. He has been the head coach for the Coe-Brown boys since 1990. "They were just as competitive as any boys team that I have had – maybe more so. That particular nucleus was very competitive. And they were great kids and good students."
In addition to playing regularly during the summer months and with and against the boys, there were several other factors that set the Apaches up for success. First and foremost they had talent, and that talent stayed together. Second, because Weeks had coached most of the girls in junior high, the transition to high school was seamless. What they were doing in junior high was the same as high school with the same coach. They quite literally hit the floor running. Alton played a fast-paced style with pressing and fast-breaking. It was not something many girls' teams did in that era. Most teams played a deliberate half-court game, which included sitting in a 2-1-2 zone on defense. Games were low-scoring, often played in the teens and 20s.
Alton stirred the pot. Suddenly you had this quick, young team that was pushing the pace with their exciting brand of basketball. They were all over the floor scoring 40, 50 and sometimes 60 points in a game. They were raising the bar for girls basketball.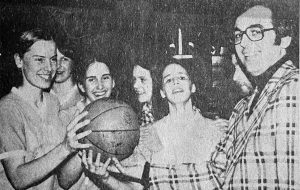 Uniforms were an issue, as they were for many girls' teams. Alton wore onesies – a shirt attached to the short. It was an utterly ridiculous athletic fashion statement. Diane and Arlene's dad, Peter DeJager, approached Weeks about getting new uniforms. Weeks was adamant that there was no money for such a purchase. Mr. DeJager was well-to-do. He suggested a fried chicken dinner with a quilt to be also raffled off, saying that should pay for the uniforms. Weeks knew better. It was Mr. DeJager who footed most of the bill. The team got home and away jerseys, shorts, knee socks and warm-up jackets. The home jersey was a light or Columbia blue – Weeks said no to white tops because you could see the players' bras through them. The away tops were a darker blue. "We looked pretty slick," Weeks said.
The first game of the season was played on the road in the old bandbox gym at Raymond. Alton scored 33 points in the first half, which was almost unheard of for girls. "That's when we realized we were decent," Weeks said.
While coaching the high school varsity, Weeks continued to coach the junior high girls as well, which he did until 1977. That team, led by Arlene Dejager went 18-0, giving the team a 39-0 record over two years.
The high school team, starting three freshmen, had a banner season. The Apaches went 14-2 overall, losing in the Class A semifinals by three points to eventual champion Pittsfield. Weeks had explicitly told the team no skiing during the tournament. One starter said she sprained her ankle at home and could not play. After the loss, she confessed she had gone skiing, against Weeks' wishes, and had injured herself there.
"That was kind of disappointing to have that happen," Weeks said. "We had lost by three, but the kids felt pretty good about that."
When the girls got back to the school they were yelling and screaming. Boys' coach Dave Smith figured they had won. "No, we lost," Weeks said. Smith responded: "They don't look like they're losers."
But as Weeks noted, "They were happy to be there. They kind of knew what was going to happen."
The beginning of the 1974-75 season, the lineup was set for the next three years with five sophomores and a freshman making up the key players. Birdsey, Smith and the DeJagers were regular starters with Cathy Jones and Elaine Thomas as reliable role players rotating at the fifth position.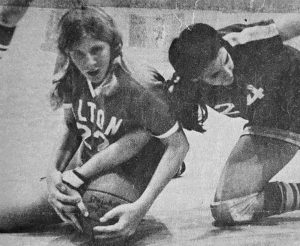 Birdsey and Smith made up the speedy backcourt; Smith as the point guard and Birdsey the off or shooting guard. Both were outstanding ball handlers, who could score and play defense. Birdsey had a nice outside touch and Smith was a good passer with an offensive penchant for sinking long-range shots, a dozen years before the 3-pointer changed the high school basketball landscape forever.
Diane DeJager, at 5-foot-9, was the team's best all-around player and the catalyst. "She was very serious about what she did," Weeks said. "She was the bond for the whole team by the way she played."
Diane had an impressive 23-inch vertical leap when most girls elevated in the 8- to 12-inch range. That made her a force on the boards and inside on offense. She also had a credible outside touch and could handle the ball. "She was all-around," said Weeks, who compared her game to WNBA and former UConn star Breanna Stewart. "She could do everything."
Had there been a Miss New Hampshire Basketball back then, Weeks is convinced Diane would have won the award.
Arlene DeJager was the Apaches tallest player at 5-foot-10. Not as much of an offensive presence as her sister, she more than made up for it with her strong defense and ability to rebound. "She was tough," coach Weeks said. "She was physically very strong. She came to work. She was also very modest, like her sister."
Jones and Thomas were consummate role players. They didn't need to score, but pitched in with solid defense.
The first game of the season, a 22-19 loss at Weare in December of 1974, was significant for one major reason – the Apaches never scored less than 40 points after that and would not lose again until the 1977 Class A championship game.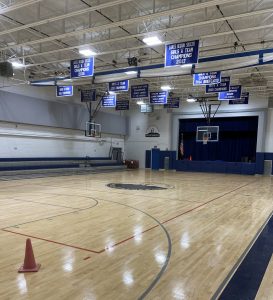 In between, Alton won two state championships and streaked to 64 consecutive wins. Birdsey and Diane DeJager each eclipsed the 1,000-point mark, and Smith wasn't far off with 972. Today points from holiday tournaments are included in milestone totals. Back then, they were treated as the exhibition games they were, and not included in 1,000-point totals. Weeks said Smith may well have surpassed 1,000, but in 1974-75 the book was not brought to two holiday tournament games.
Arlene DeJager, who graduated a year later than the Alton core, was not a prolific scorer like her sister, but boy could she rebound. Weeks noted that she had over 1,000 career rebounds, a rarity in any era. She also played in four consecutive championship games, including 1978 when Alton went 21-2 overall to win the inaugural Class S championship over Sunapee, 53-44. It was the program's last title.
Girls basketball in N.H. started off with one division for the whole state in 1969-70. In 1971-72 it shifted two two divisions (Class AA and Class A), and in 1977-78 it changed to the current four-division format – Class L, I, M and S, which is now Division I, II, III, IV.
Weeks recalls that 1974 Weare game. The bus was late, and game officials decided to shave the eight-minute quarters to six. Weeks also made the decision not to press because of their late arrival. It all added up to an ugly loss.
After the defeat, the team dared Weeks to grow his hair and not shave until they lost again. His locks grew long and he had a full beard as the Apaches went on a significant win streak, which eventually found them in the Class A championship game at Saint Anselm College against Hillsboro-Deering.
Along the way they played Weare again, at home this time, and won by 15 points, despite the absence of Birdsey who missed six games with an ankle injury. This time they did press and it baffled Weare.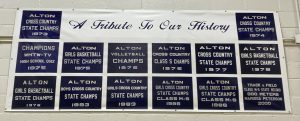 There was also an impressive win at a holiday tournament over Belmont, who was unbeaten at the time. Alton's press befuddled the Raiders, who found themselves down 44-14 at the half. Belmont coach John Garneau said to Weeks, "Frank, those (Belmont) girls thought you were pressing inside the locker room."
"We thrived off the press," said Weeks, using a 1-2-2 with Diane DeJager at the point. "Many of the games were over by halftime. A lot of girls couldn't handle the press. We really couldn't handle the press either. Amy and Pam just dribbled through everyone."
From Smith's perspective, the Alton girls "played like an aggressive boys team. Most of the girls' teams then did not. If you pressed in girls basketball and you couldn't make that first pass over someone, you were going to lose. They were so aggressive upfront. Many of those teams didn't have the skill level to break that press."
The tournament provided a couple of tense moments. In the second round, Alton needed overtime to beat Sanborn. With several players having fouled out, Weeks looked to his bench, sending in Thomas, a quick defensive specialist who could not shoot. She surprisingly responded by scoring four of the team's six points in overtime to lead them to the win. Thomas is Weeks' dental hygienist. Her big scoring moment is something they both enjoy recalling whenever Weeks is in to have his teeth checked.
In the semis vs. Groveton, it was a close game at the half. In the locker room, Birdsey revealed that she had worn new socks the previous game and had them on for this game, instead of her lucky used socks that she had worn all season. As it happened, she had the used socks in her gym bag. Her teammates vehemently insisted that she put them on, and Alton went on to win the game.
The championship was tight at the half, with Alton up 20-14 over the Hillcats. But in the third quarter, Smith and Birdsey combined for 14 points to spark an 18-0 surge that put the game out of reach – 38-14 after three quarters. The Apaches cruised to a 49-24 win to capture the Class A state title. Smith led the way with a then championship-record 19 points, followed by Birdsey's 14.
Saint A's Athletic Director Ted Palauskas presented the game ball to the Alton girls, all of whom hugged him. They all knew Palauskas, since he ran the aforementioned basketball camp at Assumption that the team had attended over the summer.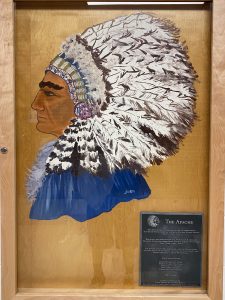 Alton had arrived. It had won the state title playing with sophomores and a freshman. The future seemed bright.
After the season, the Lion's Club honored the girls with a banquet and, to everyone's surprise, presented them with championship jackets. Now, of course, jackets and/or rings are expected spoils for champions, but back then it was not on anyone's radar – well, except for the thoughtful Lion's Club.
CHANGE AND CONTINUED SUCCESS
Weeks resigned as coach on the eve of the 1975-76 season. He'd coached many of the girls for six years. He questioned their obligation to the team versus socializing on weekends. Some of the girls saw things differently. They felt what they did on the weekends was no concern of the school or coach Weeks. "They were good kids, but they kind of outgrew me," he said.
Weeks was replaced by Herb McCoy, the school board chairman, who coached the team for the next two seasons.
The coaching change did nothing to affect how the Apaches played. Everything the girls had learned under Weeks was in place and they continued to successfully execute it under McCoy.
Alton waltzed through the regular season unbeaten, and then roared through the tournament. They capped an unbeaten season with a commanding 53-35 win over Groveton in the '76 final at New Hampshire College (now SNHU). In four tournament games the Apaches scored a total of 242 points, which remained a small-school tournament standard until 2010.
It looked like the 1976-77 would go the same way. Birdsey, Smith and Diane DeJager were now seniors. The Apaches won their first 21 games to extend the winning streak to 64. They had transformed from David to Goliath. Standing in the way of a three-peat was another unbeaten team from Oyster River, who Alton had beaten in the previous year's semifinals by 19 points.
"When they beat us in the semifinals in 1976, we dedicated the '77 season to put ourselves in a position to play Alton again," said OR coach Cathy Coakley in 1988.
Most of what Oyster River did in practice, it did with Alton in mind. If the OR girls were breaking the press in practice, it was Alton's press. If they worked on controlling a fastbreak, it was Alton's fastbreak. If they were shooting foul shots, those foul shots were taken against Alton.
The Bobcats had a practice drill for the last two minutes of the game. The game was always played against Alton. "All situations were geared towards Alton," said Coakley, who lost her battle with cancer in 2019 at age 69. She recalls scouting Alton three times that season during an era when teams did very little scouting. "We felt the need to see what Alton was doing."
Coakley guided OR to the inaugural Class M title in 1978 and later coached the women's team at Fordham University.
Oyster River was clearly prepared for Alton. It paid off as they upset the Apaches for the Class A title, 49-46.
It was a disappointing finish for Alton's senior class. "I was crushed after the game," said Birdsey. "It was a frustrating way to end and when I look back on it it still makes me mad." She fouled out late in the game on an admittedly foolish violation, tripping a girl for her fifth foul.
"It was a heartbreaker," Diane DeJager said. "As much as you prepare for the possibility of losing, it was still a heartbreak. You just hoped for the best."
AFTERMATH
Alton basketball never again approached that 1970s' level. Arlene's senior year brought the third championship in four years, capping a five-year run in which the Apaches went 99-6. Although Alton never won another title, they remained a fixture in the tournament, making runner-up finishes in 1980, 1981, 1983 and 1992. Alton combined with Barnstead to form Prospect Mountain HS in 2004. At the time, Apache teams had made 31 consecutive playoff appearances, the longest streak in the state regardless of class.
The little gym remains in use at Alton Central School, which is now home for the town's pre-K through Grade 8 students. Those championship girls' hoop teams and other Alton champs, mostly from the 1970s and 1980s, are honored with a legacy banner on the gym wall entitled – "A Tribute To Our History."
Weeks remembers Friday nights in the packed Alton gym. It seemed like the whole town was wedged into every corner of its steamy confines. "There was nothing else basically to do," he said, referring to an era light years before electronic devices and social media.
On those packed gym nights, Diane told Weeks that she never noticed the crowd – except the noisy ones like Weeks and her dad.
What one has to remember about Alton the mid 1970s is that it was one of the smallest schools in Class A, which was a combination of the small- and medium-sized schools. With 100 high school students, it was not unusual for the Apaches to play against schools that were two or three times larger. In the case of Oyster River, Alton was matching up against a school that was nearly five times its size. In the context of the times, it makes Alton's accomplishments on the hardwood even more impressive.
Basketball slowly faded from that team's collective consciousness once they moved on. Amy played during her junior year at Plymouth State University, but was the only one to do so. Diane was on a competitive women's crew team at Ithaca College in New York for two years. Arlene tried volleyball as a freshman at Keene State, before moving on to get a degree at the University of New Hampshire.
Only Weeks, now 77, kept his hand in it, although he was never a high school varsity head coach again. He coached basketball at various levels until 1993, and still keeps busy coaching other sports. He has been a volunteer coach at Gilford High School for field hockey since 2000 and track and field since 2009. He has coached for nearly 50 years.
He still gets together with his old friend, Dave Smith, to swap old war stories – mostly, of course, about basketball.
The former Apaches are closing in on their mid 60s. Diane Jensen lives in Bow with her family, which runs Fieldhouse Sports, a multi-sport indoor facility. Amy Shibley and her husband operate a restaurant in Alton Bay – Shibley's on the Pier. Arlene Gaskell is an electrologist in Hampton. Sadly, Pam Smith died from a stroke in 2018.
"I'd like to think they changed the perception of basketball for girls," Weeks said. "They played like the boys. They were competitive and played very well."
Well enough to impact the girls' game for generations to come.
Have a story idea for Jam Session — email whaleym25@gmail.com