By Mike Whaley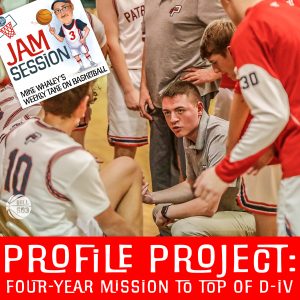 Mitchell Roy has a plan. It is a four-year project to elevate the Profile High School boys basketball team from the Division IV cellar to the championship podium – something that has happened just once in school history (2004).
It is not an easy task in New Hampshire's North Country, where Profile is forever chasing the likes of Woodsville, Littleton, Colebrook, Groveton and Lisbon – the perennial powers in this sparsely populated neck of the woods.
But with this current Patriot team, Roy thinks he has the makings of a championship caliber squad. Led by junior scoring phenom Josh Robie, Profile is off to an 8-1 start (11-2 overall) in D-IV. The core players are all juniors and sophomores.
Profile went a disappointing 1-9 during Roy's first season in 2020-21, which was limited by Covid-19. Roy said had they played a full schedule they still would have won just the one game, which they were lucky to win.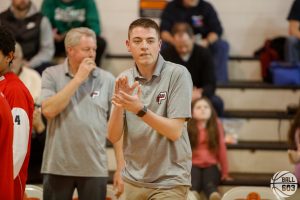 He met individually with the players, mostly freshmen, after the season. "I sold them on the idea of a four-year process," said Roy, who at 24 is one of the youngest coaches in the state. "I told them if we stick with it and get full buy-in, we can get something special. It's not there. But it's on its way to being something really special."
Last year, the Patriots went 10-9 overall, losing in the first round of the tournament to Holy Family. It could have been better. There were some games they could have won that they let slip away. But still it was a positive step forward. Plus they did what they did with sophomores and freshmen, certainly an uphill battle when facing senior-dominated teams like Woodsville.
Now that the Patriots are enjoying a bit of success, Roy can reflect on his first two years when he took a job that nobody else wanted. He is a graduate of Canaan High School in Vermont where he played basketball for second-tier cooperative Pittsburg-Canaan teams. Roy attended Endicott College in Beverly, Massachusetts, ostensibly to keep his basketball dream alive. He wanted to coach.
Not all that shocking when you realize it's in his blood. His mom, Sarah Roy, is a successful head girls hoop coach at North Country Union HS in Newport, Vermont. The Falcons won the 2021 Vermont Division II state title. This season they are off to a 10-0 start.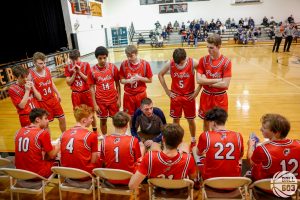 Roy got to be part of coach Kevin Bettencourt's program at Endicott as a manager and then student assistant. The Gulls did well, advancing to three Commonwealth Coast Conference championship games and a NCAA Division III Sweet 16. There he was able to work with some tremendous New Hampshire players like Portsmouth's Kamahl Walker, Pelham's Keith Brown and Dover's Ty Vitko.
Watching how Bettencourt handled, in particular, Brown, a career 2,000-point scorer, helped to prepare Roy to coach Robie and "know the right amount of freedom to let him play with and creative ways to get him open."
Originally, Roy had planned to stay at Endicott as a volunteer assistant for the 2020-21 season, but when it was clear that Covid was going to limit the college season, he decided to look elsewhere.
"The Profile job popped open," he said. "I remember playing against them when I was at Pittsburg-Canaan. I thought it was a pretty nice little school."
Roy went up for an interview. He met the athletic director Jack Bartlett and one of the players, Josh Robie. He felt it would be a good fit. Others did not. He talked to a wide variety of people with some telling him flat out not to take the job – mainly arguing it was low-level high school and that the program had not been good in some time.
Good points, perhaps, but Roy was undeterred. He took the job.
The first year was difficult. Roy decided to go with younger players, letting them play through their mistakes. "We were pretty bad," he said. Part of that was on him for, as he said, doing a "poor job choosing what to emphasize."
It was a learning exercise and Roy learned a lot. "You can't cut corners," he said. "You can't worry about installing offensive plays when we aren't even doing the fundamentals of the game right. I learned how to build that up more properly. It's still not perfect, but we're trying to get better."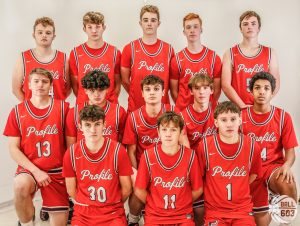 Roy struggled with his own coaching identity. Because he was so young (22), he tried to be something he's not – a disciplinarian. "I really tried to separate myself from them," he said. "To show them that I'm older. Doing that so as not to get in the trap of being their friend. That was not what we needed either."
Eventually he got it right. He sees that being a younger coach as an advantage. "I can understand what they're going through," he said. "I was literally their age not long ago."
After that first season there was pushback. Some people wanted Roy fired. They claimed he didn't know how to manage a program, that he didn't know what he was doing. Thankfully Principal Kerry Bushway and Bartlett had his back. "They trusted me to be a mentor to these kids," he said. "They both saw my vision. They both supported me even when we started off pretty poorly."
That support has been key for Roy at a school that for a long time has not been basketball focused. Profile is known for its winter strength in its prolific alpine skiing program, which has a deep tradition of winning state championships dating back to the 1970s.
That first season is still firmly imprinted in many of the current players' minds. "It was definitely a rough year," Robie said. "Out of all the years, we probably learned the most that year."
"It was also adjusting to high school," said junior forward Alex Leslie. "We were freshmen, just out of middle school adjusting to the level of (high school) competition. We learned that we had to be the leaders of the team and play with each other and stay together as a team and not fight and argue."
The second year was a definite improvement. It helped to make a commitment to summer basketball, similar to what other schools like Woodsville were doing. "Playing in the summer and playing a lot of games kind of makes you get better," Robie said. "We went from one win to 10 wins. That's a big difference."
Indeed, going head to head with bigger D-II and III schools in the Lakes Region Summer League in Laconia, in Roy's words, "really helped teach us how to play the right way."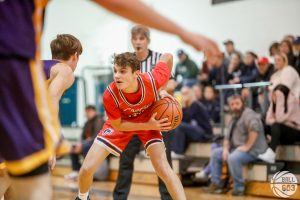 Things, however, could have been better. They lost twice to Littleton in games they had a chance to win – Roy's concise explanation was "we quite frankly got outcoached." They played too much man-to-man defense that in retrospect cost them a win or two because key players got in foul trouble they otherwise might not have had they been playing zone. "There was a lot of self-evaluation on my end in understanding how I can become a better coach and how I can put these guys in better spots to succeed," he said.
Which brings us to this season. The Patriots have had a good start, but it's not good enough until they prove they can hang with the top teams. Last Friday's 55-43 loss at two-time defending champion Woodsville proves that there is still work to do.
"We've learned a lot, but we need to win these games," Robie said after the Patriots lost to Belmont (56-46) in the championship game of the Mike Lee Holiday Basketball Bash in Farmington. It was a tournament they expected to win. "We're juniors now. In the past they would say we're younger. I definitely take some blame on myself. It was definitely one of my worst shooting games of the year. It can't happen in big games like that."
Indeed, Profile's big guns – Robie and Leslie – got their looks, but didn't deliver, finishing with 17 and 13 points, respectively. There were several added distractions that they all refuse to use as excuses. Robie was closing in on 1,000 points, which he did hit in the loss. His parents got in an automobile accident driving to the game, but were able to make it in time to see their son score the milestone point. Robie's twin brother, Karsen, one of the team's key role players, incurred an injury that required stitches in his lip.
"Our two best players had an off night and we still had a chance to win that game," Roy said. "We were down three with 1:40 (and change) left because other guys stepped up. Karsen had a good game. We know it takes defense. This year we've defended. We need to defend harder when the shots aren't falling. That's a sign of a more mature team. I'm not saying we're a more mature team yet. We're more mature than we were last year. Last year that would have been a 30-point loss."
The past is past and the Patriots are looking forward. Taking solace in losses is not part of the program. "We've got to win every game we can," said Robie, who is averaging nearly 32 points per game. "Every single team we've played, we've lost to. We were that bad. We think about it as revenge. We got slaughtered – literally by 40 and 50 points – over and over. At this point it's almost personal. We have the mentality that we're here to fight and we're here to win. That's what we're trying to do."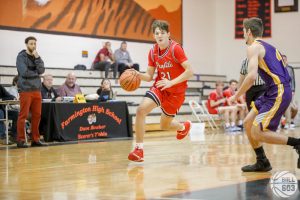 Even as well as they've played this season, Leslie notes nothing significant has been accomplished. "We haven't proven ourselves yet," he said. "We haven't done anything. We haven't won a playoff game. We haven't been to the final four. We haven't won a championship. Our goal is to just make it further and hopefully become better."
That seems to be happening, although last Friday's loss to Woodsville was an eye-opener. Robie scored a game-high 26 points, but everyone else combined for 17. That can't happen for the Patriots to be successful. Leslie, who is averaging 18.4 points and 7.6 rebounds per game, was limited to eight points.
Part of that is on Roy who said he was not putting Leslie in a better position to score. Going forward, they need to focus more on getting him going toward the basket, in the paint. "We're going to try to work him inside more," Roy said.
Profile has a six-man rotation, all underclassmen. Josh Robie is the leader, a 5-foot-11 junior point guard. Leslie is a 6-2 junior forward. The other four are Karsen Robie, a 5-9 junior guard; 5-11 sophomore Cayden Wakeham, 5-9 junior Riley Plante and 6-2 sophomore Jackson Clough.
Karsen Robie is a smaller version of his brother. He's a good shooter, who is working on defending and rebounding better. "He's doing what he needs to do to stay on the floor," Roy said.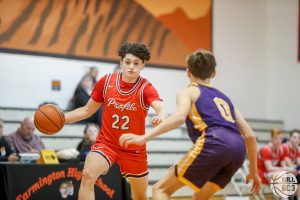 Wakeham is a do-it-all player, who handles the ball, defends and rebounds well. He's working on becoming more consistent with his outside shooting.
Plante and Clough are Roy's "two glue guys." Plante is the team's heart and soul on defense. "Every loose ball, he's on it," Roy said. "He can defend big guys and he can defend good guards." Although Plante is not an impact on offense, Roy said they can't put a price tag on his value because he does so much for the team.
Clough has some size and gets a lot of minutes, while working on making his outside shot more consistent and picking his spots to drive to the basket.
Leslie and Josh Robie are the main guys.
Roys says Leslie sets the tone for the personality of the team because of the way he carries himself in the locker room. He is a tremendous forward and athlete – Profile's rugged inside presence. "I have a really good relationship with him," Roy said. "I spend a lot of time with him outside of our basketball season. Building that relationship and trust has been really important because he sets the tone for the team's attitude, really."
Leslie is a multi-talented presence who can score inside, pass the ball, rebound and defend.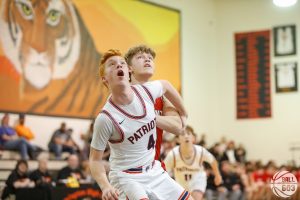 Josh Robie sets the tone for the program. "Basketball is his life," Roy said. "Outside of my fiancee, Josh is the person in the world I talk the most to. We are constantly communicating – texting or messaging about basketball; whether it's high school, college or NBA. Anything to do with basketball."
Robie is the face of the Patriots and consequently carries the biggest load. He is not only expected to score at a high clip, but he is also counted on to handle the ball as the point guard. "I've put in the time to get where I am today," he said. "If they are relying on me to score, I think I can come through. I know I can take care of the ball. Taking care of the ball for me is second nature. … Scoring has definitely been something that is more important. Obviously the team needs it to win games."
Primarily a 3-point shooter before this season, Robie has expanded his game. "He's done a much better job driving to the lane this year," Roy said. "He's really worked on finishing through contact and not just being a stationary shooter."
At 5-11, 140 pounds, Robie is still developing physically. He's grown, but needs to get stronger. "That's an offseason issue," Roy said. "We don't want to mess up the shot. He's doing the necessary work to improve his body. He can play through contact a lot better than he used to."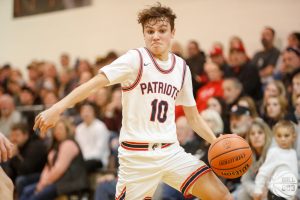 The fine line that Roy walks is figuring out how much freedom to give Robie. He doesn't want to suffocate his star player. "A lot of it is taking my hands off a little bit," Roy said. "I have a really good scorer; a really good shooter. Let me not harness him too much. Let me pick the right times to let him play with some freedom."
Last year Roy felt he may have given Robie too much freedom. "This year, we've worked on slowing it down if we've got leads," he said. "I have to understand this is a great player; don't mess this up. Trust his creativity offensively."
Eventually Robie and the 2,000-point milestone will come into focus, something that falls outside of Profile's team-first framework. With a good chunk of his junior season and his whole senior season still to play, Robie has an excellent chance of hitting that mark if he can stay healthy. It's inevitable. It hasn't been done in New Hampshire since 2007 (by Mascoma Valley's Tonya Young) and it's never been accomplished in the North Country.
Scoring first for Robie fits into what Profile is trying to do offensively because they push the ball. "We try to push it and see if we can get a fast break opportunity," Roy said. "Sometimes the best looks for 3-pointers we can get for Josh come in transition because teams are really focused on halfcourt defense."
Effectively pushing the ball means it's harder for teams to get into their defense and that makes it easier to get Robie open – to get him moving off screens for those open 3s that can get the Patriots rolling.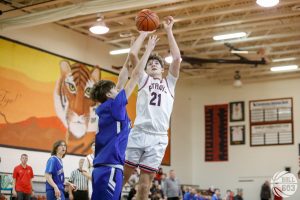 On defense, their short rotation lends itself to zones and less man-to-man to avoid foul trouble.
The pain and frustration of the past two years is slowly ebbing away as the tiny Bethlehem school finds its footing and can see light at the top of the standings. They've had quality wins over Farmington, Colebrook (a first under Roy), and D-III Somersworth, but have yet to break through against the cream at the top – specifically Groveton, Littleton and Woodsville.
"We've been the worst team," Roy said. "I got this job because nobody else wanted it. Everything we've done has been built by this group we have now. Like Josh said, we take it personally. Every team on our schedule we lost to before by 30 points. Colebrook beat us by 50 my first year. To beat them by 30 here, yes, that was good.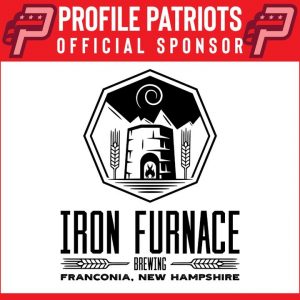 "We know who the perennial contenders are," he added. "We know what we're up against. I was never on a good team in high school. We haven't been good here for a long time. But these kids are motivated."
Back to work.
Have a story idea for Jam Session – email whaleym25@gmail.com.