By Mike Whaley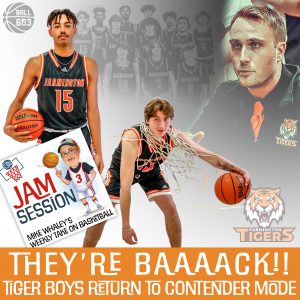 There was a time when Farmington High School boys basketball was held in high regard across New Hampshire. Those teams guided by Hall of Fame coach Mike Lee earned a reputation for being tough, fast-paced and relentless. Games in their steamy old gymnasium were a popular destination for coaches, players and fans from all corners of the state.
But Lee retired in 1998 after 21 seasons with over 300 wins and two state championships (1984, 1988). Since his departure there have been eight coaches and a pretty meager postseason haul: one trip to the semis (2001) and four to the quarterfinals. Not a sniff of a state championship.
The Tigers may be turning the corner under its current coach, Adam Thurston, whose patience is paying off in his ninth year. He is finally seeing some returns for his efforts.
Farmington is 11-2 in Division IV – ranked fourth with Profile behind Littleton, Concord Christian and Woodsville. It is one of the program's best starts since the Lee era. The Tigers have done what they've done despite missing key players at different junctures due to injury and suspensions. That has only served to give other players more experience and make the team deeper than most in D-IV. They are just now getting everybody back.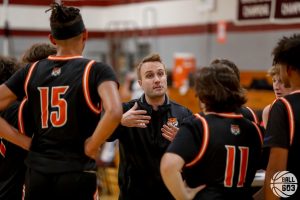 Farmington plays a withering man-to-man defense and features both size (three players 6-foot-4 or taller) and sound guard play with outside shooting range. There is good scoring balance with six players averaging six points or better a game.
The million dollar question is can this team advance deep into the tournament?
Last year most of this squad was on the floor when Farmington won its first playoff game under Thurston, a convincing 51-31 victory at Groveton in the 8-9 game. Their season ended in the quarters at No. 1 and unbeaten Woodsville, 60-47. It was a five-point game with two minutes to go, before the Engineers were finally able to pull away. Woodsville went on to win its second straight D-IV state title.
"It's been a labor of love is kind of how I look at it," said Thurston, a 2007 Farmington HS grad and former player. "When I first took over the program I was 25 at the time and, quite frankly, wasn't ready to take over a varsity program."
Because he was the eighth coach in 17 years, his immediate goal was to build continuity. "I was coaching JV at the time," Thurston said. "I went through the program, so that was something I saw over the years."
He said he wasn't concerned about wins and losses. "It was about taking a more consistent approach about things and getting my message across," Thurston said. "It took a lot of years. Looking back, I thought it would take five to six years to get there, and that's about what it took."
There was always talent, but not the commitment. Over the years, Thurston had to deal with outside forces – losing kids to suspensions, grades, apathy. "It's been a struggle," he said. "Last year was the year we finally got over the hump."
Most of that team returned. With several additions, it has turned the Tigers into a contender.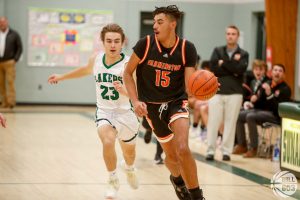 "When we were freshmen, we had a lot of talent on the team," said senior big man Jordan Berko, the Tigers' tallest player at 6-foot-6. "We couldn't mesh together as we do now. I feel like a lot of the guys on the team are really close friends outside of basketball. Everybody really knows each other. There were some guys my freshman year who weren't as dedicated to the sport so they fooled around outside of school and got into trouble or skipped practice or just went through the motions at practice. But now everything is fast-paced. We are focused."
Thurston saw it coming as early as 2019 when the short-handed Tigers lost at Pittsfield in the first round of the tournament, 61-49, but it was a two-point game with four minutes to go. In 2020, they made a playoff trip to Groveton, only to lose a tight battle in the final minutes. But it was the same old same old – Berko was injured and a suspended starter missed the game.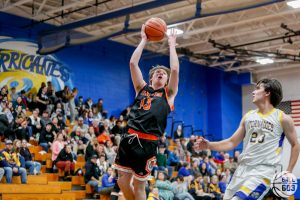 Last year's respectable playoff showing has given the team confidence. "It was awesome to see that we could make it that far," said senior guard Matt Savoy. "It gave us a dose of energy this year – wanting to get past that this year and going all the way; or at least trying."
A big influence, in Thurston's mind, is the commitment to play off season, particularly over the summer. "When I took over I was knocking on eighth-graders' doors with waivers to get them to play summer league," he said. "I didn't have enough high school kids. Now I'm turning kids away because we don't have enough summer league jerseys. So that's the big difference right there. That's been the last two to three years we've had consistent off-season numbers. We've had less kids coming and going; kids messing up from time to time."
Even though there were early season troubles, Farmington was able to figure things out. Two rotation players missed some time in December and January, and valuable junior starter Shawn Murphy suffered an injury that caused him to miss three games. He's currently working his way back into the lineup.
"It allowed for some younger guys to move up, some guys with lesser roles to get their shot at it," Thurston said. "It's paid dividends down the stretch."
Farmington is deeper for it, able to realistically play as many as nine or 10 players. "We really haven't shown what we truly can be yet," Thurston said. "We're still very much an unfinished product."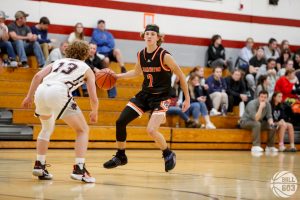 Berko and Savoy lead the way as senior co-captains, averaging 15.3 and 8.8 points per game, respectively. Junior point guard Aiden Place (10.0 ppg) and senior guard Brian Boisvert (11.2 ppg) are two pleasant surprises in the backcourt, while Murphy (6.1 ppg) at 6-0 is a key contributor and a potential No. 2 scorer when he is healthy. Senior Luke Cardinal and junior Dylan Zappala are the Tigers' 6-4 guys off the bench, while junior Cody Brazee and sophomore Noah Elwell are two players who benefited – and delivered – from increased playing time when others were either injured or suspended.
What makes Farmington so difficult to defend is that their scoring comes at you from so many different directions. Berko is the leading scorer, but he is unselfish to a fault, willing to get the ball to an open man first. It's not uncommon for the Tigers to have three or four scorers in double figures, and not always the same names.
Thurston knew coming into the season what he was getting from Berko, Savoy and Murphy. Berko provides great defense and a double-double, Savoy is that all-around Swiss Army Knife type guy, and Murphy, when healthy, is a player who can be a consistent double-figures scorer.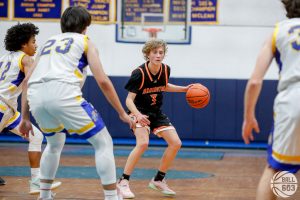 The surprises have been Place, Bosivert and Brazee. Place has embraced the point guard position where he distributes the ball well, plays tough defense and is an above average 3-point shooter. He leads the team in steals and assists. "In my opinion he's been our biggest surprise," Thurston said.
When players were out, Boisvert added some much needed offense and Brazee has been a pleasant offensive revelation off the bench.
Thurston recently pulled each player aside individually to discuss their roles down the stretch with the team returning to full strength. "The first thing is that it's made things in practice very competitive, which is great," he said. "The starters versus the bench are playing each other within one or two possessions. That's great. We have unreal depth. I feel comfortable on any given night going 10 deep. I don't think other teams in the division can do that."
The schedule beefs up in February, which is where the Tigers will find out what they are made of. Thurston figures they need to run the table to have a shot at a top-four spot, which will allow them home court until the tournament moves to a neutral site for the semis and final.
That took a hit on Tuesday with a 69-56 loss at Concord Christian, a game that was tied at 38-all late in the third quarter before CCA pulled away.
Actually two losses may keep them in the top four with some of the top northern teams beating each other up down the wire. Littleton (13-0), Woodsville (9-1), Profile and Groveton (9-3) play each other at least once before the season ends next week. Woodsville and Groveton meet twice. Last year as the No. 9 seed, Farmington had to make two three-hour trips in the same week to Groveton and Woodsville. That is something Thurston would like to avoid.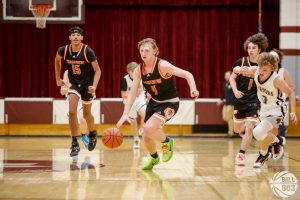 "We didn't take care of business early on in the year, which we were certainly capable of," Thurston said of last year. "We didn't win those 50/50 games that we needed to. In Division IV that matters a ton. That was a big lesson coming out of that; we need to start fast, which we've done this year, obviously."
Looking ahead, the Tigers have big games with Portsmouth Christian (their first loss) on Saturday and Newmarket to end the regular season on Feb. 10.
The PCA loss was the one game where the normally relentless man-to-man defense went complacent at the wrong time. "We need to get that out of our system the rest of the way," Thurston said. "Grooming those things on the defensive end is going to be huge for us."
Now that Farmington is back in the contender conversation, the Tigers are feeling good about themselves and their potential.
"At the [Farmington] 500, [the youth program in town], they're always talking about 'oh, the high school team has a game. You should go and watch it with your parents,'" said Savoy.
"I like being in the conversation," Berko said. "When we show up for games during warm-ups we look out in the crowd and it's totally full – both sides of the gym. There's people there to watch. With us playing well and getting more fans, I like that."
Who wouldn't?
Got a story idea for Jam Session – email whaleym25@gmail.com