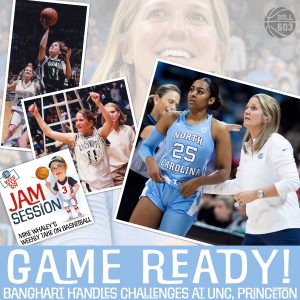 By Mike Whaley
Although basketball has been a life-long passion for Courtney Banghart, she wasn't always sure it would be her vocation.
Once she realized it could be, she grabbed on firmly with both hands. She has developed into one of the finest college basketball coaches in the nation.
The New Hampshire native is now in her fourth year resurrecting the scandal-plagued women's team at the University of North Carolina. Banghart's current UNC squad is 18-7 and ranked 19th in the two most recent national polls. Before UNC, she transformed Princeton University into a top Ivy League program. In 2015, after leading the Tigers to a 30-0 regular season, she was recognized as the Naismith National Coach of the Year. Between the two schools she has over 300 wins in 16 seasons.
But there was a time when Banghart felt soccer would be her sport in college and that her future was likely in the sciences or maybe as a school head.
Banghart grew up in rural Amherst, New Hampshire, a town of nearly 11,000 people located in the south central section of the state, somewhat between Manchester and Nashua. She attended Souhegan High School from 1992 to 1996 where she was one of the state's most decorated three-sport athletes. She excelled in soccer, basketball and tennis, leading Souhegan teams to eight state championships in those three sports. Individually, she set the state record – that's been since broken – for most career goals in soccer (147), eclipsed the 1,000-point mark in basketball, and in tennis captured a state singles title (1995) and two in doubles (1994, 1995).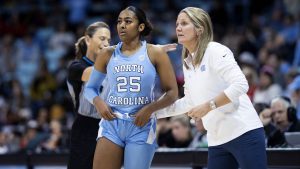 Banghart said she was lucky she was born in a state where at the time it was OK to play three sports. "We really specialize early now at this stage," she said. "If I had had to specialize that early, it probably would have been soccer. I was more talented, more decorated, obviously."
She added, "Athletics has been my thing. It's what I've been best at. It's what I've enjoyed the most. My first word was 'ball' not 'mom' or 'dad'. That's just been my life."
Banghart said that when she went to Dartmouth College in the Ivy League because her dad was pretty sure that sports were not going to be in her future. She was heavily recruited for soccer, receiving offers from schools like Boston College and Notre Dame. She chose Dartmouth who was coached by current Virginia coach, Steve Swanson. Her feeling was that if soccer was going to pay her way, then that was the path she needed to take. But before she entered the Hanover school, Swanson took the job at Stanford. That left Banghart with two choices – follow Swanson to Stanford or stay as a Dartmouth recruit.
Well, actually there were three choices. Basketball was still her favorite sport and, frankly, Banghart was looking for any excuse to play it. She called the basketball coach.
Banghart hammers home her love for basketball. Yes, she was good at multiple sports, and she was best at soccer, but basketball was her passion. "My dad would always say, I'd finish a soccer game and have on my shin guards and go out and shoot hoops for an hour," she said. "It was like a made-for-TV movie. I just loved hoop. I watched it. I used to watch the Celtics every Friday night. I just loved it. I still do."
Growing up, Banghart did not get the exposure in basketball that you need to gain the attention of college coaches. "I didn't do the whole AAU thing," she said. "My parents weren't financially prepared to spend that much money, They didn't see the value in that."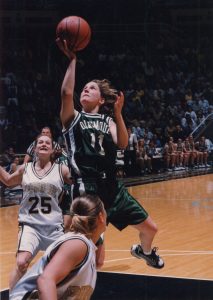 Serendipity came into play when Banghart decided to play college basketball. Then Dartmouth coach, Chris Wielgus, was actually familiar with her and knew she was a good player. She had seen Banghart play for Souhegan against Hanover High School in the 1996 Class I state final because at the time her son was dating one of the Hanover players. Banghart had a great game, scoring 30-plus points in a 60-57 win.
"She knew who I was because she watched me play in high school," Banghart recalled. "It's kind of weird and strange now in this day and age, but being from a small town, your exposure is different than being in a more urban environment."
Banghart laughs about it now, but at the time she chose Dartmouth and soccer because her parents wanted her to go to an Ivy League school, and soccer was the ticket to help pay for that. "Even if Steve (Swanson) had stayed, I can guarantee I would have found myself over to the basketball team," she said.
Banghart played four years for the Big Green, leading them to a pair of Ivy League titles and twice earning first-team All-Ivy honors. She owned the Ivy League record with 273 career 3-pointers until it was broken in 2019 by Harvard's Katie Benzan (287). In 1999, she earned the Ed Seitz Award as the top 3-point specialist in the nation after connecting on a program-best 97 three-pointers.
It was during her first job at Episcopal High School, a boarding school, in Alexandria, Virginia, that Banghart realized that maybe sports could be a vocation. She was the school's assistant athletic director and then girls' AD while coaching tennis and basketball during a three-year stint.
Doing what she did at Episcopal was a grind. "I'm not afraid of the grind," she said. "I'm wired that way. I also saw the income. It didn't match the grind. I thought if I want to do this, I should probably do this at the college level."
It still wasn't necessarily coaching, but Banghart was definitely thinking about sports; maybe as an athletic director or something similar.
She applied to graduate schools, getting accepted at the Harvard School of Education. When she told her dad, he asked who was footing the bill. She went to Dartmouth instead because they paid for it. She got her master's degree while working with the Dartmouth women's basketball team as an assistant coach from 2003-07, which included a pair of Ivy League championships.
Where Banghart is in her life as a coach may have come down to one week in 2007. She turned 29, defended her graduate thesis and was offered the head job at Princeton.
"I always say about (Princeton athletic director) Gary Walters, he saw it before I did," Banghart said of that coaching break, one she did not expect. She recalls showing up for the interview with a single piece of paper. "Here, this is me," she said. "I'm almost embarrassed about how I interviewed for that job. But he saw it in me before I did."
So there it was. Banghart was 29 and a head coaching job was on the table. It wasn't something she was necessarily seeking. "Honestly, it kind of happened more so than I had made a conscious decision that coaching was going to be my life," she said. "Once I hit the ground running at Princeton, I found my thing, as they say."
Without a doubt.
In her 12 years at Princeton, she led the team to a lengthy list of league and Princeton firsts and bests. They won seven Ivy League titles and made it to the NCAA tournament eight times. Before she arrived, the Tigers had never made the NCAA tournament, and only once in their previous eight seasons had they had a winning record.
"It's all about people," Banghart said. "The program I inherited, we play them twice every year in the Ivy League. At Dartmouth I played them eight times as a player and eight times as an assistant and went 16-0 against them. So I knew what I was getting myself into."
There were good players in place when Banghart got there. Though they hadn't had success, they could speak positively about the school and the new coach. "They really helped me to recruit the next group," she said.
One thing Banghart found was that she was very good at recruiting. "There are two types of coaches in our line of work," she said. "Those who can recruit and those who get fired. I knew that recruiting was going to be important. I really got lucky. I got a lot of talented kids those first few years and the rest took care of itself."
Because she was good at recruiting, of course, didn't mean it was easy. "I think in coaching because it's a journey of people, you're constantly making decisions," Banghart said. "You're talking about that from a recruiting space; everybody has strengths, weaknesses and holes. You kind of have to build your team where you connect the strengths and the holes are complementary. Maybe it's just dumb luck that I'm good at it."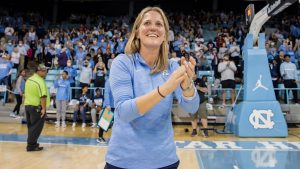 But she feels she can actually pick up beyond scoring, rebounding and defending on people that she thinks are really talented. "That proved me well at Princeton because you're splitting hairs a little bit," Banghart said.
At North Carolina, of course, you're trying to get All-Americans. "But it's the same idea," she said. "Who are the kids to be the ones to help you win a national championship? I don't have a very good answer for that. My mom has asked me that many times. 'How do you know so-and-so is going to be good?' I watch closely. I do the whole circle of recruiting. I talk to everyone in their circle. I talk to them a lot. Then I trust my evaluation. When they get here, I coach the hell out of them."
Banghart coached the hell out of her Princeton players for 12 years until she felt she was ready for a new challenge. "We were literally hammering everybody," she said. "I think partly I was 39 or 40 and I thought there was one more challenge in me in this industry. It didn't feel OK to me that I'd give this much of my life to women's basketball and I'd spend all of it in the Ivy League. What's the next challenge?"
At Princeton, she'd been spoiled. "Princeton has a world-wide brand," she said. "You recruit nationally. It's a beautiful campus. It's a wonderful place to live." Banghart had also started a family there with her wife, Michele DeJuliis.
She had all these "non-negotiables" trying to find the next place. "The list was very, very small," Banghart said. "My decision kind of came to a place like Carolina, will it be available? Am I going to be able to get that job? Or am I going to try a totally different thing? I kind of made up my mind that I wasn't going to be an Ivy League coach that much longer."
What happened next, Banghart will never forget. "I actually stepped down on a Thursday night, very, very late," she recalled. "I got a call from (North Carolina athletic director) Bubba Cunningham Friday morning. Everything moved very quickly there."
Then it became easier. "Because I had wrapped my head around the fact that there was going to be another challenge, I think that allowed some of the really hard things that come with moving and relocating your family to become less hard," she said. "I knew there was going to be something else."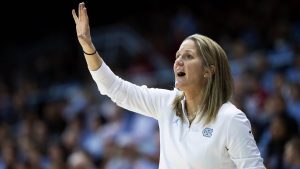 Something else that was, indeed, a huge challenge. Banghart was taking over a North Carolina program with a rich tradition that had soured. The Tar Heels had won the 1994 NCAA national championship and been to the Final Four in 2006 and 2007 under Hall of Fame coach Sylvia Hatchell. But the recent history with Hatchell had regrettably deteriorated. There had been three consecutive losing seasons and then an 18-15 record in 2018-19 in which Hatchell ended up resigning under a cloud highlighted by accusations of racially insensitive remarks and forcing players to play while injured. Hatchell resigned on April 19, 2019. Banghart was officially hired before the end of the month on April 30.
In her first year, without the benefit of a recruiting season, Banghart came in and guided the team to a 16-14 record. That included a season-ending eight-game losing streak in a year that was canceled on the eve of the national tournament due to the Covid-19 pandemic.
Covid affected her second year, as well, reducing the schedule to 22 games. The Heels went 13-11 overall, losing in both the first round of the ACC and NCAA tournaments.
"It was really, really hard," said Banghart coaching in those first two years, especially the second Covid season. "I'm very positive by nature. Looking back it was really hard. There were plenty of days I would ask myself 'how long am I going to do this? What value is this?'"
She added: "Because you left something that you built fully functioning and you had to rebuild something that wasn't fully functioning and needed a lot of changes. That is hard because that is peoples' lives that you're impacting. Of course, the league is really strong. Everything in this business is really finicky. If you don't get a great class your first year, how do you get one your second year? You're kind of wearing that all the time. It has to go well and it has to go well immediately. That's stressful and hard."
Banghart recalls at some point sitting in her car in her driveway and having a heart to heart with herself. "I've got to stop wanting to end here," she told herself. "This isn't helping anything. I've got to stop. You either finish what you started or if you don't like it, do something else. I was at that point where I didn't know if I liked doing this."
Then it hit her that she had to cease asking for it to be easier. "You knew this was going to be hard," she recalled telling herself. "That's actually why you left Princeton. You wanted a new challenge. So now you ask your players every day to embrace challenges, and you're disappointed that this is such a challenge. Stop. I was telling myself to grow up and see what it actually looks like."
Her mind-set got better. That first class had arrived, so there was a talent influx. Some of the people who were there before moved on. "The people situation started to clean out and clean up," Banghart said. "That was very helpful."
The worm turned last year. UNC went 25-7 overall, winning two NCAA Tournament games before falling to eventual national champion South Carolina by eight points in the Sweet 16. The Heels were ranked 17th in the final AP poll.
This year, led by Banghart's first recruiting class – now juniors – consisting of Deja Kelly, Anya Poole, Alyssa Ustby and Kennedy Todd-Williams, the Tar Heels are again nationally ranked. "For a small-town New Hampshire kid, I won't get tired of recognizing how hard that is," Banghart said of being nationally ranked. "It's hard to win at any level. We started the ACC season 0-3, but we also played three really good teams. We either had a small lead or it was tied or so in the fourth quarter. Those were all possession games. In coaching if you hang on every result defining you, you're going to miss out on the journey. I felt the same then as I do now, I have a really good team. We just have to continue to get better, stay the course and you have to get some lucky breaks to get to a Final Four. We're building to that, that we have a legitimate opportunity to do that every year with the talent we've been able to amass."
It's been a journey with this particular squad. "This team has matured, " Banghart said. "At the time, I wished it had matured a little bit earlier. It wasn't the organic nature of this group. We sort of had to go through some vulnerabilities. So far we're doing pretty good."
After some dark days, North Carolina and Banghart find themselves in a better basketball place that still has plenty of upside. "It's been the sport that I watched and loved," she said. "It's really worked out."
Banghart laughs because she often refers to herself as the "most expensively educated coach in the country." But she adds on a more serious note, "had I not been given that (Dartmouth) opportunity – my parents had to take on some significant loans – I would have played soccer. That would have been fine, too."
Fine, but clearly not the same.
For comments or a story idea, email whaleym25@gmail.com