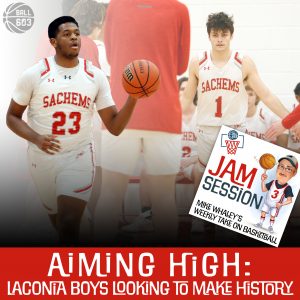 By Mike Whaley
LACONIA – Kayden Roberts and Keaton Beck like the view from the top. They both know they'll like it even better if they can be there on the podium accepting the Division II boys basketball state championship plaque on March 12 in Durham.
Roberts and Beck are the main guys for the Laconia High School team that is 17-1 and the top seed in the D-II tournament – a first for the Sachems. Their goal is to do something no other Laconia squad has done, which is to win a state title.
"We've dipped our toes in the water," said Beck, a 6-foot-6 junior forward/center who is averaging 19.6 points per game. "Now it's time to fully submerge. It's like game mode."
Laconia has for sure had a taste of the tournament. When Roberts was a freshman, the Sachems lost on the road at Hollis-Brookline in the final seconds. In 2021, a senior-dominated team with Roberts and Beck providing support advanced to the semis, losing to eventual champion, Lebanon, 58-46. Last year, they won a first-round playoff game over Coe-Brown before No. 1 Souhegan rolled over them in the quarters.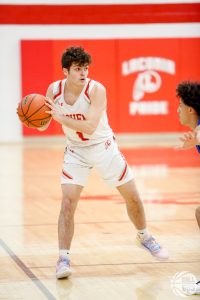 "We got a taste of it a couple years ago," said Roberts, a 5-7 all-state scoring point guard (21.6 ppg). "Now we really want to be the last one standing and put a banner up for the first time."
Indeed, while Laconia feels good about its basketball tradition, it doesn't include a state title (boys or girls). The Sachem boys last made a championship appearance in 1978 (57-46 loss to Pembroke in Class I), one of just two in program history.
"To me, how do you define tradition?" asked coach Steve McDonough, who is in his 12th year as coach. "For me, I teach (mathematics) in the building as well. Just because we don't have the tradition of being a final four or championship team, there is a lot of tradition of being a Sachem in Laconia. There's a lot of alumni that are very invested; former coaches that are very invested in keeping tabs on where these kids are.
McDonough added: "Kayden scored his 1,000th point a couple of games ago – one of five Sachem players now in the history of Laconia High School. The amount of alumni that reached out is special – former coaches – even Red Charland who coached Jim Swormstedt to his 1,000 points in (1987). I do think there is tradition. I would say 'yes' we don't have a long tradition of winning in basketball."
Which is something Roberts, Beck and their Laconia teammates are working hard to change.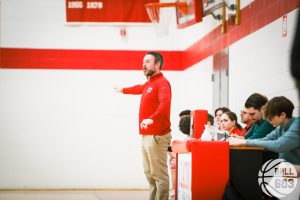 The D-II regular season wraps up this week with the tournament set to open on Tuesday with first-round games. Because the Sachems are one of the top two seeds, they will get a bye to the second round. They will host a quarterfinal game on March 3, possibly vs. the Merrimack Valley-Lebanon winner.
Laconia ended the season with some big wins, including a wild one-point victory over Pelham, an 84-67 win over a very good ConVal squad with the division's leading scorer in Joe Gutwein, and then a gutsy 65-52 decision at Oyster River to sew up the top seed. "I told the guys yesterday when they got off the bus (after the OR win) you have until midnight tonight to be as pumped as you want," coach McDonough said. "We just did something special. But come tomorrow that doesn't matter anymore. Today is tomorrow."
Roberts and Beck feel like the groundwork has been laid to get Laconia to the ultimate level. All the Sachems, for the most part, grew up playing together – from LAYBL (Lou Athanas Youth Basketball League) to middle school to high school.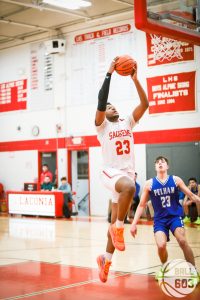 Roberts highlights how important it was his sophomore year to experience the trip to the semifinals with an experienced group of seniors led by Logan Paronto and DeMarco McKissic, Beck's older brother. "They showed us what it's like to win and play at that high level," Roberts said.
Now Roberts and Beck wear the leadership mantle, and have worn it well as the Sachems have successfully navigated their regular season to earn the top seed. Along the way they have had some big wins over quality squads, including Manchester West, Coe-Brown, Pelham, ConVal, Kennett, and Lebanon. The one hiccup was a 50-42 loss at Souhegan on Jan. 6.
"That loss hurt us," Roberts said. "Souhegan is a really tough team. They defend the ball really well and they've got a lot of guys who play really hard. They've got a deep team. As a program, I know we all feel the same way – we wish we could get that game back."
"That game kind of shot us down a bit," Beck said. "We are still looking to go higher; the ceiling isn't high enough."
Coach McDonough thinks the Sachems weren't ready for Souhegan. "They've been there before and we haven't," he said. "It was a playoff atmosphere in their gym. … They jumped out early on us. We clawed back and had a three- or five-point lead with three minutes to go. Their composure and their experience got them the timely buckets they needed and we reverted to some bad habits. The ball stopped moving and we forced a few shots. The next thing we know we look up and we're down five when we have to start playing the foul game down the stretch."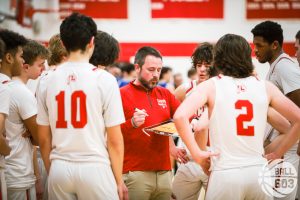 Until Laconia can prove otherwise, McDonough feels Souhegan is the team to beat. "Peter (Pierce) does such a good job of having those kids dialed in and ready to execute in those tight situations," McDonough said. "They're the better team. We hope to have the opportunity (to see them in the postseason) because that would mean we've won some playoff games. If we're going to see them again, it'll be a tremendous test to see if these guys have learned what they need to learn and I've taught them what I need to teach. Hopefully I'm right in my assessment that they've played with a composure to execute down the stretch that you need when you get to these games."
Kayden Roberts is at the head of what Laconia does because he is the point guard and a main scorer. He is expected to do a lot. McDonough said the senior's game has evolved over time. He came in as a freshman, started for a bit, but settled into a role as a contributor off the bench. As a sophomore, he was the primary point guard, while last year he had to score more for a team that struggled on offense.
"This year I challenged him to take the game from last year and be 15-20 percent less selfish and get other guys involved," McDonough said. "We have a lot of great athletes on this team. We have some good shooters and that will open the floor up for him and Keaton. I think he's done a phenomenal job with that."
McDonough has pushed Roberts harder than most of his players because the senior is motivated when you tell him he can't do something. After his freshman year, McDonough told him he couldn't shoot. Roberts came back as a sophomore and was the team's best shooter. After his sophomore year, his coach told him he couldn't defend. Roberts came back as a junior as a better defender.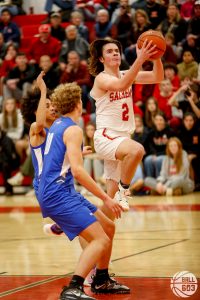 "After last year I told him he couldn't be a playmaker for other people and he couldn't defend at an elite level and he's come back this year and he's probably the most well-rounded player that I've had in my time here," the coach said. "It's all a testament to instead of him taking what I was offering and looking for a way out, looking for motivation out of it. He's motivated by those types of things. He wants to prove me wrong and I'm happy to be proven wrong."
As for Beck, McDonough said, "he's a double-double off the bus. … To me, Keaton is a dominant force as a big man. He's a match-up nightmare for most teams in that he can run the floor. He's athletic. If he needs to put the ball on the floor a little bit, he can. It's really kind of impossible to body him up with just one body. He's just massively strong. He rebounds the ball extremely well. He has hands around the hoop that are phenomenal. He does a great job of keeping his hands high and finishing high."
Beck is referred to as a "cheat code" in practice by his teammates because there are some drills where it's too easy to just throw the ball over the top to him.
"You get the combo of those two for us as captains and leaders, it's special," McDonough said.
It's what has allowed Laconia to have success. Roberts and Beck know their roles and realize the value of their teammates. "We've got a lot of players like Carson Tucker, Rowan Jones, Sam Knowlton, Logan Sanchez," Roberts said. "They're all really good basketball players. They play well within our system. They know that me and Keaton are the main guys. They're really good role players. They get us the ball when they need to. They can also hit the open shots and work the ball around when they need to."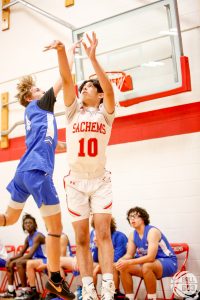 Junior Carson Tucker is another guard, who can play point to take pressure off Roberts. "He's an absolutely tremendous all-around athlete," coach McDonough said, referring to Tucker's ability as an all-state lacrosse player, who has also played football and soccer. "He usually defends the toughest matchup on the other team. It may be a guard; he may defend a big wing. He can defend any position on the floor because of his strength.
McDonough calls Jones the team's "Swiss Army Knife" because he doesn't care about stats. "He cares about winning," the coach said. "He just goes out there and makes those quality gutsy plays whether it's taking a charge at an opportune time or getting on the floor for a loose ball to get the energy going."
Knowlton is a 6-3 senior forward with, according to McDonough, phenomenal footwork and a good sense for the game. "He's come into his own shooting the ball lately," his coach said. "We have lots of opportunities for drives and kicks and post touches and kicks when you have players like Kayden and Keaton. He's been capitalizing there. He's just another tremendous senior leader for us. … He's hungry to win and wants to push these guys.
Caden Tucker is a 6-2 sophomore forward and Carson's younger brother. Off the bench he gives Laconia size and length, shoots the ball really well and has a great sense for the game, according to McDonough.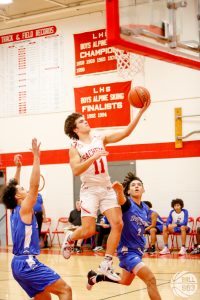 Sanchez, a 6-2 junior forward, is an all-state quarterback "who learned in football quickly to give the ball to Keaton and get out of the way," McDonough said. "He does a good job of that in basketball. He plays really good defense for us and has great length around the basket."
Finn Mousseau is a 5-9 senior, who is the combo guard off the bench if there is foul trouble. He rounds out the rotation of eight that see the lion's share of the playing time.
Two sophomores who swing up from the JV team and will figure in next year's conversation are Brady Stevens and Matt Robinson. Senior Alex Marcano is playing high school hoop for the first time. He has an enviable task in practice to challenge and toughen up Beck to make him better.
"It's been a full-team effort all year," McDonough said. "It will continue to be for us to have any chance of being successful."
As for style of play, the Sachems play an uptempo game on offense that relies on what McDonough calls "pace and space." It's not necessarily running at all times, but it does rely on keeping the ball and the players moving to maximize flow and rhythm.
On defense, Laconia plays strictly man to man; mostly in the halfcourt, but they will go full court man if need be. "For us in defense, it's really simple," McDonough said. "We want to keep guys in front of us. We want to see both (our player and the ball)."
The second season is here. Laconia is right where it wants to be, riding a 13-game winning streak into the tournament and playing its best basketball.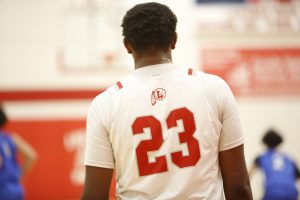 Being the No. 1 seed is a program first. There is some belief that the 1955 Class L finalist team was a regional No. 1, but this is the first time that the Sachems are sitting atop the standings across the division going into the tournament."
"That's something to be proud of and I think the guys are pumped in all that entails in getting a home playoff game," coach McDonough said. "I think they also know that that happened yesterday. And really the task at hand now is to go defend home court next Friday night. We now know that there's a bigger bull's eye on our back than there has been possibly forever. We relish that opportunity. We're not going to take it lightly."