By Mike Whaley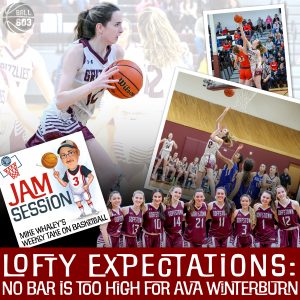 Ava Winterburn sets her bar high because that's who she is. The Goffstown High School basketball star expects more from herself, not less.
"I always told people I wanted to be in the NBA when I was little," she said with a laugh. When people told her there were no women in the NBA, she'd respond: "I know, but I want to be the first."
That's how Ava Winterburn rolls.
Led by Winterburn, Goffstown entered the Division I tournament Tuesday as the No. 4 seed. The Grizzlies improved to 16-3 with a big second half to claim a convincing 58-30 win over No. 13 Salem, paced by Winterburn's 25 points and 19 from junior guard Maggie Sasso. Goffstown will host No. 5 Pinkerton in the quarterfinals on Friday.
It's been quite a journey for Winterburn, a senior 6-foot-1 forward/guard, who will attend Southern New Hampshire University on scholarship. A four-year member of the Goffstown varsity, she has grown into one of the best players in the state. A returning first-team all-state player, Winterburn leads D-I in scoring, averaging 26 points per game.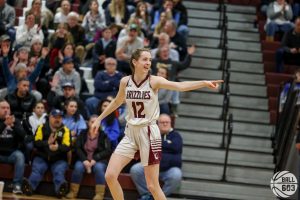 Winterburn growth and maturity has been evident this season to her coach, Steve Largy. "It's been fun to watch," he said. "I get to go back and relive how she's progressed and developed. She's had a lot of the tools in the bag for a long, long time. She's developed so much mentally and emotionally. She's leading the break. She's leading us in rebounds. She has an extremely high motor in practice. When you combine that level of skill that she's developed in her work in the off-season and during the season, it's pretty amazing."
Watching Winterburn playing these days, one sees a 6-1 player with a great overall game. "One through four is where she can play," Largy said. "And she can guard one through four. She's a really big commodity at the college level."
That wasn't lost on SNHU coach Karen Pinkos when she recruited Winterburn. "What I love the most about her is that she's basically a versatile player," Pinkos said. "She can play inside, outside. She can handle the ball at her height. She can shoot the 3. She's got a lot to her game."
Winterburn's maturity development was also something that resonated with Pinkos. She has known Winterburn since she was in grade school coming to SNHU summer camps, so she has seen the Goffstown player develop over time. "I went to see her play her junior year in high school," Pinkos recalled. "She struggled a little bit with maturity in terms of getting frustrated and then fouling out all the time."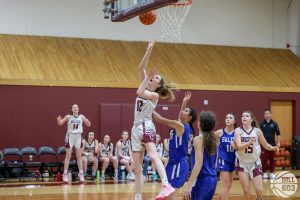 When Pinkos saw Winterburn over the summer playing with her AAU team and HS squad, she could see a change. "I felt like she matured as a player, as a person. She just kept getting better," said Pinkos, who believes Winterburn's versatility could make her a special player in SNHU's league – the Northeast-10 Conference.
This has been a breakout year for Winterburn, who has been good in previous years. This year, however, she has embraced all facets of her game, improved on defense (a necessity in college) and become an even better team player, and thus a much better overall player.
The Grizzlies success comes from the trust Winterburn has for her teammates, a very good group that includes classmates Ava Vaughan, Ava Ruggiero and Caroline Foreman, Sasso, and Winterburn's sophomore sister, Meredith.
In past years, Winterburn felt compelled to check out the scorebook after games to see how many points she had scored. This year, there has been far less of that.
Late in the season she had a string of 20-plus games including back-to-back 41-point games. "It came naturally," Largy said. "It's not like she has to check the book after the game. It's very organic. It's very few shots. It's happening in context of the flow of the offense or she's getting rebounds or loose balls. She's constantly up there in rebounds and assists. People are impressed with the score lines, but if you're watching it happen, it's way more impressive because it's happening the right way."
Winterburn can see the change. "This year I'm more comfortable on the floor than I've ever felt," she said. "I think I've come with the mentality that I know my points are going to come. What else do I have to do to pull out a win?"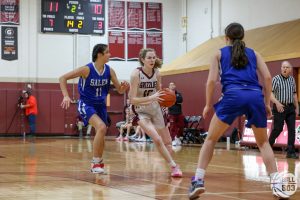 She recalls her second 41-point game, a win over Londonderry. She played the whole game. When the team manager told Winterburn that she had scored 41 points, she was surprised. "I wasn't even thinking about it," she said. "I just wanted to win the game. It was a pretty tight game until the end. That was my entire focus. That just shows how much I have grown since my underclassman years."
It's been a process with plenty of growing pains. In her first year, Winterburn was the only freshman on a team with nine seniors. Largy could see she was going to be good. Still, she didn't play very much, which did not sit well with her.
"Honestly, it sucked," Winterburn said. "I've never been a kid who sat on the bench."
She recalls going home and crying because at one stretch she sat three games in a row. "Now, looking back on it, I wasn't ready mentally," she said. "I wasn't as good as I thought I was. I really learned my place. That experience with so many seniors, I got to figure out the right way to do it. It was a long, long lesson."
As frustrating as her freshman season was, Winterburn did get a chance to shine. In the first round playoff game against Portsmouth, she came off the bench to score nine points to spark a 44-32 win.
"I probably wasn't expecting to go in," she said. "Once I stepped on the court it was like 'OK, how do I not go back to the bench? Because I don't want to sit on the bench again.'"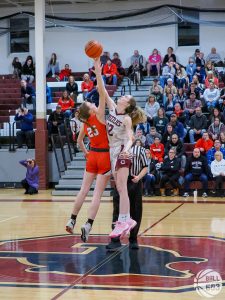 It was a big boost for the freshman. "Being a big part of the playoff game, I think it said something about my persistence," Winterburn recalled. "It wasn't like I just sat on the bench and said 'Whoa, I'm just a bench player.' Here I am. I continued to work for it. I wanted minutes and when I finally got them, I showed why I deserved them."
No. 6 Goffstown advanced to the quarters, upsetting No. 3 Manchester Memorial, 53-50. Next up was the semifinals against No. 10 Londonderry, but it never happened. The tournament was canceled due to Covid-19. No. 1 Bishop Guertin was awarded the state championship.
What should have been an exciting moment turned painful. "They shut us down," Largy said. "We didn't get to get on a bus and go to that for the nine seniors, who were set to do that. It was extremely disruptive. A lot of them were robbed of that first experience to go play at a neutral site and do that whole tournament experience thing."
It was a good learning experience for Winterburn. She didn't like sitting on the bench, but that didn't stop her from soaking up every scrap of knowledge she could. On bus rides, she sat up front with the coaches and talked basketball, seeking ways to improve her game. At games, she had a designated spot beside assistant coach Nate Bracy. "We were always talking about the game," she said. "Bracy loves to talk basketball and so do I. During the game we'd be talking and I was always ready to go in because I was seeing the game and what we could do (to win)."
As bad as it was sitting, Winterburn made the best of it. "I wouldn't say I was having a pity party for myself," she said.
Things changed in a big way when she was a sophomore. The nine seniors were gone, and she quickly found herself cast as the team's leader and leading scorer. It was a strange season because there were Covid protocols in place that hampered playing (wearing masks), reduced the schedule and generally wreaked havoc with the season.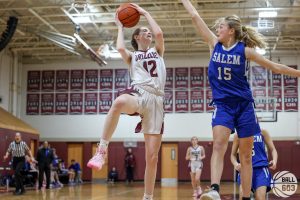 "It feels like it didn't exist," Winterburn said. "I feel like I went from freshman to junior year."
There was a shorter regional schedule that culminated with an open tournament. Goffstown hosted Trinity in the first round, a team they had beaten late in the season. The Pioneers rallied from a 15-point halftime deficit to pull off a 39-38 win, sparked by 26 points from senior Colby Guinta. She hit the game-winning 3-pointer with 16 seconds to play.
Winterburn remembers after the game coach Largy saying, "That's a senior. That's what you play like when you're a senior. That's your last shot." It didn't resonate as much with a bunch of sophomores as it did to a senior who was used to being in that position.
"It was painful at the time," Largy said. "But you learn so much from it. They got it. They see the progression from sophomore year to last year, taking the next step in the playoffs and winning that first game."
There was some frustration for Winterburn early in her junior season. Opposing teams were focusing on her. She suddenly found herself dealing with defenses designed to stop her – and some of it was working. In addition, she had this bad habit of worrying about how many points she had scored. "It was frustrating. (She kept asking herself) 'how many points did I get? Did I have enough points? Is my average going to go up?'"
Winterburn pauses for a second. "If we're being honest, sometimes I still think like that," she said. "But last year it was pretty bad. It was in the back of my mind 'how many points did I get?'"
While she was navigating the scoring piece, she was also introducing guard skills to expand her game. Before she had been a back-to-the-basket player because she was the tallest kid. "That wasn't going to work for long," she said. "I had to develop guard skills and I really got to put them into play."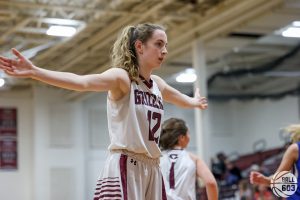 About half way through the season, Winterburn experienced a change for the better. She talked about the frustration of being face guarded and scoring six points. While that wasn't fun, Goffstown did win the game. "I think that brings everything full circle," she said. "I have great teammates surrounding me and even if I'm not having my best game, we can still pull out a win. I think that was an important switch that flipped for me."
Largy saw the change as well. "She really became not just rim focused," he said. "She started to see the floor somewhere in that year. Now she's able to pick out open teammates and kick to open shooters in the corner. She was using her teammates in a way she hadn't before because she was attracting so much defensive attention."
Looking back it was a humbling experience for Winterburn. "'There's no I in team,' the classic saying," she said. "I really started to figure that out. I started to become a more selfless player. I always knew I had the people surrounding me who were good. I love all of my teammates. But I feel like at the end of the day I just needed to have more trust in them."
The Grizzlies ended up winning in the 2022 tournament first round over Alvirne, before losing in the quarterfinals to Bedford, a team they have never beaten. Bedford has always presented a mental challenge for Goffstown. As Winterburn noted, it's a constant loop where Goffstown players hear that Bedford is so much better than Goffstown. "You always have that in the back of your mind whenever you play Bedford," she said. "Everybody is always saying 'we have Bedford. We're going to lose.'"
The Bedford loss did not sit well with Winterburn, who ended up in tears. "I've never seen anyone take a loss as hard as she did last year," Largy said. "The big part is how she responded. She took that one to heart and did everything in the offseason to prevent that from happening again."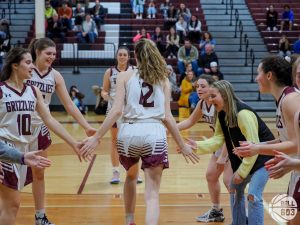 This has been a great season for Winterburn and the Grizzlies. She has cemented her college plans at SNHU, and recently eclipsed 1,000 career points – an impressive feat given how little she played as a freshman and Goffstown's shortened Covid season during her sophomore year. The SNHU decision, as it turned out, was pretty easy. "SNHU is the first college that believed in me," she said. "You have to believe in someone to give them money to go to school."
Everything felt right about SNHU, which is currently 20-6 and playing in the NE-10 tournament semifinals on Thursday. "I felt I could see myself there," Winterburn said. "The coaching staff really made me feel welcome and wanted." She also wants to stay involved with the Goffstown program, with its coaches and players. She has sisters playing now, and she wants the Goffstown players to come to her games. "The pieces all fit," she said. "I chose SNHU because I'm going to play great basketball and still be involved with the community."
But, for now, Winterburn and her teammates will focus on the matter at hand – to go as deep as they can in the D-I tournament. Which, in this case, comes back to defense, an aspect of her game that has improved by leaps and bounds. "You want to be on offense as much as possible, so you better play good defense," she said. "There's another saying – 'offense wins games, defense wins championships.' I want a championship."