By Mike Whaley
Note: This is the second in a three-part series on the elusive 2,000-point milestone.
During the winter of 2007-08, Luke Merrill might have been the best kept sports secret in New Hampshire.
The then Pittsburg High School senior was making a serious run at the elusive basketball 2,000-point club – not that anybody knew about it.
Merrill ended up falling just shy in his bid to hit the milestone, finishing with 1,975 points. One more game would likely have pushed him over.
New Hampshire has sixteen 2,000 point scorers, but only one (Mascoma's Tonya Young, 2007) has reached that milestone in this century.
Merrill laughs. "Everybody remembers (that number). That's the year my dad's (team) won the state championship. That makes it easy to remember."
Merrill's 2K assault was on nobody's radar. "It really wasn't," he said. "Back then I don't think we had Facebook. There probably wasn't any of that stuff. If it was in the south (of the state) maybe it would have received more attention. We're the northernmost town in the state. Not many people make it up there."
Certainly not reporters.
Pittsburg is the end of the line up north, hardly a media hotbed. Once you leave town on U.S. Route 3, a winding, two-lane road, it's nothing but trees and more trees until you hit the Canadian border. There is no daily newspaper that covers that area above Littleton and Lancaster. When Merrill was in school, the only coverage Pittsburg received was from The News & Sentinel, a small weekly newspaper in Colebrook, which is 13 miles to the south.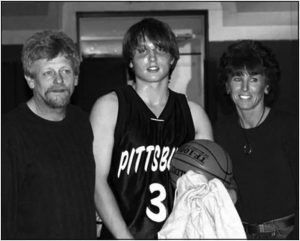 "When I scored 1,000 and 1,500 points, (a picture) was in the local newspaper," Merrill recalled. "I'm not going to say (2,000 points) was overlooked, but it didn't seem like that big of a deal. I don't really know why."
Merrill was good enough as an eighth-grader to play on the varsity, something that the New Hampshire Interscholastic Athletic Association (NHIAA) permits for just the Class S/Division IV schools. "It's a small school, so if you're somewhat decent they bring you up because of the numbers," said Merrill, who as a pretty good outside shooter scored 206 points that year.
To give you an idea of the school's population, Merrill said at the time the whole school, K through 12, had roughly 130 to 140 students, of which half were in the high school. He had a graduating class of 14.
Merrill's ability to hit outside shots got him in the lineup, and kept him there. He scored between 350 and 400 points in each of the next two seasons, expanding his game in his final two years as a 5-foot-11 guard.
He scored his 1,000th career point in the first game of his junior year, and then surpassed 1,500 in his last game of that season. His 1,000th point came on a rare four-point play. Perched at 996 points, he hit a 3-pointer and was fouled on the shot. He made the freebie to arrive at 1,000 on the nose. Merrill's junior season was his most prolific as he averaged in excess of 28 points per game. As a senior he scored over 25 points a contest.
Those 1,000- and 1,500-point milestones are of particular note in the north country where there are no 2,000-point scorers. The northernmost 2,000-point scorer is Cynthia Thomson of Orford, who hit the mark in 1989. Orford, however, hardly qualifies as a northern school. It is located along the Connecticut River below the White Mountains, a 20-minute drive from Hanover to the south. Pittsburg is a two-plus hour trip going north.
With over 1,500 points going into his senior year, Merrill knew he had a shot at the mark. "There was certainly a chance," he said. "We knew it was close. I was never told how close it was."
The Panthers made the Class S Tournament that winter. They won their first game in the opening round over Profile, but the road ended in the quarterfinals at Plymouth State University to Colebrook, the eventual champion.
It was a tight game at the half, but Colebrook pulled away over the final 16 minutes to move on. Merrill scored 26 points in his last game, 15 coming from the foul line. He was still unsure what his final count was, although he knew he was knocking on the door.
"I was sitting in the stands with my dad after the game," Merrill said. "There was another game. Groveton must have been playing because one of the fans from Groveton, someone who followed it closely, told me what I had. He was paying attention. It was 1,975. And my dad said, 'Well, that's going to be easy to remember.'"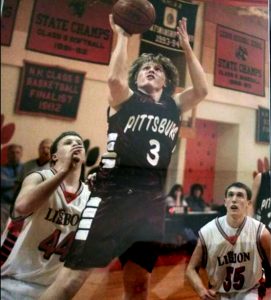 Glen Merrill was the starting point guard on Pittsburg's 1975 Class S championship squad, a 65-56 winner in the final over old Austin-Cate Academy of Center Strafford. The Panthers have captured four titles in all. Their first came in 1967 – Luke's uncle Scott played on that team, scoring 1,000 points. In addition they won back-to-back titles in 1985 and 1986, but haven't won one since. Both of those teams were coached by Glen Merrill's teammate, Richard Judd, who was also Luke's coach.
Luke became Pittsburg's career scoring leader during his senior season, passing two other Judds – Kevin and Vince. He is, of course, believed to be the career scoring leader in the north country.
Merrill went to college where he played baseball for four years – two each at NHTI Concord and Plymouth State. He was pretty good, too. He was an all-conference pick at both schools, and at NHTI he was selected as conference player of the year. In 2019, Merrill was inducted into the school's inaugural athletic hall of fame.
In 2012, with enrollment numbers dwindling, Pittsburg reached an agreement with neighboring Canaan, Vermont. The two schools formed an athletic cooperative to compete as Pittsburg-Canaan in New Hampshire's Division IV, which they still do.
The two schools are likely headed to a full cooperative. Pittsburg's enrollment numbers in 2016-17 were 101 students in K-12 and 33 in the high school.
Merrill now lives in Henniker, New Hampshire, with his wife, Danielle. They have a daughter, Emilia, 3, and are expecting a son later this month. Merrill works as an operations manager in Pembroke for a firm that sells cutting tools.
Now 31, he still thinks about what might have been.
"It's just a game," Merrill said. "I don't care, but I do care. It would have been nice to have one more game to get it out of the way."
RIM NOTES: Another member of the close-call club is Pelham's Keith Brown, who played for the Pythons from 2012 to 2016. He scored 1,978 career points while leading Pelham to back-to-back D-III state championships in 2015 and 2016. He later did get some 2K satisfaction as a star at Endicott College in Beverly, Mass. He was a four-year standout for the NCAA Division III Gulls, winning numerous honors, while finishing with 2,046 career points. … Another name that recently surfaced is that of Brad Therrien (story coming on him). Therrien was a four-year star at Spaulding High School in Rochester from 1966 to 1970, and still holds the school's career scoring record with 1,700. What is not as well known is that Therrien played as an eighth-grader for neighboring Farmington HS. Furthermore, he led the Tigers in scoring with 238 points, giving him 1,938 career points. Had he not missed six games due to sickness as a senior, Therrien undoubtedly would have been the state's first entry in the 2,000-point club. He was also the Class L/D-I career scoring leader for nearly 30 years until a young fellow named Matt Bonner came along in the late 1990s.
For feedback or story ideas, email jamsession@ball603.com.