By Mike Whaley
EXETER – Jeff Holmes' enthusiasm for basketball, which spans 50-plus years, shows no signs of diminishing.
"I've always been passionate about basketball," said Holmes, who recently completed his 25th year as the head coach of the boys team at Exeter High School and his 34th overall. "I played a lot when I was a kid. I really enjoyed the sport. I'll watch it on a Saturday or go to a game and drive my wife nuts with basketball. I like it."
Holmes has enjoyed a pretty good run. After playing three years at the University of Maine in Orono, in the late 1980s, his first coaching stop in northern Maine at Caribou High School yielded seven playoff appearances in nine years. In his 25 years in Exeter the Blue Hawks have made 24 Division I playoffs, winning back-to-back D-I state titles in 2019 and 2020. The 2019 team went 24-0, winning the school's first state title in 42 years.
His overall coaching record is 439-311.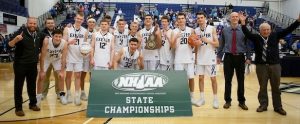 After going 53-2 the previous three seasons, this past year Holmes had to completely revamp a team that lost its first six players. He did so with great success. No. 7 Exeter went 13-7 overall, beating 10th-seeded Nashua South in the first round of the D-I tournament, 67-58, before taking No. 2 Nashua North to the wire in a tightly contested 57-54 loss.
"I like to get a team to the next level," Holmes said. "If it's an average team, get that team to be a good team. If you're a good team, try to get that team to be a very good team. My mindset is to try and get better every day in the gym."
At 57, he is also one of the elder statesmen in the state's coaching circles. Holmes remains involved outside of his own program helping to grow the sport around the state as a long-time member and past president of the New Hampshire Basketball Coaches Organization and past member of the NHIAA Basketball Committee.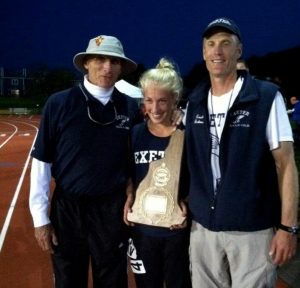 "When I first started out he was a guy I was able to talk to about the challenges of being a varsity coach," said Jay McKenna, who recently completed his 17th year as the Winnacunnet HS head coach. "He was very helpful and he's a guy I consider to be a very good friend."
Holmes' formative years in basketball date back to the early 1970s growing up in the southwest corner of the state as the son of a coach.
His dad, Steve Holmes, was the head boys hoop coach at Fall Mountain Regional High School in Langdon where he coached the team from the late 1960s until the late 1970s. His 1973 team won the Class I (Division II) state championship.
"I was always going to the gym with him," Jeff remembers. "I got into basketball basically because of my dad."
Steve Holmes at 85 is in his 60th year of coaching. He is a throws coach with the track and field team at Phillips Exeter Academy.
He remembers Jeff, the youngest of the three Holmes' children, always having a real affection "for anything round. He was shooting nerf balls when he was 2 or 3 years old."
The Holmes family lived off the beaten track on a dirt road in Westmoreland, a small town west of Keene. Steve recalls building a nice hoop on the back side of the garage and asphalting the area around the basket. "For the next 10 to 12 years (Jeff) would just go outside and shoot non-stop," Steve said. "There was no one close by, so he had to make up all these games. He had a lot of fun doing that. He became an amazing shooter."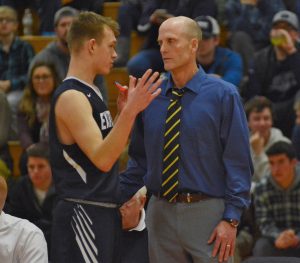 Steve, of course, got to follow his son's evolution first hand. He even coached a Westmoreland team of fourth and fifth graders when Jeff was in fifth grade. He recalls one game vs. St. Charles of Bellows Falls, Vermont, a game Westmoreland won 31-29. Jeff scored all of his team's points.
"That was a precursor of things to come," Steve said.
His dad added," I knew Jeff had a good competitive edge. When he was in third grade, he'd come up to Fall Mountain if he had a day off. He would take on some of the (high school) players in a game of HORSE. I don't think he ever lost. He was only 9 years old."
Jeff went on to star at Keene High School, becoming the school's first 1,000-point scorer in the days before the 3-point shot. As a senior in 1983, the Blackbirds earned the No. 1 seed in the Class L tournament, but were upset in the quarterfinal round.
He drew plenty of college interest, including from Rick Pitino, then the coach at Boston University. Pitino, of course, is still coaching, having guided teams at both the college and pro level in a nearly 50-year career. He has two NCAA national championships under his belt.
Pitino came to the Holmes house in Westmoreland to recruit Jeff, decked out in a pinstripe suit. He walked into their house and, as Steve recalled, said," This is the first recruiting trip I've ever made on a dirt road."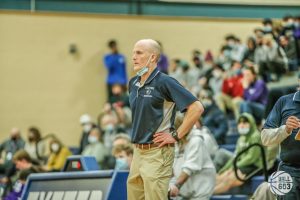 Jeff accepted a scholarship to Boston University, but never played under Pitino. On the eve of the season, the coach took a position as an assistant with the New York Knicks – a season that Jeff ended up spending on the BU bench.
He transferred to Maine the following year, where he played from 1985 to 1988, serving as a captain in his senior season.
One of the highlights that Steve enjoys relates to a game with visiting Michigan State, coached by Jud Heathcoate, during Jeff's sophomore season.
Michigan State had a 15-point lead with a couple of minutes to go, and both teams began clearing their respective benches. Jeff went in.
"Jeff took seven shots, all 3s, and drained them," Steve recalled of Jeff's 21 points in three minutes. "Jud didn't know what happened. The eighth (shot) was a toilet seater – it went around the rim two or three times and bounced out."
Michigan State reinserted its starters, but it was too late. Jeff's heroics had ignited a late game-winning surge for Maine.
Not long after that, Jeff appeared in Sports Illustrated's "Faces in the Crowd" section, and was also mentioned in the publication's story on the 3-point shot changing the complexion of the game of basketball. "Jeff was a pioneer," his dad said.
Jeff graduated from Maine in 1988. He applied for and got his first job as a physical education teacher and basketball coach in Caribou.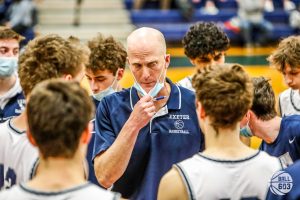 It was a great experience. It's where he met his wife, Janel.
"They love basketball in Aroostook County," he said. Caribou is located three hours north of Bangor, so it's not a place where you can jump in the car and easily drive to a college or pro game. "They had a nice gymnasium, similar to Exeter's now," Jeff said. "We had great crowds. They loved hoop."
The chance to return to New Hampshire was alluring, so when a teaching and coaching post opened in Exeter, Holmes jumped at it. "It's worked out well for me," he said.
"It's been a good fit for me," added Holmes, who also coached track and field for 29 years in Maine and N.H. "Both are very different. One is more blue collar – farm boys. Exeter is not that way."
Holmes immediately stepped into a competitive situation his first year (1997-98). "We were really good," he said. "We made it all the way to the state finals. We lost to (Matt) Bonner and Concord. I was fortunate. I came in and we had a quality team."
It was a good lesson, too.
During the regular season, Exeter lost to Concord by 10, but it was a two-point game with three minutes to go. Bonner, who went on to play at Florida and then enjoyed a long career in the National Basketball Association, scored 40-plus points.
"I outsmarted myself in the finals," laughs Holmes as his team lost to Concord, 73-44, despite holding Bonner to 17 points. "I devised some defense to double team Bonner. They still beat us by 30. They had a good team. It wasn't just him. I won't do that again. You don't change what you are come tournament time."
Holmes continued to try and get better. "I went to a lot of clinics to try to improve and learn stuff," he said. "Sometimes I get myself doing too much. You do too much, you can overload the kids. You kind of go backwards. That old saying: "Keep it simple, stupid."
Holmes believes he had some good years up in Maine because he kept it really simple.
"Sometimes you learn and try to incorporate more stuff,' Holmes said. "You can put too much in and be too complicated. I've caught myself doing that as I've gotten older. … You still have your nuts and bolts, what you do offensively and defensively, and get good at that."
Holmes said he learned a lot from his dad and Exeter's athletic director Bill Ball, who is also the school's football coach.
"He was a real energy guy," Holmes said of his dad. "He loved it. He was knowledgeable as a coach. I try to incorporate those things into my coaching. Be enthusiastic. Work the kids hard."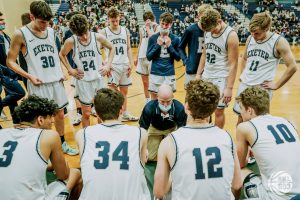 From Ball he learned how to run a program, including how to increase your participation numbers. "I developed that over the years," Holmes said. "We've got good numbers for freshman and JV. We have a lot of competition for spots."
One thing Holmes has gleaned over time is that you have to coach the personality of the kid, and not treat everyone the same. He has also understood the value of embracing the whole program. "In basketball, sometimes you get caught up with your three best players," Holmes said. "I try not to do that. To run a program, you've got to coach the 45 kids. I've learned about emphasizing the program, doing things the right way, the wins will come."
Consistency has been key. "I have the same philosophy," Holmes said. "I coach for the program; not just the top guys."
Holmes is not a loud coach. It's not his style. "It's hard to be a yeller and a screamer these days," he said. "You're not going to last too long. … The way I look at it I'm more of a teacher. I don't have to yell and scream at my kids if they're playing hard. For the most part they play really hard."
His dad sees that as a huge strength. "He has a really good demeanor and knows how to interact with the athletes really well," Steve said. "To this day, he's only got one technical (foul). He's involved with the game and very close to the kids, but not enough where it spoils the coach/athlete relationship."
McKenna thinks consistency is what has helped Holmes to stay in the game so long at the high school level where coaching attrition runs high. "He's even keeled, he's good with the kids, and the kids respect him," McKenna said. "That goes a long way. … It's Jeff's consistency. You know what you're getting with Jeff. The kids understand that."
Holmes has also been a proponent of kids playing multiple sports. When he coached track and field, he'd try to get basketball players to give it a try. "A lot of times they found a lot of success in it," he said.
There's been a lot of positives over the years. Holmes' teams have done well, and he's even had the chance to coach both of his children – Hillary in track and field and Bryant in basketball.
When the state championship teams came along, he recalls those squads being set up to some extent by the agony of defeat.
In the 2018 semifinals at UNH, No. 2 Exeter had a lead at halftime against No. 11 Dover, but somehow lost a point when the game's two official scorekeepers inexplicably counted a 3-pointer by Cody Morissette as a two. They actually went to the locker room up nine (38-29), and when they returned it was 36-29, although the score should have been 37-29.
Exeter was not the same team in the second half. Dover was able to catch them and upset them by two points. "That really focused those guys for next year when we went undefeated," Holmes said. "That experience can also help you."
The 2019 state championship was Exeter's first in 42 years. The undefeated Blue Hawks were dominant in a season where just two of their games had winning margins of under 10 points. "We had a lot of talent and the kids came to play every day for practice and games," Holmes said. "That's a lot of pressure when you're the best team. The best team doesn't always win it."
He added, "We hadn't won it since 1977. There was some pressure. I was feeling it a little bit from my end. It was a great relief when we did win it."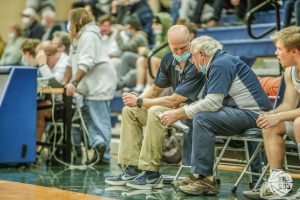 Although there was success the two years after that, there was also frustration because of the pandemic.
Exeter ended up losing one game in 2020, sharing the D-I championship with Portsmouth when the pandemic forced the tournament to be canceled after the first round. Exeter earned a first-round bye as the top seed, but it never got the chance to play a single playoff game.
Last year, the Blue Hawks went undefeated during the shortened regular season (13-0). However, due to the tournament's random draw format that was used they had to play rival Winnacunnet in the second round for a fourth time. Exeter had won all three meetings during the season, but the Warriors caught them in the tourney with an overtime win. Winnacunnet ended up advancing to the championship game where it fell to Bishop Guertin.
"In my opinion, we were the best and they were the second best," Holmes said. "We just couldn't beat them a fourth time."
Something that refreshed Holmes' coaching experience came along unexpectedly in 2016. His friend and former teammate at Maine, Jim Boylen, was an assistant coach at the time in the NBA with the Chicago Bulls. He asked Holmes to help out scouting games at Boston's TD Garden.
Over a two-year span, Holmes did 8 to 10 games a year when the Bulls needed him.
It was a lot of work, but a great gig. Most of the time, Holmes had to go on a school day during his basketball season. Often he'd have practice and then head to Boston.
There were a few times when he had to turn down an assignment when it conflicted with an Exeter game.
"I didn't tell them you've got to guard Stephen Curry," Holmes said with a laugh. "I had to jot down the time and the play they ran at the time. Just chart every possession they do. I learned a lot. It was kind of an eye-opener for me."
The seating for scouts was courtside, which made it fun to be right on top of the action. He recalls that first season enjoying the games because the Celtics had Isaiah Thomas, and he was a pleasure to watch.
"It helped me out a lot as a coach," Holmes said. "I had to do a lot of prep work before to learn the terminology that they use, and different sets that these teams run. It was pretty cool that way, at that point in my career to get rejuvenated a little bit, learning all this new stuff."
Holmes said some of the NBA stuff rubbed off on his coaching. "The situational stuff," he said. "After timeouts, end-of-game coaching. I run versions of a lot of stuff I learned as far as set plays."
It was a different experience for Holmes from when he'd go to a game to watch for fun. "When you're scouting, you really break it down," he said. "What's happening off the ball? What type of screens are they using? You've got to dive a lot deeper into it. That was good for me."
He's glad he got the chance. "Not only was it a great experience, but I got paid," Holmes said.
In the twilight of his career, Holmes sees the end in sight, but it's not immediate. "I enjoy it," he said. "I think I'll ride it out until I retire from teaching." Which, he figures, is around 65.
"I don't think I'd coach and not teach," he said. "Being there in the school is a good thing."
Speaking of good things, having Jeff Holmes on a basketball sideline certainly fits into that category.