By Mike Whaley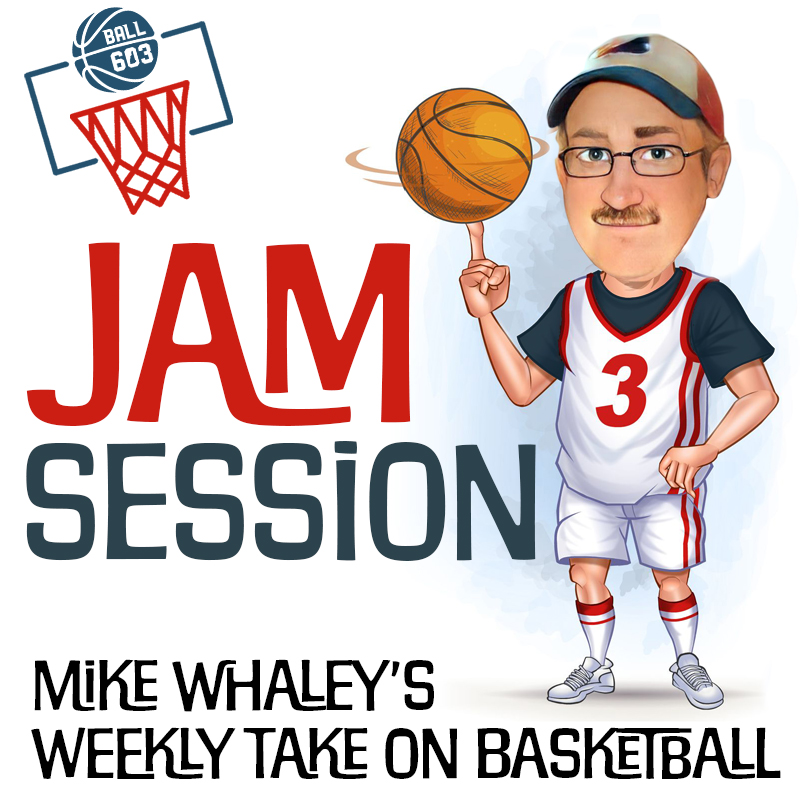 This week's Jam Session hears from fans, coaches and former players and coaches as they recall special moments from past championship games.
There are quite a few varied takes. You have a celebratory bus ride past adoring townspeople; injuries overcome and deficits, too; a player standing on a rim after the game; a basket scored for the other team; a lucky nickel; trampoline dunking in practice the day before the final; and how about one win at a time all the way to 25-0 and a few other perfect thoughts. Let the memories begin!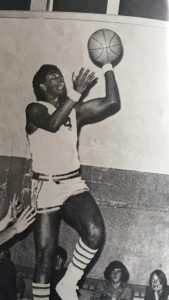 Bill Douglas, player, Austin-Cate Academy, 1971 Class S boys champs – With the Class S title in hand against Epping in the waning minutes at the University of New Hampshire, old Austin-Cate Academy of Center Strafford cleared the bench, recalled Douglas, the team's star guard. Freshman Eddie Maccarelli made a steal and blazed down the floor in the final seconds, laying the ball in just before the buzzer – but in the other team's basket. Final score: ACA 66, Epping 55. Douglas said he later found out that if Macarelli, who he dubbed "Wrong Way," had scored for Austin-Cate the Wildcats would have tied the Class S record for most points by a winning team in a championship game with 68. Maccarelli is the only Austin-Cate player to have played on the school's two state championship hoop teams. He was also on the 1974 title team as a senior. ACA made four trips to the Class S championship during a five-year span in the early 1970s. The school closed in 1980.
Frank Weeks, coach, Alton, 1975 Class A girls champs – Weeks recalls in the '75 final vs. Hillsboro-Deering, Alton led by just 20-14 at the half. However, they had a huge 18-0 surge in the third quarter that propelled them to a convincing 49-24 championship win – the first of three championships in four years. Alton, which became part of Prospect Mountain HS with Barnstead in 2004, won again in 1976, lost in the 1977 final and won in 1978, along the way building a 64-game winning streak. Two of its players – Amy Birdsey and Diane DeJager – scored over 1,000 points, and a third, Pam Smith, had over 970. A fourth, Arlene Dejager, a force on the boards, recorded over 1,000 career rebounds. Weeks also recalls at practice the day before the championship, he felt they were well prepared and there was nothing else to be done to get ready for the game. So he let the girls pull out the trampoline and the team spent the rest of the practice working on their dunks. "It was a very good group of young ladies," Weeks said. "They were physically talented and committed. They enjoyed playing basketball."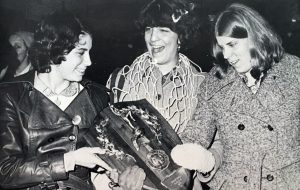 Jody Mooradian, player, Oyster River, 1977 Class A girls champs – Mooradian had this memory from game day in 1977, which she recounted in 2019 to Seacoastonline after coach Cathy Coakley's death: On the day of the state championship game, the bus was 30 minutes late. Coakley, always cool and calm, handled it perfectly. "Instead of getting nervous, she said, 'OK, everybody let's start dressing now in the bus.' We all started putting on our shorts and our sneakers, then when we got off the bus we were ready to go." Mooradian added, "Some people, even in college, when things start happening, coaches will let the situation take over. I just remember that — 'just start getting dressed.' That's a thing that kind of sticks with you. How do you react? She was very professional. She made it happen. That helped us win, that little adventure." Indeed, the Bobcats beat perennial power Alton, the two-time defending champs, in the final, 49-46, at Saint Anselm's College for the school's first girls' hoop title. It snapped the Apaches' 64-game winning streak to cap a perfect 20-0 season for Oyster River.
Mike Whaley, fan, 1976 Class L boys championship game – One of Whaley's favorite championship memories (when he was a high school teen growing up in the Durham area) took place in the waning seconds of the 1976 Class L final, played at UNH between Trinity and Portsmouth. With the score tied at 58-all and time running out, a Portsmouth player called a timeout the Clippers didn't have. A technical foul resulted. "Back then, the technical was a one-shot award," recalled Whaley, not the two shots it is today. "With only a second or two remaining,Trinity sent gritty guard Dan Duval to the line at the end of Lundholm Gymnasium where the crowd enters. Above the basket was an open area where, at the time, fans were allowed to gather to watch the game. Since it was a technical foul shot, Duval was all by himself at the foul line. As he prepared to take the shot, a small group of hecklers taunted him from above. It didn't bother Duval, who calmly drilled the shot for the championship win." That allowed Trinity, coached by Don Beleski, to defend its title, while, for Portsmouth, it was one of four painful Class L championship losses over a six-year span under legendary coach Dan Parr – the state's winningest coach with 704 coaching victories.
Marge Fisk, coach, Dover, 1977 Class AA girls champs – Fisk guided the Green Wave during the infancy of NHIAA girls basketball from 1970 to 1982. The 1977 championship was unexpected as the previous year's team, laden with seniors, went undefeated, but was upset in the quarterfinals. However, the '77 Dover girls, led by gritty guard Patty Foster, plus the addition of talented sophomores Karen Vitko and Lynne Richard Chavez, went undefeated to win the program's first title over Manchester Central. "That was one of the finest groups I ever coached," said Fisk in 2021. "They were just a family. There were a lot of superstars, but we always played as a team, and it made a big difference." There was no big celebration after the championship win. On the bus ride back, the players did ask coach Fisk if they could do "something wild." Mary Brady Legere said the coach let the girls get out of the bus at the Lee Traffic Circle to do a Chinese fire drill around the bus and then get back in.
Paul Boulay, player, Somersworth, 1984 Class I boys champs – It was the third quarter of the 1984 final at UNH and Somersworth trailed Pembroke by 10 points (45-45) with under two minutes to play. The Hilltoppers were 20-0 and playing in their third straight final, having lost the previous two. "They're shooting a free throw and I'm lined up looking into the stands trying not to start crying," said Boulay, who recalls he and teammate, Kyle Hodsdon, talked about winning the championship as pre-teens back in the day at a family Christmas party. "I went coast to coast for an old-school three and then assisted on a layup to end the third quarter (to cut the lead to 45-40). We outscored them 15-6 in the fourth to win 55-51. Up 53-51 with five seconds left, I got fouled and went to the line for a 1-and-1 (before the 3-point shot). I remember hitting the first one (to make it a two-possession game) and erupting with a jumping fist pump and a quick run in front of our fans. Don't remember thinking about doing it, but the release of emotions and relief was just overwhelming because I'm not sure what I'd have done if we'd lost three straight."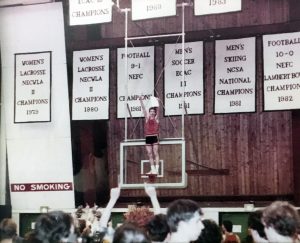 Mike Lee, coach, Farmington, Class M boys champs (1984, 1988) – Lee, who coached the Tigers, from 1977 to 1998, recalls at the end of the 1984 championship game, a 76-54 win over Conant, being approached by a furious Peter Cofran, the tournament administrator. Cofran was yelling at Lee, "Get him down!" Lee had no idea what Cofran was referring to, until he saw Farmington guard Tim Mucher standing atop one of the rims. "I don't know how he got up there," said Lee, although he had his suspicions. "I'm sure it was something he had seen on television." Not long after, Lee recalls going to the NHIAA offices in Concord and seeing a picture of Mucher on the rim. He laughs. "That resonates now." He also recalls in the final 90 seconds of the 1988 championship game, a 78-70 win over Mascoma, seeing a nickel, heads up, in front of the Farmington bench. As he bent down to pick it up, a voice yelled, "Don't pick it up. It's been there the whole game." That voice belonged to Tony Carone, a member of the '84 championship team. Lee left the nickel there because, you know, a heads-up nickel signifies good luck – and it did that day for the Tigers.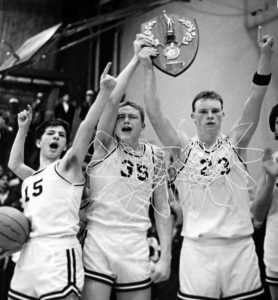 David Burrows, player, Nute, 1990 Class S boys champs – Burrows led the Rams to their last hoop title in 1990, scoring a tournament record 149 points in four games (still the most in the state regardless of division or gender). Nute beat Wilton-Lyndeborough in the final, 56-45, behind 34 points from Burrows. He had this recollection: "Something that stands out in my memory was after our championship game (in 1990). The team bus and several spectator buses were parked at the exit outside the locker rooms at Plymouth State College. I think the entire community of Milton was waiting for us to come out to celebrate. What I saw next was hair tingling. Wilton's team came out of that exit and our fans gave Wilton a standing ovation. I was very proud to be part of a community that shows that level of respect and sportsmanship. Something you rarely see these days."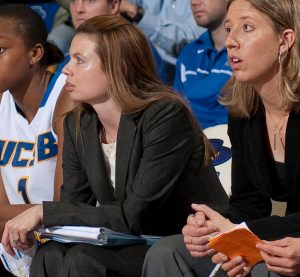 Kelly Hall Barsky, player, Coe-Brown, 1993 Class M girls champs – The Bears capped a perfect season with a 54-52 win over Franklin in the final to win the school's first girls' basketball championship. Barsky, now the interim athletic director at UC Santa Barbara, fondly remembers the championship and the celebration afterwards. "We rode back in the bus," she said. "As we pulled into Epsom (Traffic) Circle and then all the way to Northwood, there were families that came out of their houses, along the route, and turned their lights on. We had a fire truck that led the bus. They came out and waved and we were waving and cheering." It culminated with the team going back to the Coe-Brown gym where the Bears practiced every day. "Families and community members showed up," said Barsky, who played for her dad, Tom Hall. "It brings me to tears now because it was just a moment of unity."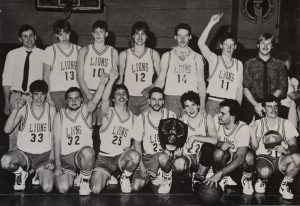 Eric Hurlbert, player, Stratford, 1993 Class S boys champs – Hurlbert was a junior on that undefeated team and one of three players – seniors Troy Burns and Josh Stone were the other two – to break 1,000 points that season (two did it in the same game). The Lions beat Orford for the title, 40-39, scoring the winning basket at the buzzer on a Billy Burns feed to his brother Troy. It was Stratford's first championship since 1942. The school closed in 2012.
Keith Friel, player, Oyster River, 1995 Class I boys champs – It was a special moment for Friel when the Bobcats won the first of back-to-back Class I titles in the mid 1990s – a 55-52 win over Lebanon. "Our first championship, winning it at Lundholm (Gymnasium) with that core of kids we grew up playing together from (grades) 3, 4, 5, all the way up," Friel said. "That was special. Hugging my brother (Greg). It was a culmination of all those hours of camp, all those hours in the gym growing up in Lundholm (where the Friel boys dad was the UNH men's coach from 1969 to 1989). It was kind of surreal. I have all those memories of seeing (my dad) coaching there. When he ran out on the floor and hugged me, it was really special."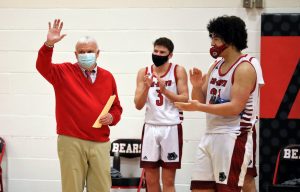 Dave Smith, coach, Coe-Brown, 1997 Class M boys champs – The dean of active N.H. coaches, Smith has coached basketball in the state for 55 years (45 in high school). The beginning of his one championship win in '97 still resonates. "We started out 6-0 – behind," recalls Smith. "I was very close to (calling) a timeout. They had the ball. I was saying, 'Oh crap, this isn't a good way to start.' We were pressing at Plymouth State. … Dakota Smith was playing up front on the press and he came all the way back on the rotation, which was a good rotation. He made a steal. We went down and scored. From then on it was back and forth. That kind of set the tone for us defensively. We had a great defensive game." Coe-Brown won the championship, 57-43.
Dave Nichols, coach, Oyster River, 2003 Class I girls champs – This is one of Nichols' favorite stories about the 2003 champs. He coached the Bobcats to four titles, and was the first in N.H. to coach both a boys and a girls team to a championship (OR boys in 1988, and three girls teams – 2003, 2006, 2009). "After our first game I commented that it was clear that this team was going to be very good and that all could see that they loved playing together," Nichols recalled. "I told them that they would have 25 opportunities to do that, 18 regular-season games, three in the holiday tournament (Manchester, playing three Class L schools) and then four in the Class I tournament if we could get all the way to the finals; 25 games, maybe. Then I said, 'one down' and they shouted '24 to go.' That countdown continued after every game. That was quite prophetic, too, and later people asked if I had been brazen enough to tell the team that we could go 25-0. No, the 25 games were how many they 'could' play, not a challenge to win them all. But we did."
Dan O'Rourke, coach, Hanover, 2005 Class I girls champs – O'Rourke, the Marauders' coach since 2001, recalls a key moment early on in the 2005 Class I championship against Oyster River, coached by Dave Nichols. Hanover had three girls with fevers and Oyster River got out to an eight-point lead. Hanover had a player named Emily Huff, who O'Rourke described as a terrier. She was on the bench going, 'Let me in. Let me in.' O'Rourke said let's see what happens, knowing that when he put her in she would get after it. "Finally the game was starting to get away," he said. "We put her in. Within a 3- or 4-minute span she completely changed the complexion of the game. Came in. Stole the ball two or three times. Hit a shot, and suddenly it was back to a tie game." Hanover went on to win, 49-38, to defend their 2004 title. The Marauders have won five titles under O'Rourke.
Stephanie Larpenter, player, Sunapee, 2006 sand 2007 Class S girls champs – "One memory that stands out from our championships from 2006 to 2007 is that in the championship game in 2006 there was four minutes left in the game and I tore my ACL," said Larpenter, who is now Sunapee's coach. "Fast forward to 2007 after surgery and physical therapy for eight months. We beat Groveton, and just the feeling of accomplishment personally and with the team coming back from a major injury like that is something I'll never forget. The satisfaction of all the hard work paid off. I think that is one core memory that really stands out to me."
John Mulvey, player, Portsmouth, 2009 Class I boys champs – "I grew up playing basketball with the same group that won the 2009 championship," wrote Mulvey who played for his dad, Jim Mulvey and is now the Clipper coach. "Growing up, we would play all day every day. Playing high school basketball with this same group was a dream. We had a lot of success, but going into our senior year we were missing something. That was a state championship. Late in the game, we got two full-court layups from long passes after Pelham scored. After those layups, we realized the game was out of reach and we were going to win the championship. I will never forget the feeling and moment of jumping around with my best friends celebrating a state championship." Final score: Portsmouth 61, Pelham 48. On a personal note, Mulvey scored a game-high 26 points and buried five 3-pointers, a tournament record he still shares with two other players. The game, however, did not start well for the lefty sharpshooter. He missed his first seven shots. "The first couple almost broke the backboard," he said in 2020. "I had to settle down." Which he obviously did.
Aliza Simpson McKenna, player, Londonderry, 2014 Division I girls champs – "We had one loss on the season to Bedford and we were squaring up again for the state title. This was legendary Coach John Fagula's last high school game after an incredible career and we were hoping to send him off as a champion. I'll never forget, we were down by two and we probably had 10 seconds left to play. Bedford was a powerhouse and had great defenders. The time was running down and Brittany Roche was left wide open in the corner. A pass came flying at her from a baseline drive and without any fear she threw up a 3-pointer. Nothing but net. We had clinched the title, 57-56, ended Bedford's undefeated season and allowed John Fagula to sail off into the sunset as a champion."
Rick Forge, coach, Gilford, 2016 Division III girls champs – "The perfect season," said Forge, who also coached Gilford to the 2009 title and Somersworth to a crown in 1986 in Class I. "Back then Lakes Region basketball fostered some great rivalries amongst the area's seven Division 3 schools. It was only fitting that Gilford and Laconia would be the two teams left standing for the finals. The schools, separated by a couple of miles – or a few long 3-pointers – would be meeting for the fourth time that season (holiday tournament included). Each previous matchup was an instant classic, including a triple OT game that is still talked about. The community atmosphere in the local coffee shops and businesses was electric. On championship Saturday it was a full SNHU gym of red and blue and the fans, well let's just say they were into it.The actual game was wire to wire filled with huge moments: long 3s from Brooke Beaudet, a clutch Maddie Harris steal in the final minute, Cassidy Bartlett assisting on a Jordan Dean game-winning backdoor cut, and Stevie Orton's game-sealing free throws in the final seconds. When the final horn sounded we had managed to squeeze out a (42-38) win and complete the undefeated journey. It was a perfect ending to a perfect season for a perfect group of young ladies."
Cassidy Bartlett, player, Gilford, 2016 Division III girls champs – "I can still feel the overwhelming sense of emotion that came with the final buzzer," said via email. "Years of memories, practice, competition and passion culminating into a picture-perfect ending. There is nothing like celebrating a championship. It's not just for the team or Gilford High School – it's for an entire community. It hangs as a banner; a piece of history that serves as a symbol of legacy for those who come next. At the core of our accomplishment was the culture of the team. We grew up learning the game together, and we inspired each other to be the best versions of ourselves. Most importantly, we were devoted to the same mission: 'Take care of the little things and the big thing will take care of itself.'''
Trevor Howard, player/coach, Littleton, Class M/Division IV boys champs 1990, 2016, 2020 – Howard is part of a small N.H. fraternity to have played for and coached for a high school state champion. Here are a couple quick thoughts from the current Crusaders' coach: "The last four boys' state championships 1971, 1990, 2016, 2020 were all undefeated. Littleton hasn't won a state championship in 50 years with a loss on their record. So I guess it's either undefeated or nothing. I've been lucky and blessed to be involved in nine state championship games, one as a player, one as an assistant coach, and seven as a head coach." A huge moment for Howard was Ethan Ellingwood's game-winning shot with 10 seconds to play in the 2016 championship game against Portsmouth Christian that broke a 36-all tie and won it for the Crusaders. "Best memory and biggest shot in LHS basketball history," said Howard, who captured his first title as a coach.
Jay Darrah, coach, Pittsfield, 2018 Division IV boys champs – Two indelible memories for coach Darrah as Pittsfield won its first hoop state title, beating Newmarket, 43-40. The first: "As a coach, having some of the members of the 1981 and 1990 (runner-up) teams handing over their runner-up medals post game and thanking us for finishing the job that they wanted so badly. Thanking us for bringing a state championship to Pittsfield for the first time." Secondly: "As a father who had the pleasure of coaching my son and his closest friends through this memorable season, I will never forget the post-game medal ceremony. Placing medals around the boys' necks in front of our community will be one of my favorite moments. The 2018 season was my 17th season coaching the Panthers. We had a handful of semifinal appearances, but never managed to make it to the finals. But that didn't stop my son Cam and I from attending every championship game as he grew older. He always promised me that someday he would get me that championship medal. Well the last player to be presented a medal that day was my son Cameron. After I placed the medal around his neck, Cam immediately took the medal from his neck and placed it around mine and gave me a hug and said, 'Here is the medal I have been promising you.'"
Jeff Holmes, coach, Exeter, 2019 D-I boys champs – A few things jump out for Holmes who won his first coaching championship with a 53-30 win over Salem, completing an undefeated season. "We jumped out 7-0, hitting our first three shots," he said. "That was huge." To begin the fourth quarter, Salem got a technical with the game still close in the 7-8-9 range. That started a run to allow the Blue Hawks to pull away. As Exeter pulled away, Holmes got to soak in the championship moment in the final minutes. "It was going our way, so I've got to take it in, winning the title, which was pretty cool," he said.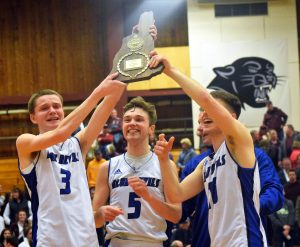 Nick Fiset, coach, Epping, 2019 D-IV boys champs – "I remember thinking all week during practice the championship game would fly by, but (remember) during the game feeling like the clock never moved and it was taking forever," Fiset recalled. " I called a timeout after Hunter Bullock scored an incredible basket and said to him while he was walking over 'Keep it going, only a little bit left.' He replied like he always did, 'Coach, I can do this all night.' All I could think to myself was, 'He sure can.'"
John Fisher, coach, Bishop Guertin, 2021 Division I boys champs – "While I have many fond memories of our championship game – 42-35 win over Winnacunnet – one that stands out was the elation on the faces of the senior players on that team after the final buzzer when they ran onto the floor," Fisher wrote via email. "A close second was listening to the speeches each senior player gave at the basketball banquet that occurred the next week. Each player's speech was filled with fond memories of times spent with members of the team. It was an inspiring moment and reminded everyone in the room that having fun with your friends is ultimately what the game is about."
Rick Acquilano, coach, Gilford, 2021 Division III boys champs – Gilford trailed in the final by as many as 13 points in the second half, but rallied to tie it at 39-all with 22 seconds to play. Hopkinton had the ball. "We needed a defensive stop," the coach recalled. Gilford's Riley Marsh stole the ball at mid-court and took it in for a layup to take the lead. "The game ended with Jalen Reese blocking a shot attempt under the basket as time expired to hold on for a 41-40 victory," Acquilano said. "Two great defensive plays to preserve the victory."
Dave Nichols, now an assistant with the Hanover girls, has been coaching since the early 1970s when he was a volunteer assistant at his alma mater of Milford HS. He weaves a good story, and it is this one that we will leave you with, about Oyster River's 1988 boys' hoop championship, complete with a superb background story.
During the summer of 1987 he coached an AAU team along with the late Jack Ford of Winnacunnet and Mike Lee of Farmington. "We had two of my Oyster River players on the team, John Freiermuth and Pat Casey," Nichols recalled. "Mike Joslin of Lebanon was also on the team. Those three kids, the only ones from Class I, along with Mike Mucher of Farmington, who was the only Class M player, would hang out together a lot. AAU was different back then and we were allowed to pick kind of an all-star team from N.H. so the rest of the team was Class L kids. On one trip I had those four kids in the car with me and the subject of the coming high school season came up. Mike Joslin claimed that they, Lebanon, were loaded and going 'all the way'. Slowly I responded to the delight of the other three in the car. 'Actually, this is what's going to happen, Mike. You guys will have a great season, probably go undefeated because you have an easy schedule. The three other top teams will be Goffstown, Merrimack Valley (Scott Drapeau was an incredible freshman) and Oyster River. Those three teams will play each other twice and will probably split the wins." The other three players were now chiming in and giving Joslin, who we all liked a lot, a hard time about their 'soft' schedule. I went on. 'The four of us will get to the semifinals and you'll have to beat two of us to win it all. That won't happen. You might beat one of us in the semis but whoever is left will shock you in the finals because you will have faced zone teams all year and you're not quick enough to play man against any of us. Hopefully it will be us in the finals, right guys?" nodding to Pat and John. "And if it is, you won't be able to bring the ball up alone against our man press all night.
If it's us, playing on our 'second home court' where we practice all the time (admittedly a huge exaggeration) you'll have had your third long drive down in a week while we have a five-minute bus ride, we'll wear down your tired butts and send you back for a long, lonely ride home.' The other three all joined in with a chorus of agreement while I smiled.
Pretty much the best prediction I have ever made. It was a long hard season for us but somehow we were ranked No. 2 with MV third and Goffstown fourth. Lebanon did get by Goffstown while we pulled out a close, hard-fought win over Merrimack Valley.
In the locker room at UNH someone came by to wish us luck and said there were a bunch of limousines in front of UNH to drive the players and coaches back to Lebanon. We never knew if that was true or not, but certainly used it as motivation. Lang Metcalf was a great coach and a lot of insiders thought this was going to be his crowning achievement to a storied career. Lang admitted to me later that he knew they were in for a battle. Joslin played well, but we did wear him down and Freiermuth was deservedly the player of the year. We led the whole way and the game was not really as close as expected, 65-51. Oyster River's first-ever Class I championship.
If you have championship memories of your own that you'd like to share, please email those to kj@ball603.com by March 15 and we'll post those as well.